L'Amore é Vita . Love is Life
Italian designer Camilla Gabrieli was born on the island of Sardinia and spent her childhood playing in fruit orchards and swimming in the Mediterranean Sea. Growing up among the natural rhythms of the island instilled a deep connection to beauty in all its forms.  As a little girl, she loved watching her grandmother design elegant silk organza dresses for high end clientele going to elegant parties. Camilla had an early obsession with shoes and used the dress scraps to make footwear for her uncooperative cat Mustafa.
Fashion magazines provided a window into another world and escapist dreams stirred her imagination to create. At age twelve, her family moved to Modena and the two hour proximity to Milan permitted teenage trips to see fashion in its highest form. Her restless desire to discover, explore and expand her design skills brought her to Los Angeles to pursue a career in fashion.
It was during the planning of her own wedding at a castle in Tuscany that the idea sparked of fulfilling her lifelong dream of starting her own brand. Unsatisfied with run of the mill store offerings, her search for the perfect pair of wedding shoes lead her to design her own, pushing the boundaries on the classic bridal shoe while creating a modern sophisticated design.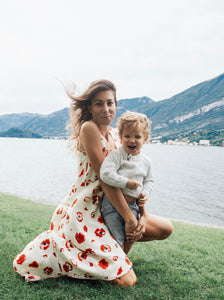 After playing varied roles within the fashion industry, Camilla embraced her lifelong passion for shoes and studied at Cordwainers, London College of Fashion. She returned to LA to design for major fashion labels Vivienne Westwood and Halston. But in her heart, she always knew that she wanted to create her own brand and offer women something that was missing, something special. 
Hand made near Milan, Italy, her collection delivers utmost quality and the perfect fit. Returning to her roots and partnering with the legendary craftsmen of the Milan area, the bridal shoe line is produced from the same factories as many of the most beloved global footwear brands.
"There's a wonderful Italian phrase, "L'amore e' vita" which means "Love is Life". In the hectic day-to-day life of being a mom entrepreneur, I think about that often. In the end, life is simple. Find something you love and pursue it with everything you have."