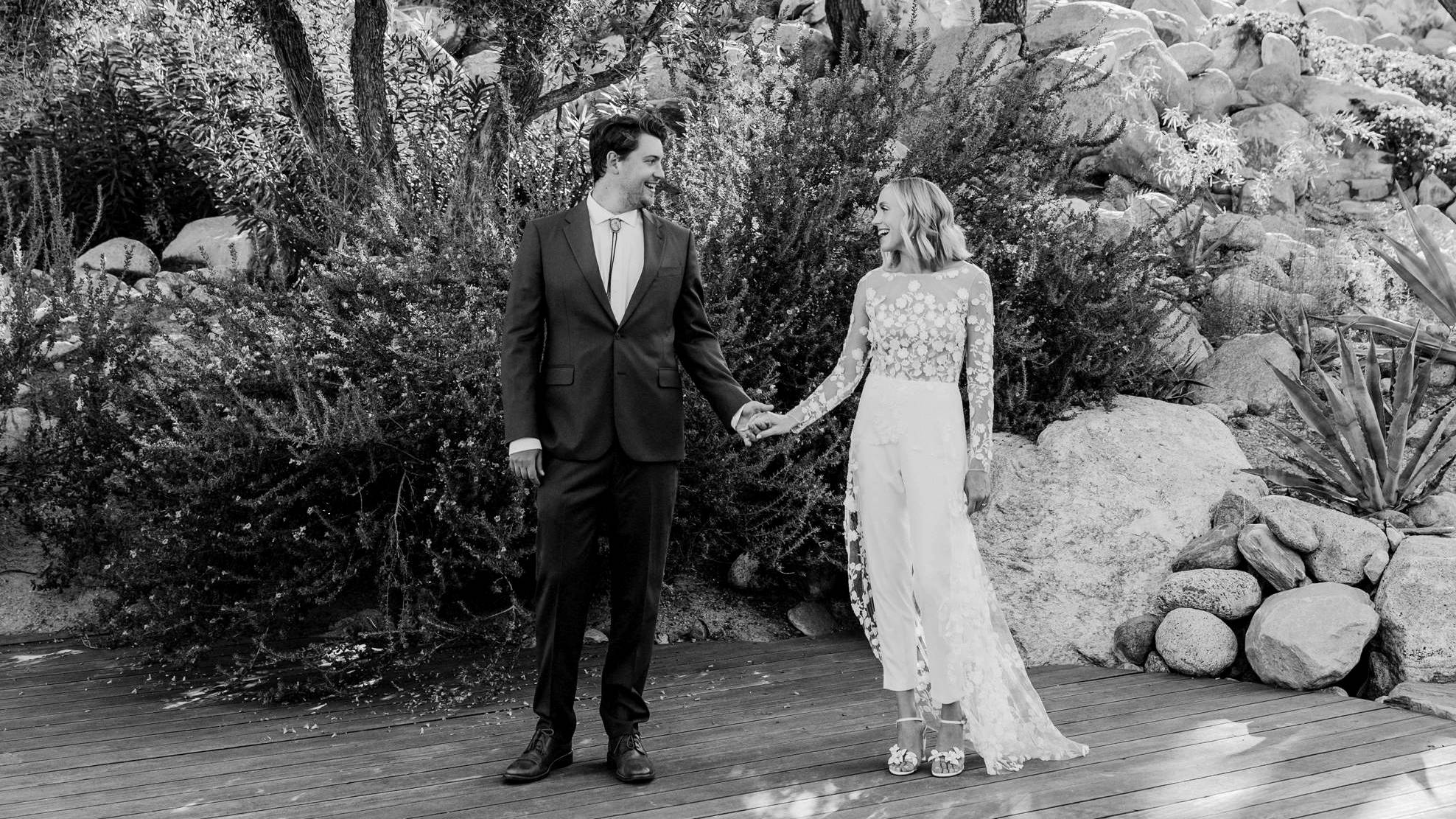 ---
A stylish Palm Springs wedding at a stunning retro venue.

---
---
A law school crush that turned into a lifetime soulmate.
Celebrating family and friends as much as each other
---
Lily spied Bennett the first day of law school and developed an instant crush. While both were dating other people at the time, their proximity in class and late night study sessions allowed them to get to know each other. When former relationships ended and spring came around, they became closer than ever. "I knew he was the one when we started writing long emails back and forth sharing music and other random things - it was so dorky and perfect" remembers Lily. They started dating that summer and never looked back. 
Lily loved that Bennett was the most patient and understanding person she'd ever met. Compassionate about everything he does, he's inspired her to slow down and enjoy life more. Along with their two dogs, they share a deep love of doing anything outdoors, particularly camping. On an overnight less than a month into their relationship,  a surprise kidney stone necessitated a three hours trip to the Emergency Room in the middle of the night. "He was a total gem about the whole thing and we went on to have a great trip - I guess that was another moment that I knew he was the one."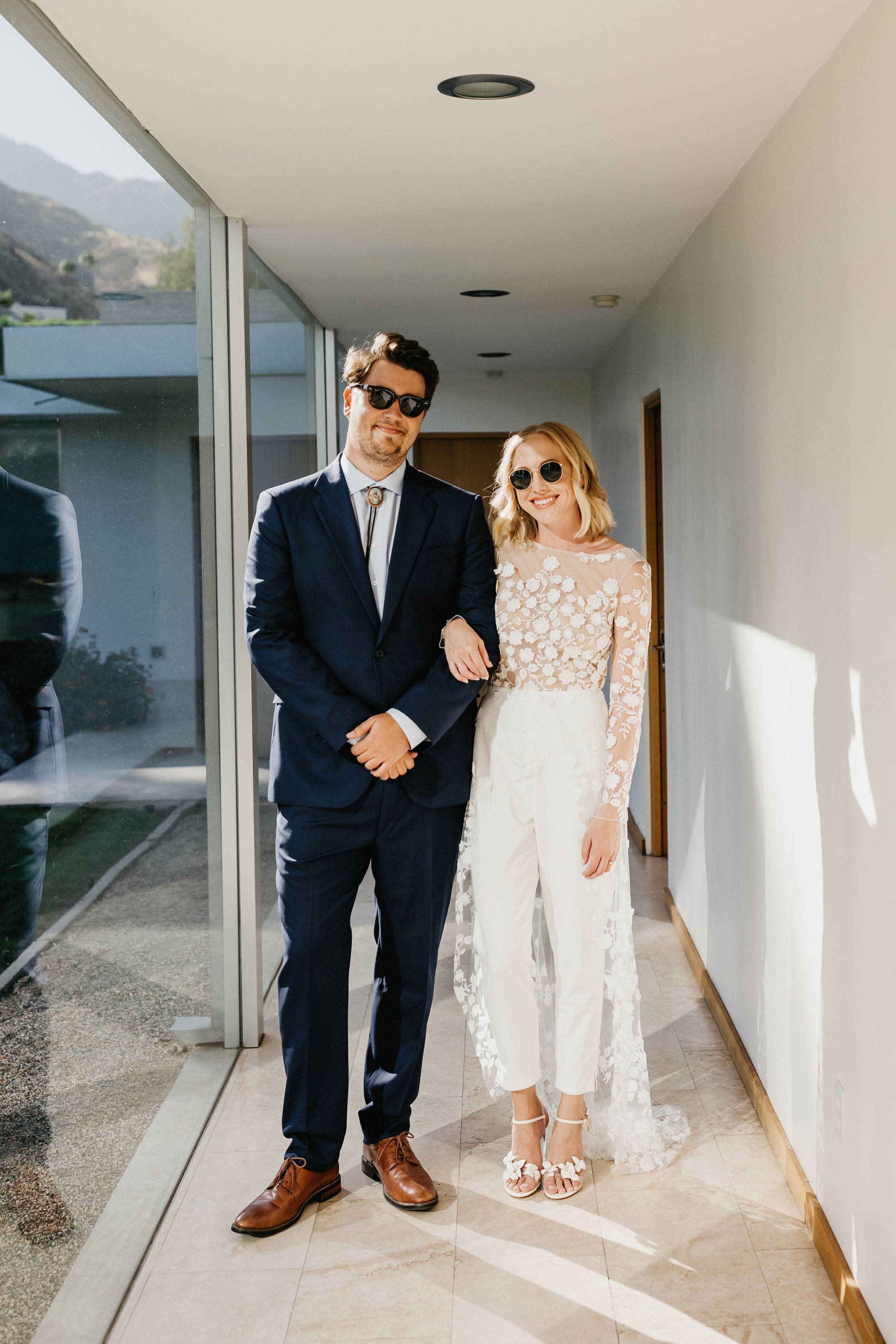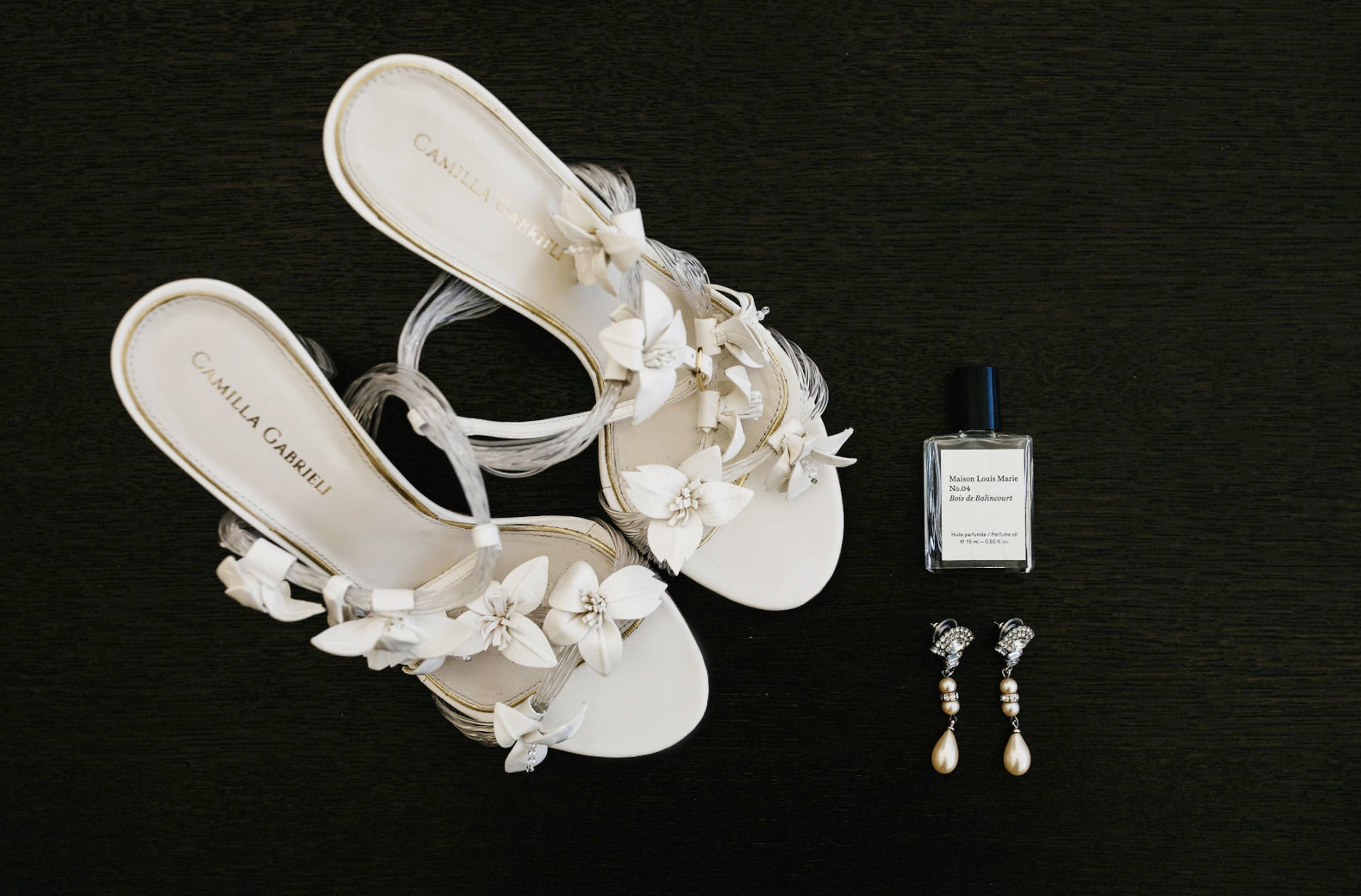 Their favorite beach in Malibu provided the perfect backdrop for Bennett's proposal. Arriving in the early morning light, they had the beach to themselves. It was super low key and set a precedent they followed for their wedding planning. They talked a lot about the ring and decided on a three stone European cut set in gold. "Bennett really wanted to surprise me and designed the ring himself with his grandmother's stone taking center stage. He did a great job. It's perfect and beautiful and I love it."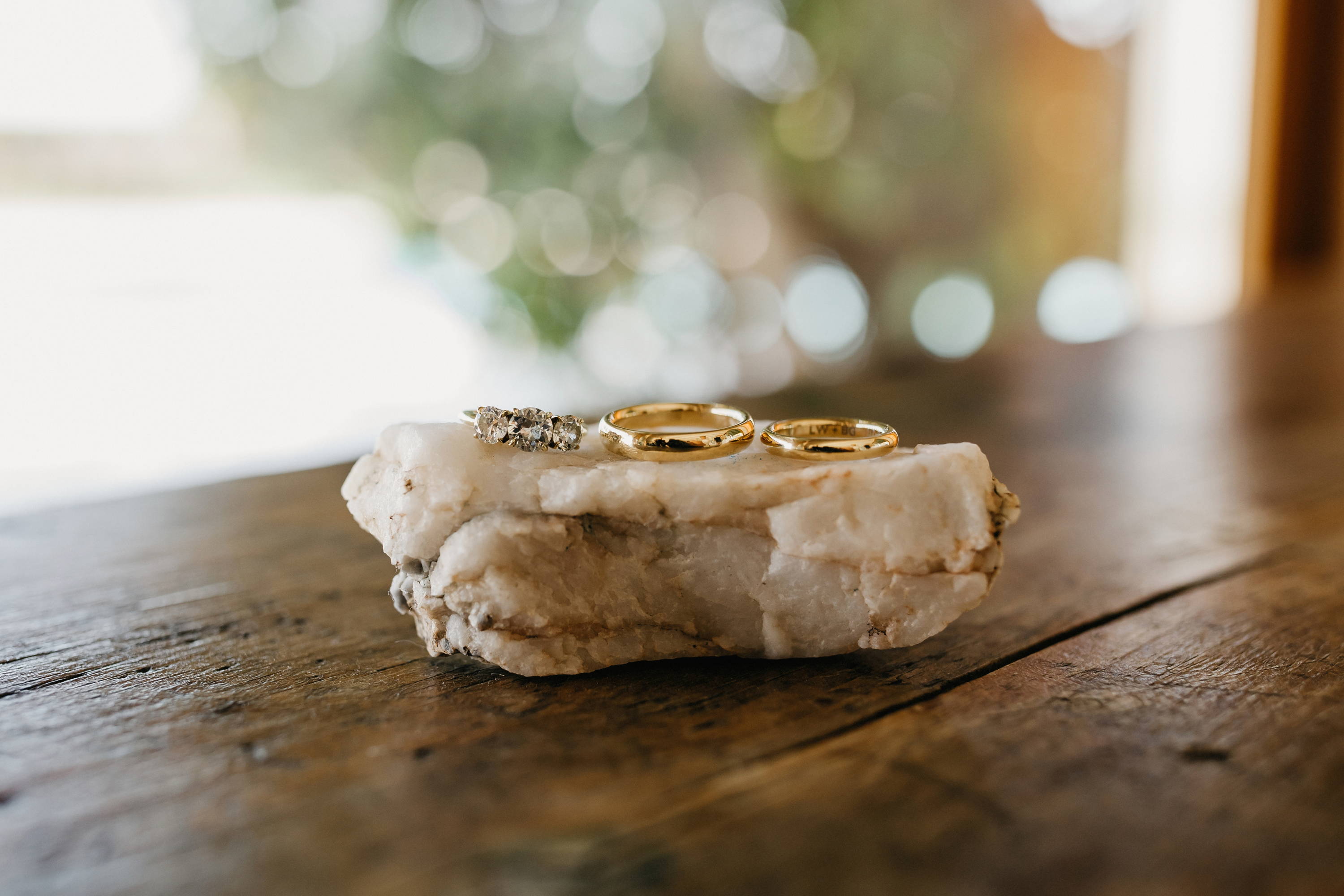 "The most important thing about the wedding for us was that it felt like a big family and friends reunion."
Lily and Bennett don't consider themselves big wedding people and were actually leaning towards a small courthouse ceremony. But then the thought of having all of their families and friends together at Palm Springs, one of their favorite places came up and it was the perfect solution. With Lily's huge family back East and and Bennett's family mostly in Seattle, visits are hard to come by. "What a better way to celebrate our wedding that  than throwing a big party for everyone we care about."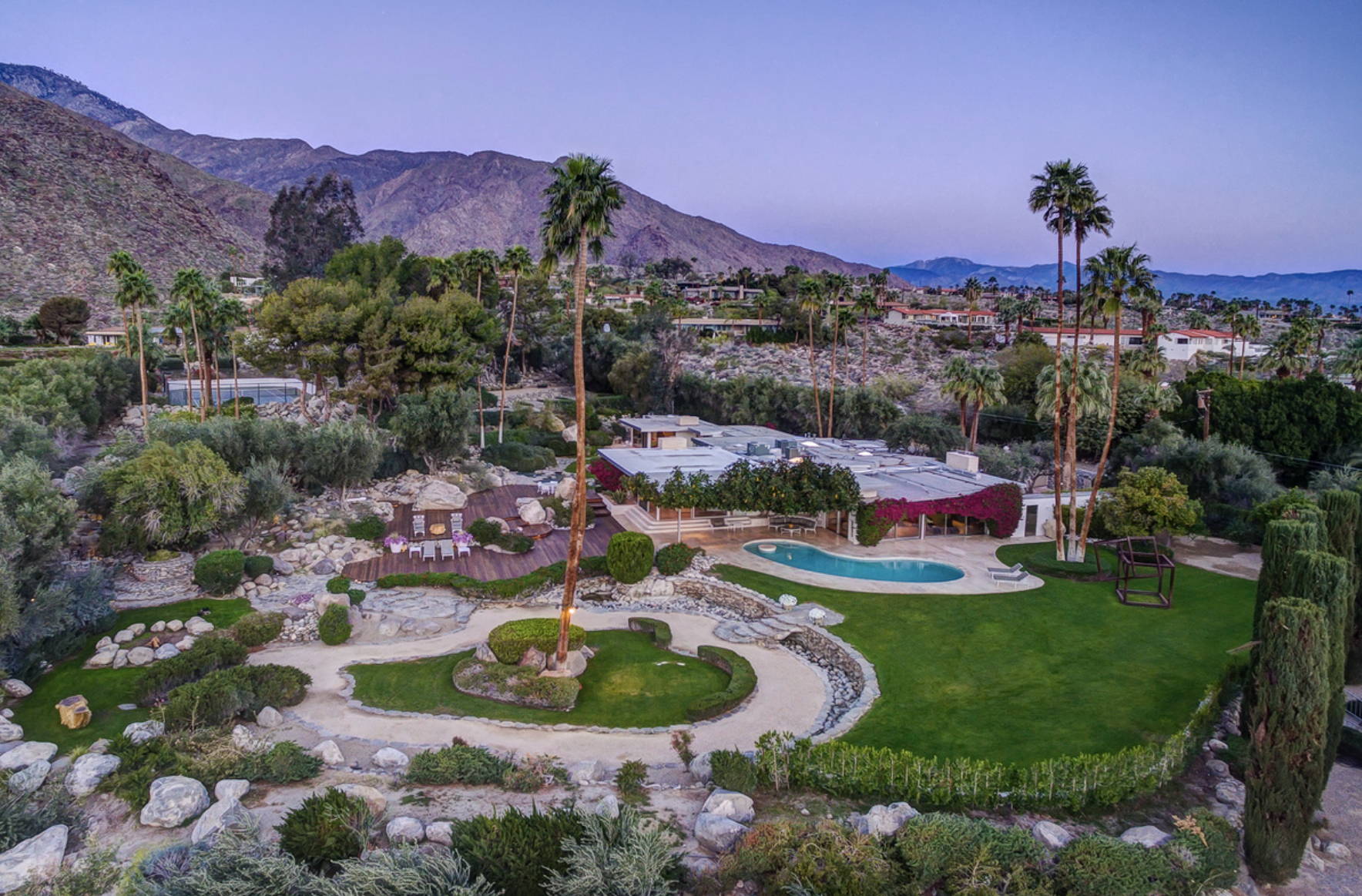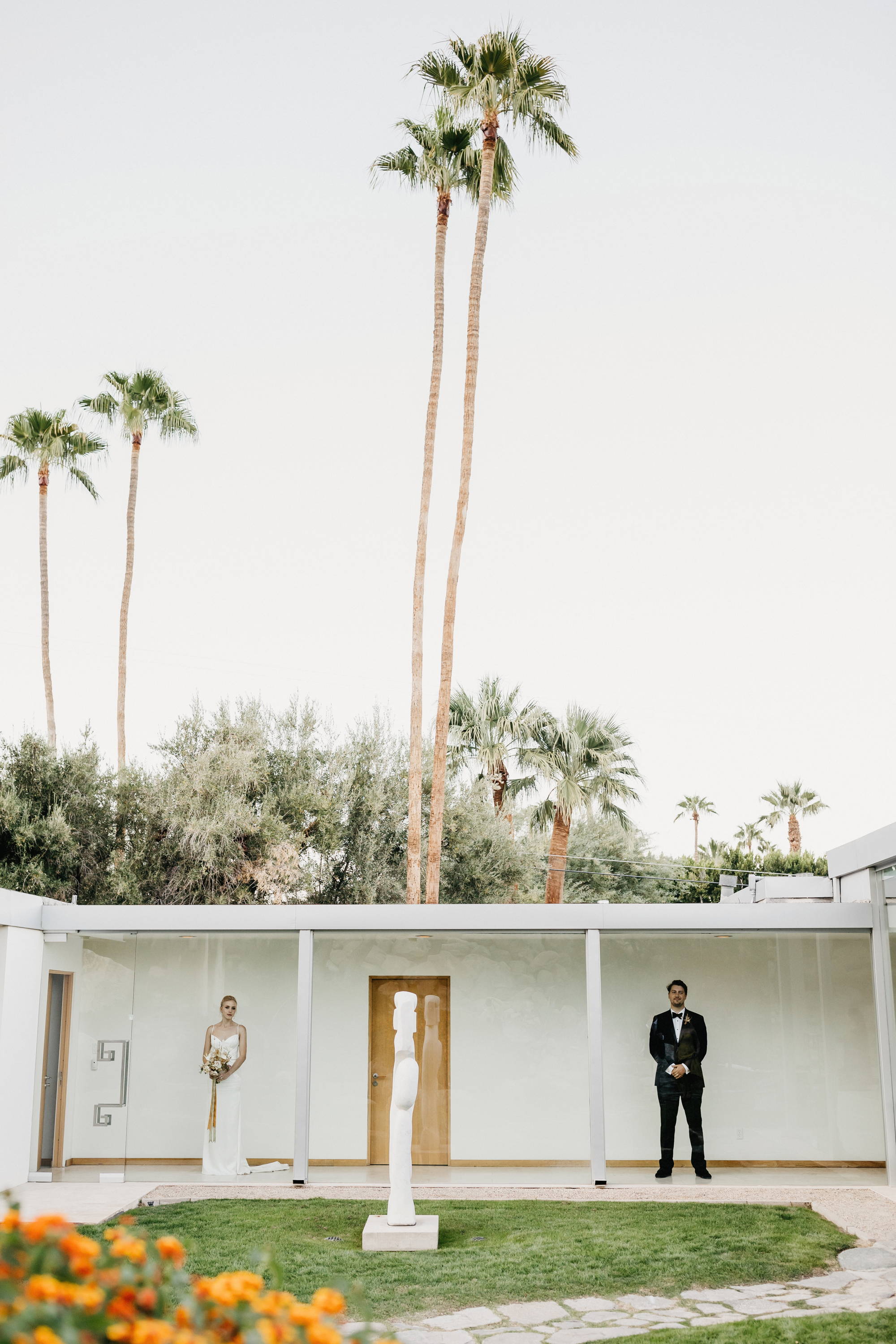 After touring the Frederick Loewe estate in Palm Springs, they knew they'd found their marriage venue. The great views and privacy were a huge plus but most of all the ability for the venue to allow all their friends to stay with them. Lily's best friends arrived on Thursday and they had a girl's night before the weekend.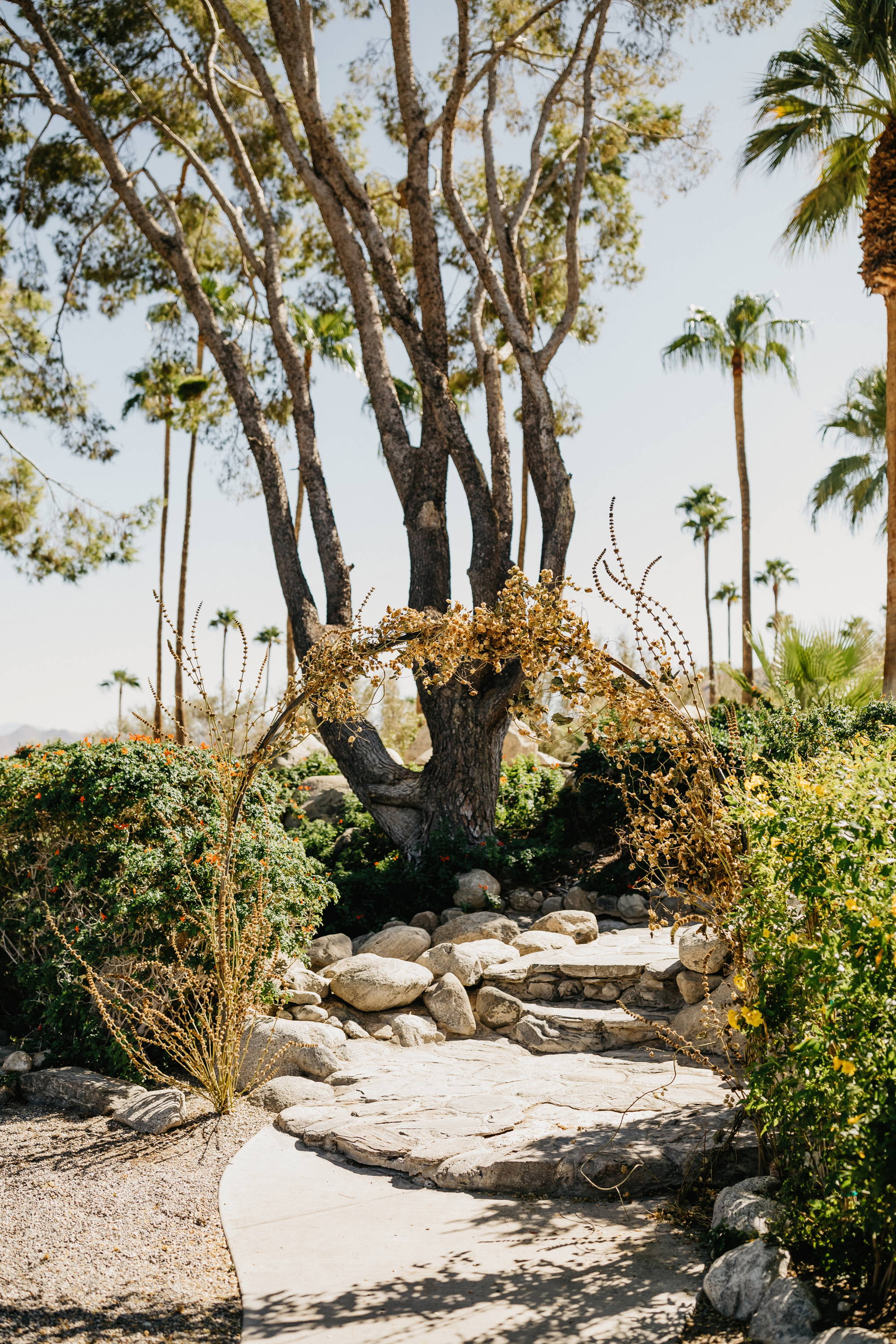 ---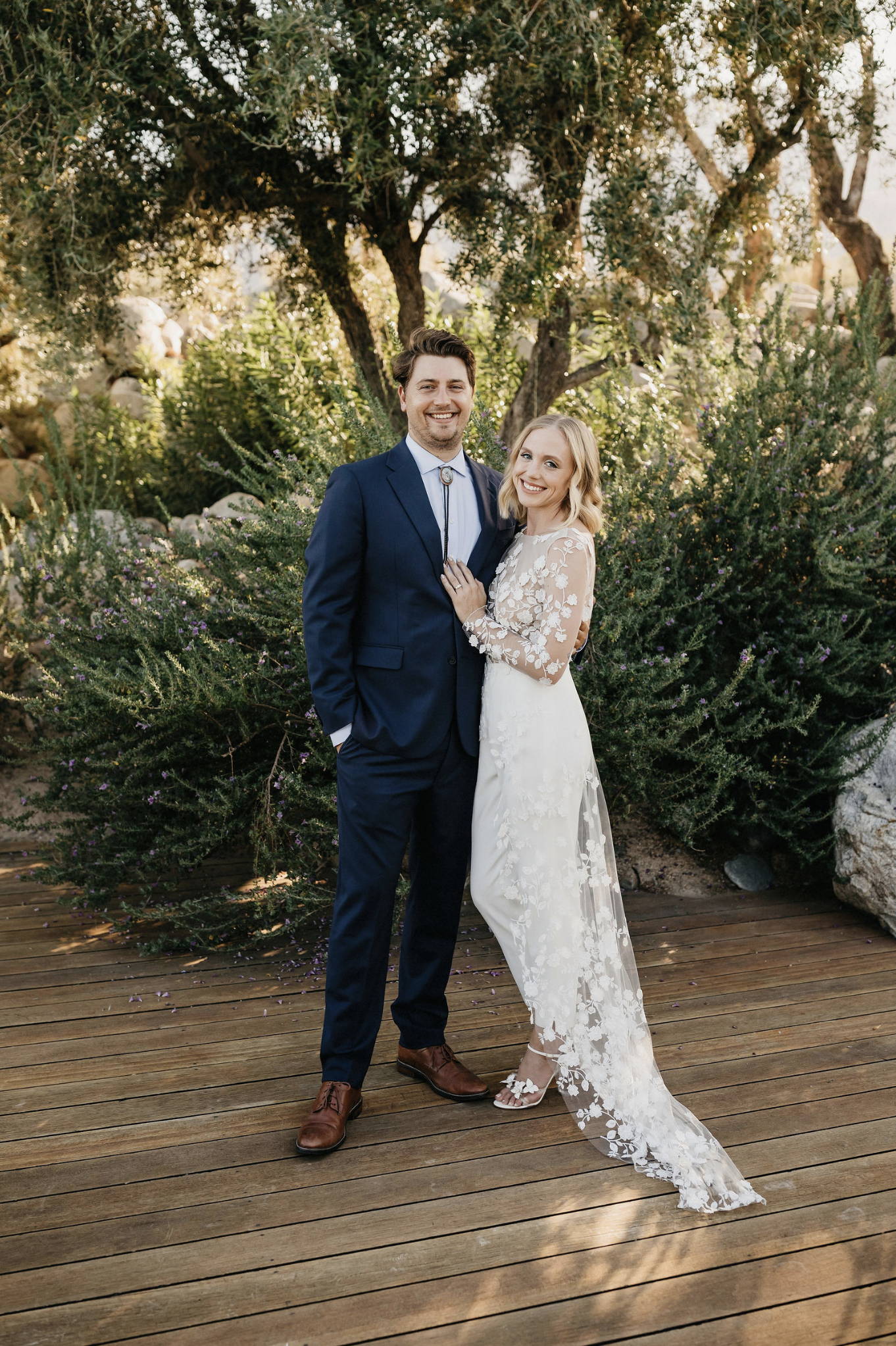 ---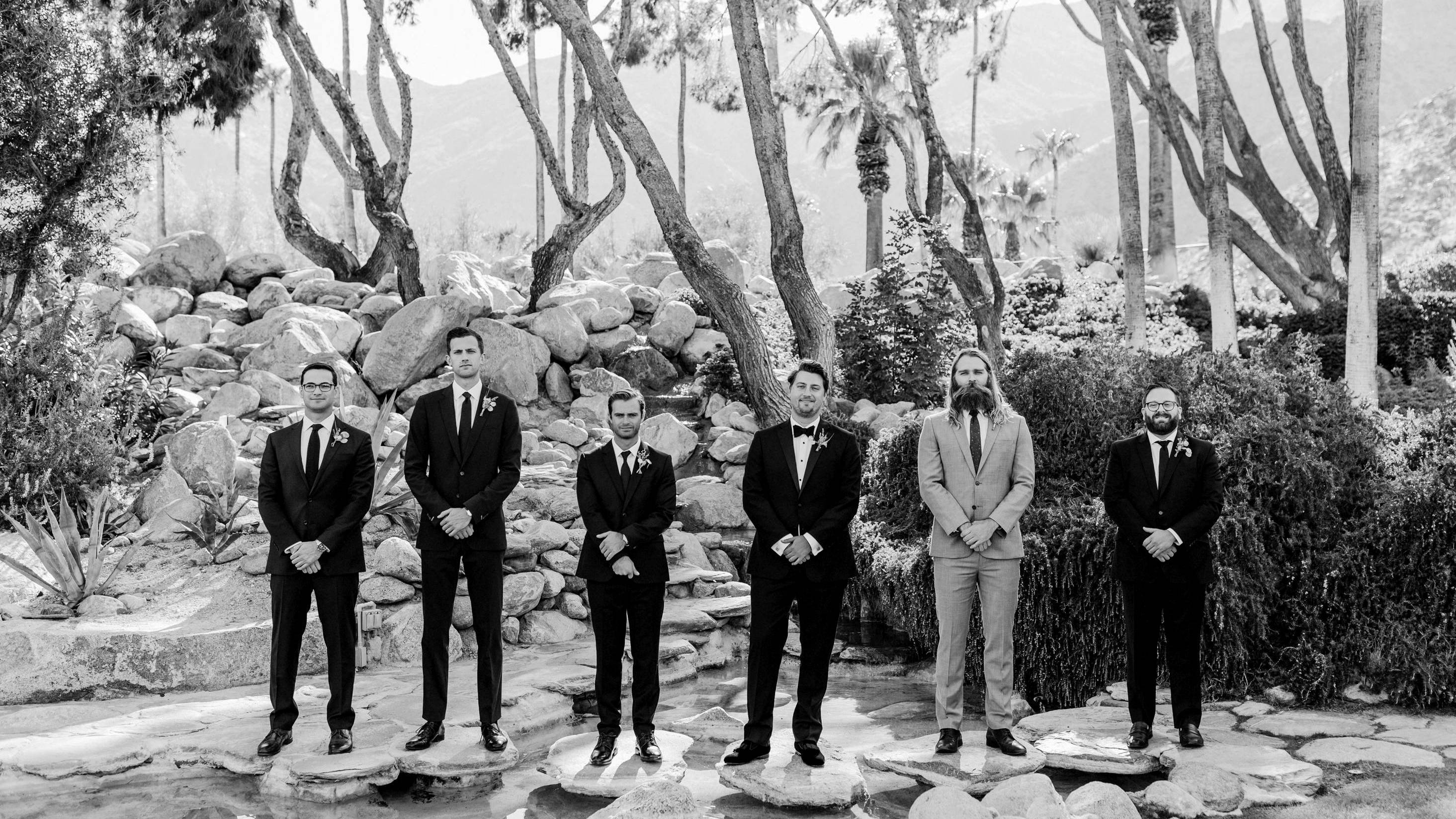 ---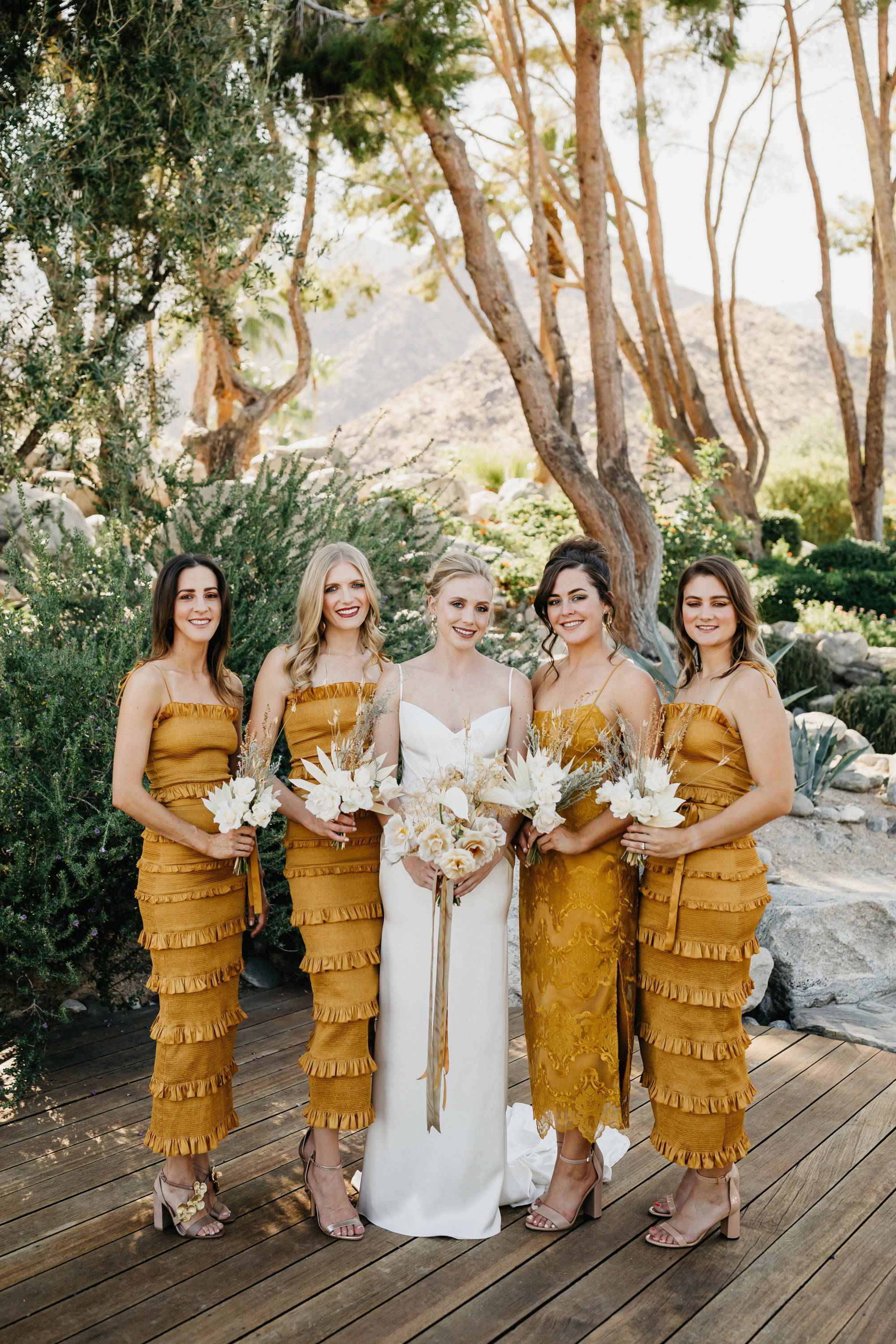 Lily had so much fun shopping for wedding gowns. She went with her mom and one of her best friends and tried on many dresses at the LOHO Bride boutique. "I loved a lot of the dresses and was actually pretty sure I had found the one but then the next day my mom and I went to a different store, Sarah Seven, tried on my dress and my mom started crying. So that's how I knew. It just had that feeling people talk about."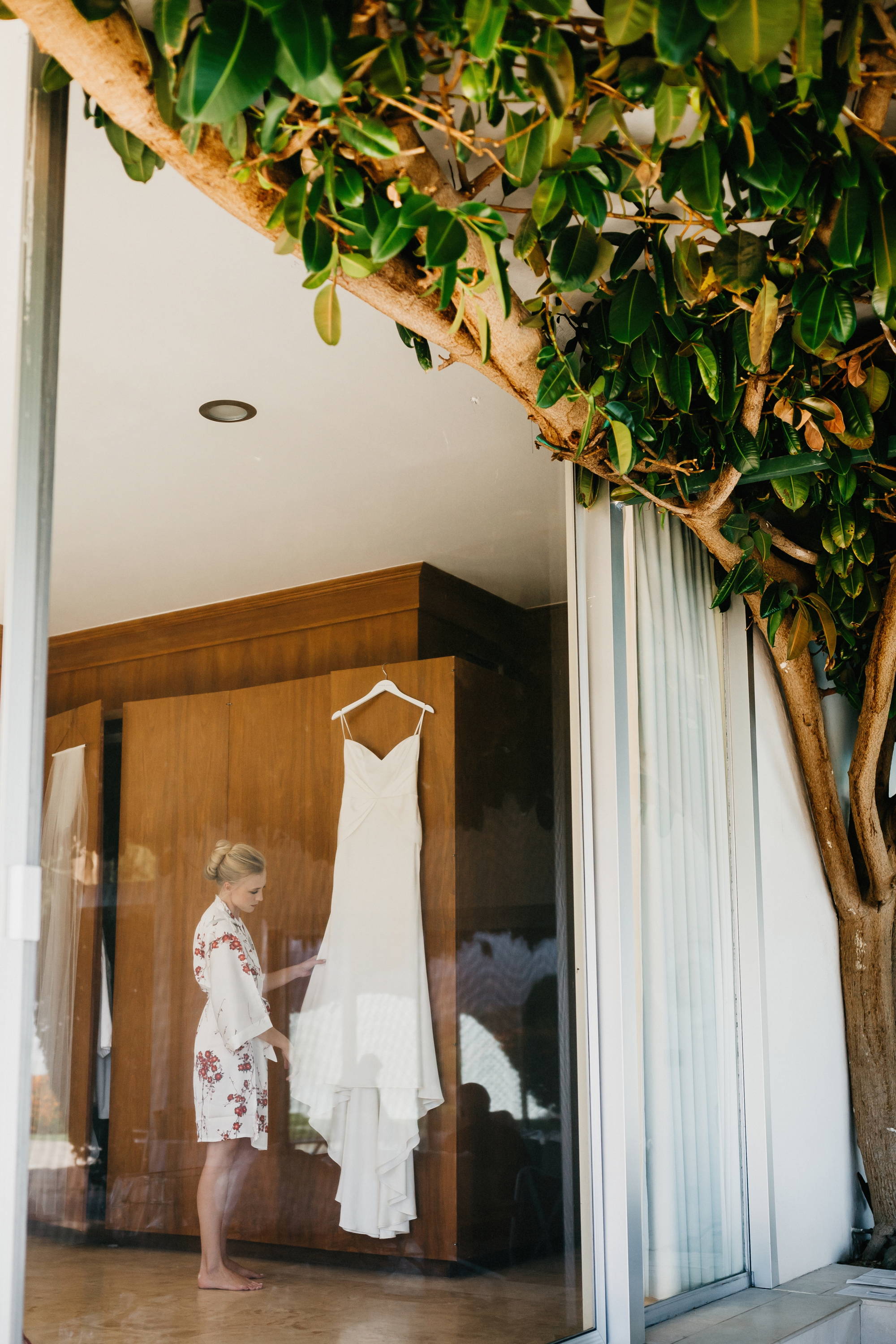 Because she loved so many of the pieces she tried on at LOHO, she ended up getting a second dress for dancing and also a beautiful jumpsuit she wore to the rehearsal dinner. Lily loved how traditional and classic her ceremony dress was but wanted something a little more modern - "I originally wanted to get married in a suit before I found my dress - so my jumpsuit for the rehearsal dinner was a perfect compromise. And then my dancing dress was so fun and sexy I couldn't say no. It made me feel like a bridal Barbie."
---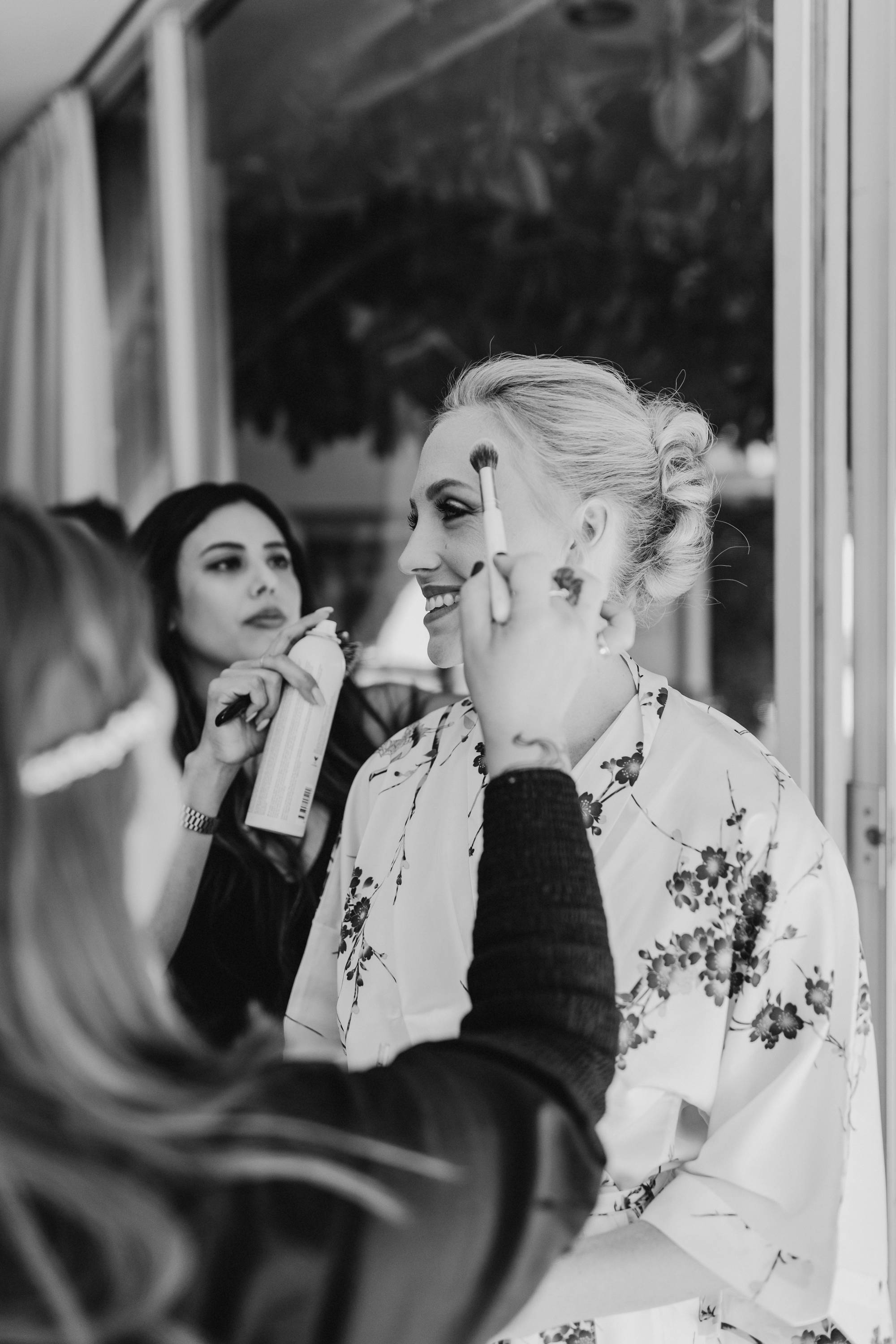 ---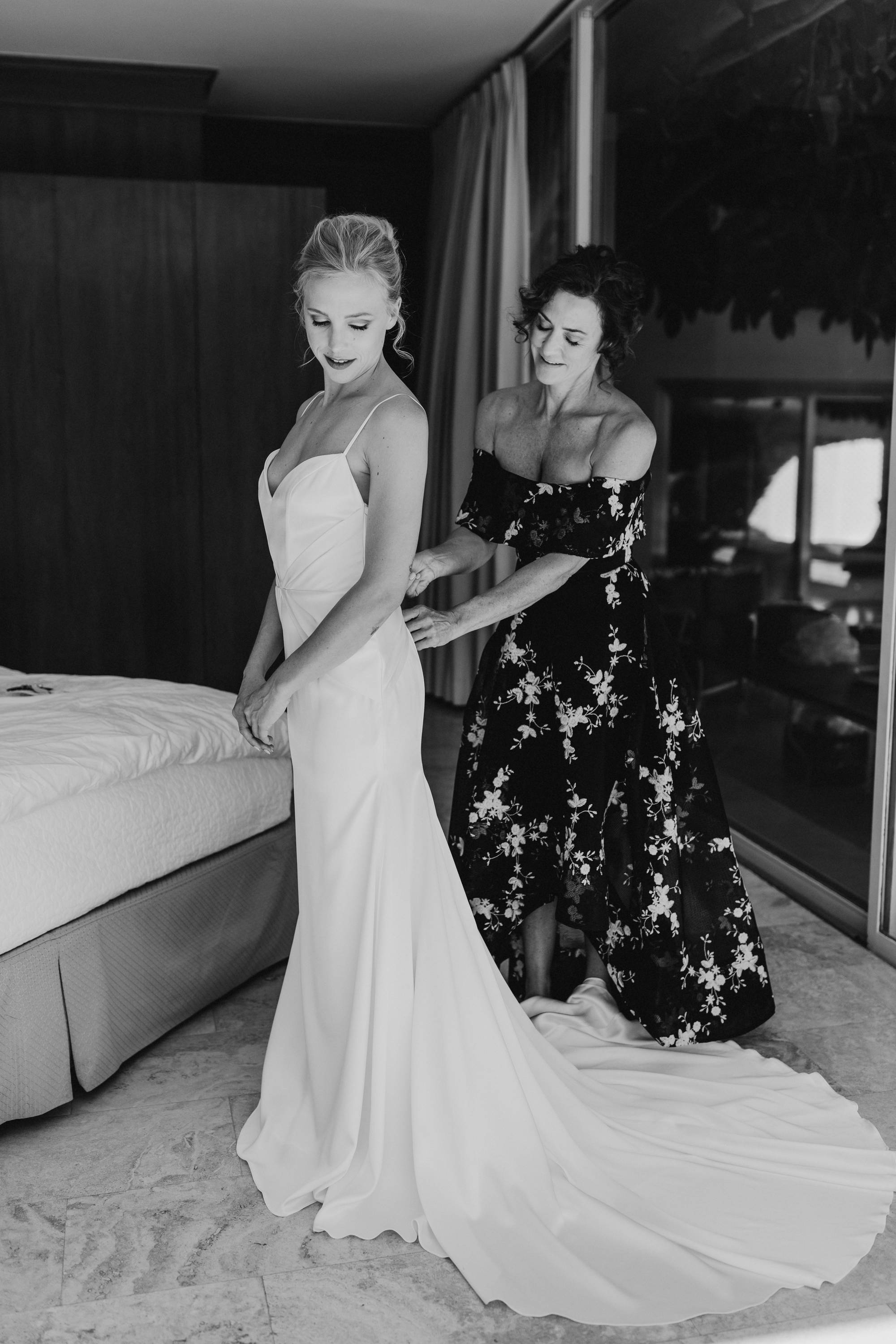 ---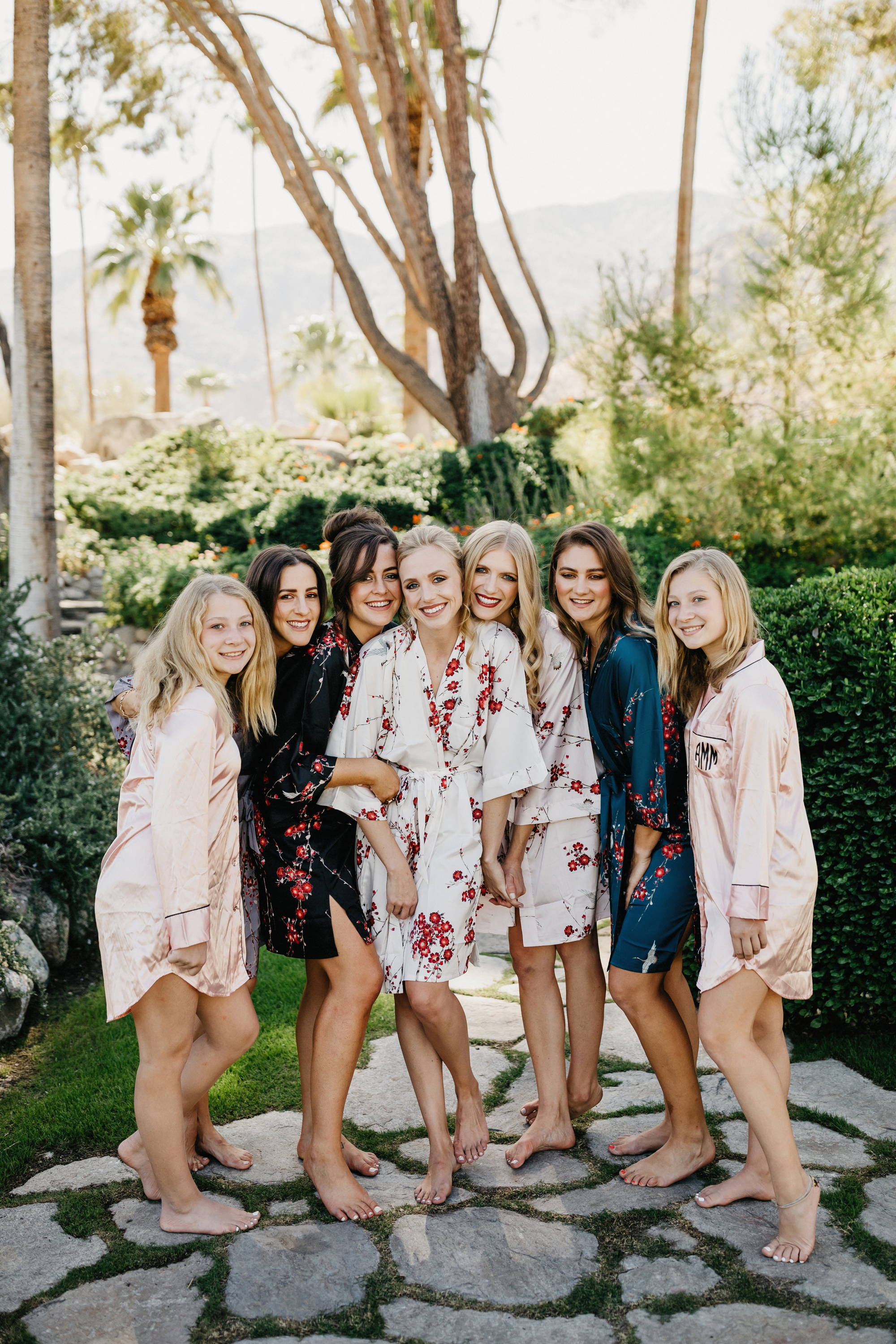 ---
I wanted something unique for my shoes. Because my dresses were so amazing, I knew I needed something that was equally amazing. I found Camilla Gabrieli through LOHO and instantly fell in love with her shoes.
---
"When I tried on the Stella sandals the whole outfit came together. They elevated the pieces to another level. I really felt like a princess. They're my favorite shoes I've ever worn by far (and I have a lot of shoes)."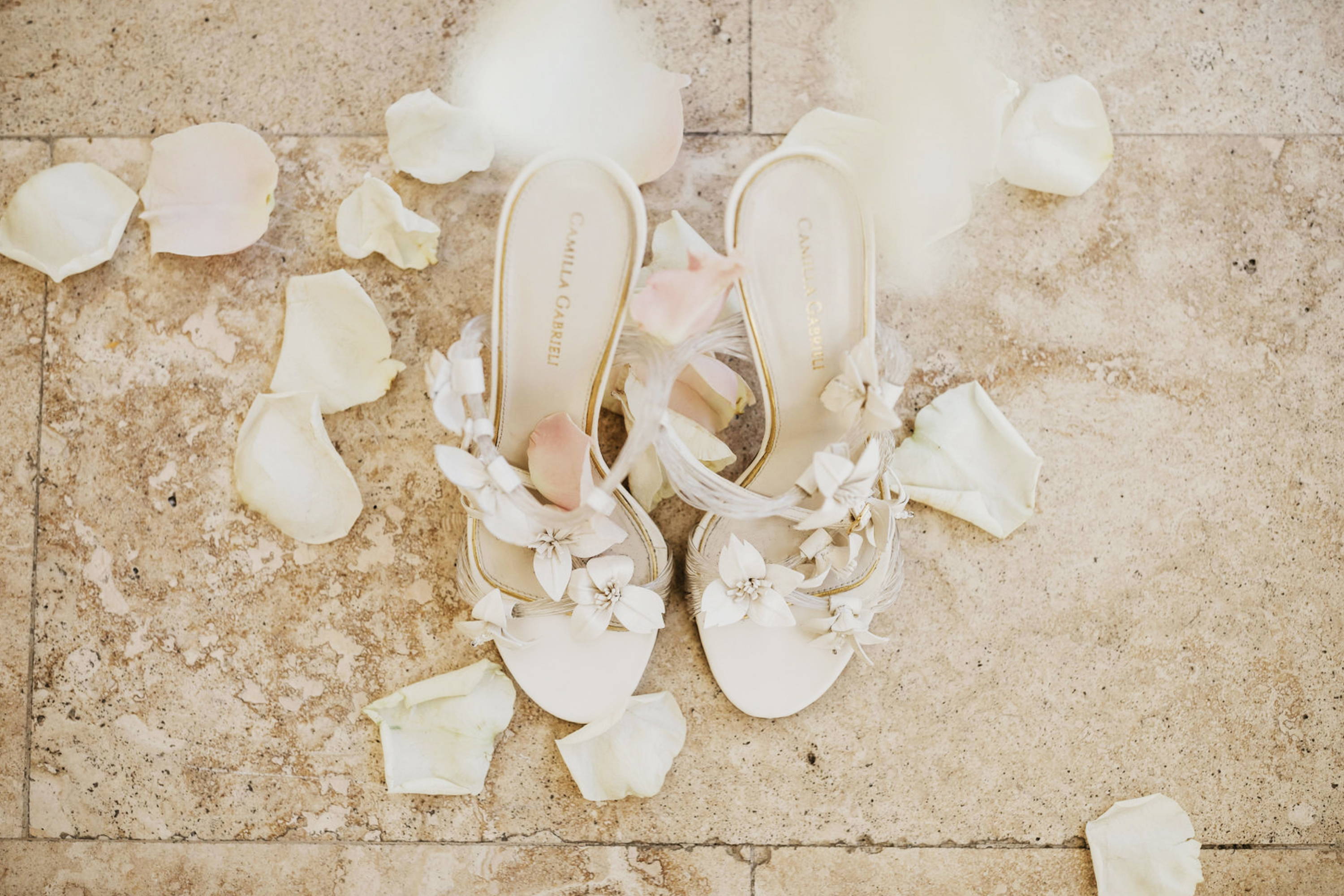 "When I tried on the Stella sandals, the whole outfit came together. They elevated the pieces to another level. I really felt like a princess. They're my favorite shoes I've ever worn by far (and I have a lot of shoes)."
---
"When I tried on the Stella sandals the whole outfit came together. They elevated the pieces to another level. I really felt like a princess. They're my favorite shoes I've ever worn by far (and I have a lot of shoes)."
---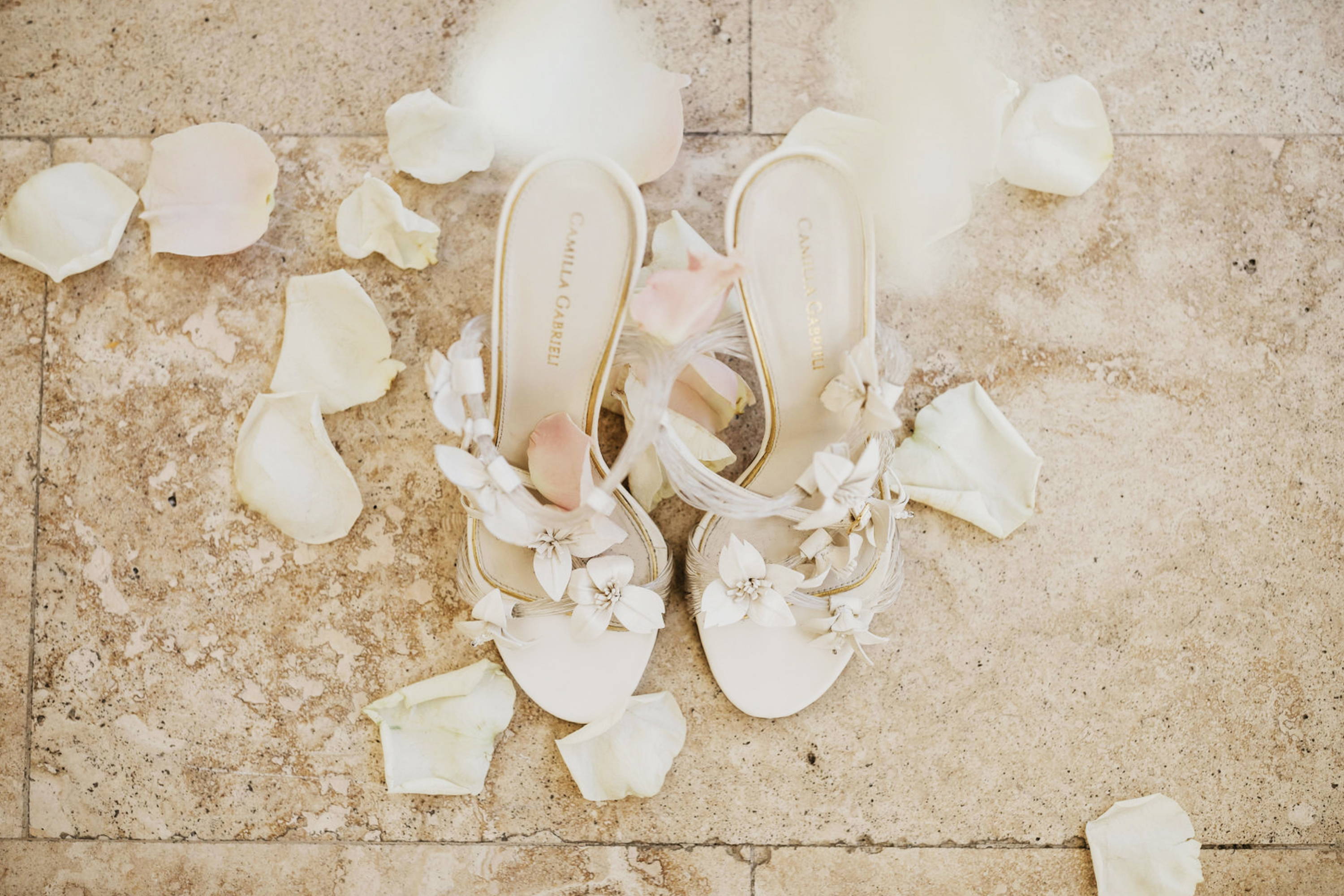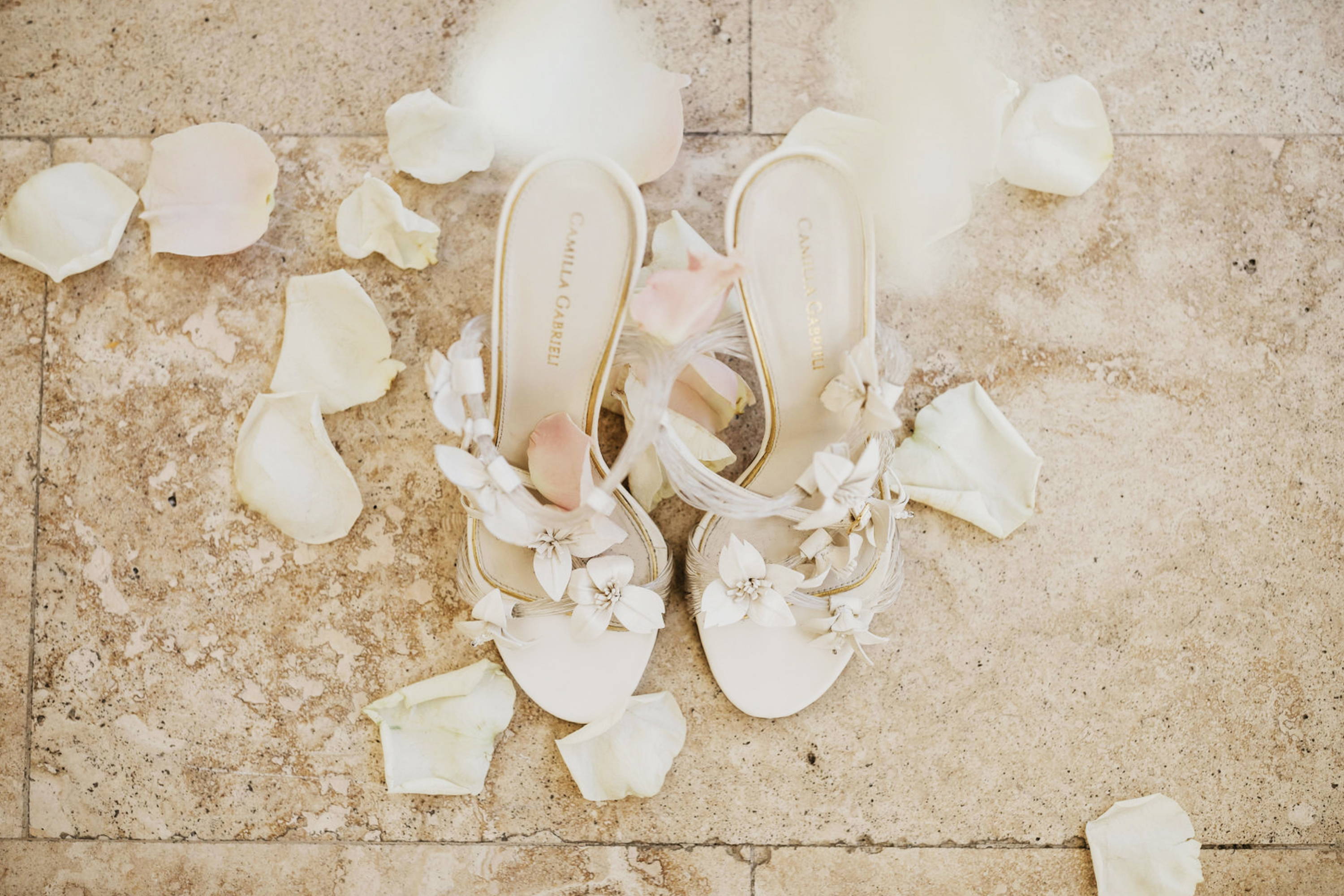 ---
The Stella sandals seemed like they were made for my jumpsuit and ceremony dress. When I tried them on the whole outfit came together. I was originally torn between another style but once I tried these on with my outfits, I knew they were the winners.  
"Camilla was so great to work with! The whole process was easy and stress free which I loved. I loved getting to meet Camilla in person and getting her input on which shoes she thought worked best."
---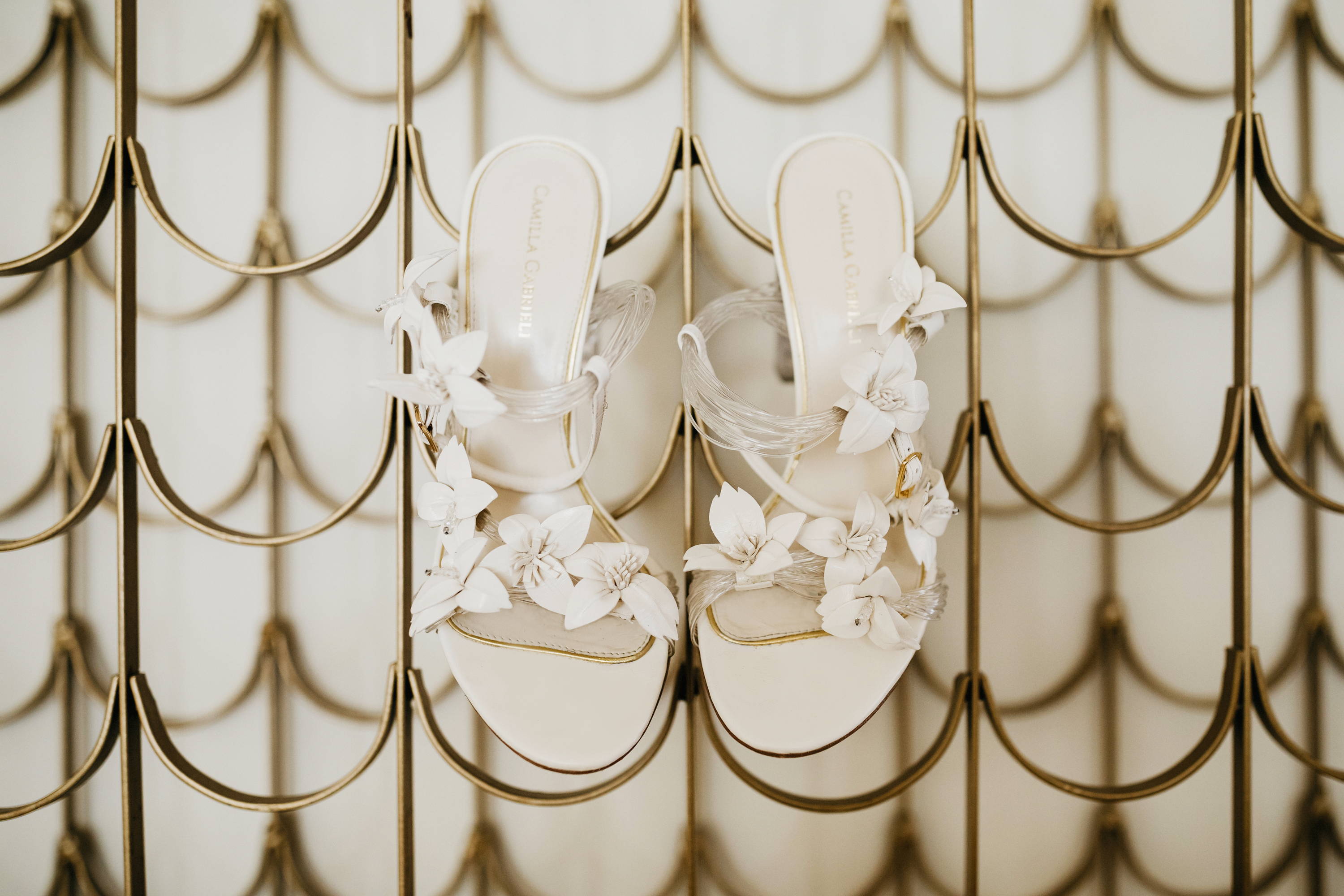 ---
The morning of the wedding, Bennett and Lily took a timeout to talk about how excited they were that they were getting married. "It's so easy to get caught up in all the planning and excitement that I loved having those few moments with him just talking about us and our relationship and the next chapter of our lives." The early moment of connection made the entire day so much better for them. Whenever Lily felt worried or nervous or overwhelmed, she would just think back to that morning and the comfort that memory brought. 
---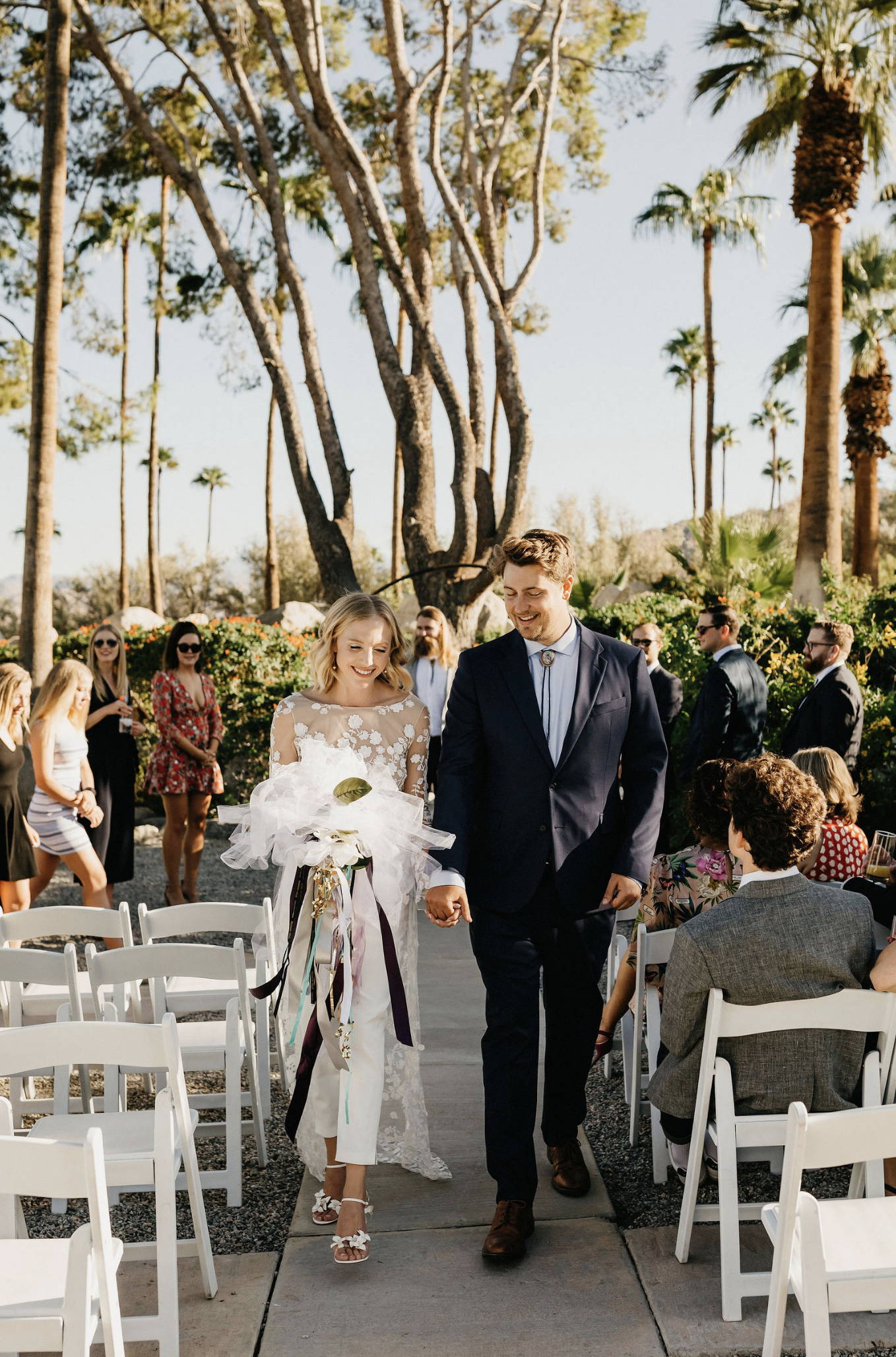 ---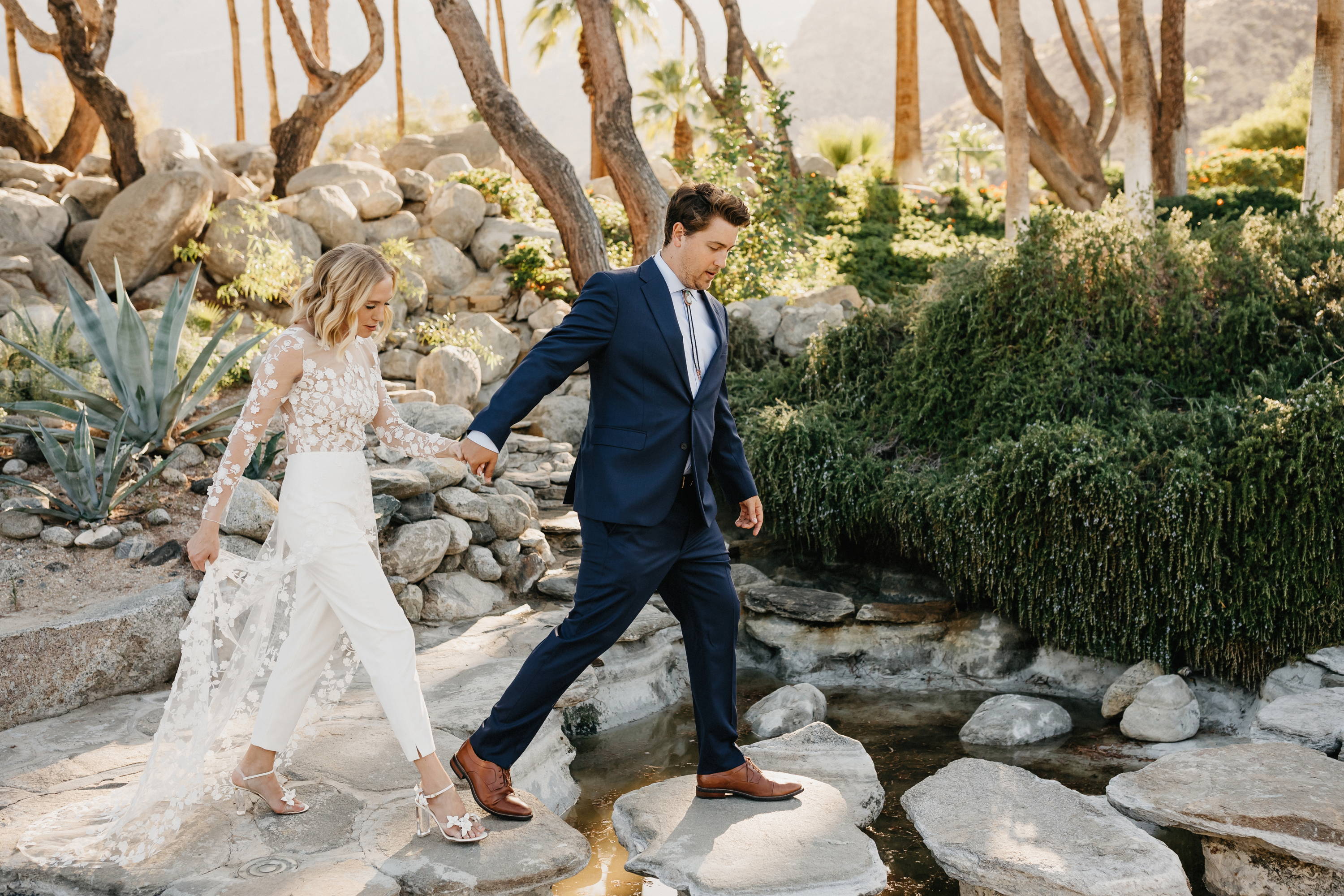 ---
Planning the ceremony and all the details was challenging and they were fortunate to have their best friend marry them and write their vows. For Lily and Bennett, having someone who knew them so well was a lifesaver. "He wrote the most beautiful vows for us and we didn't have to worry." Neither heard the vows until the day of their wedding, but they trusted him completely.
---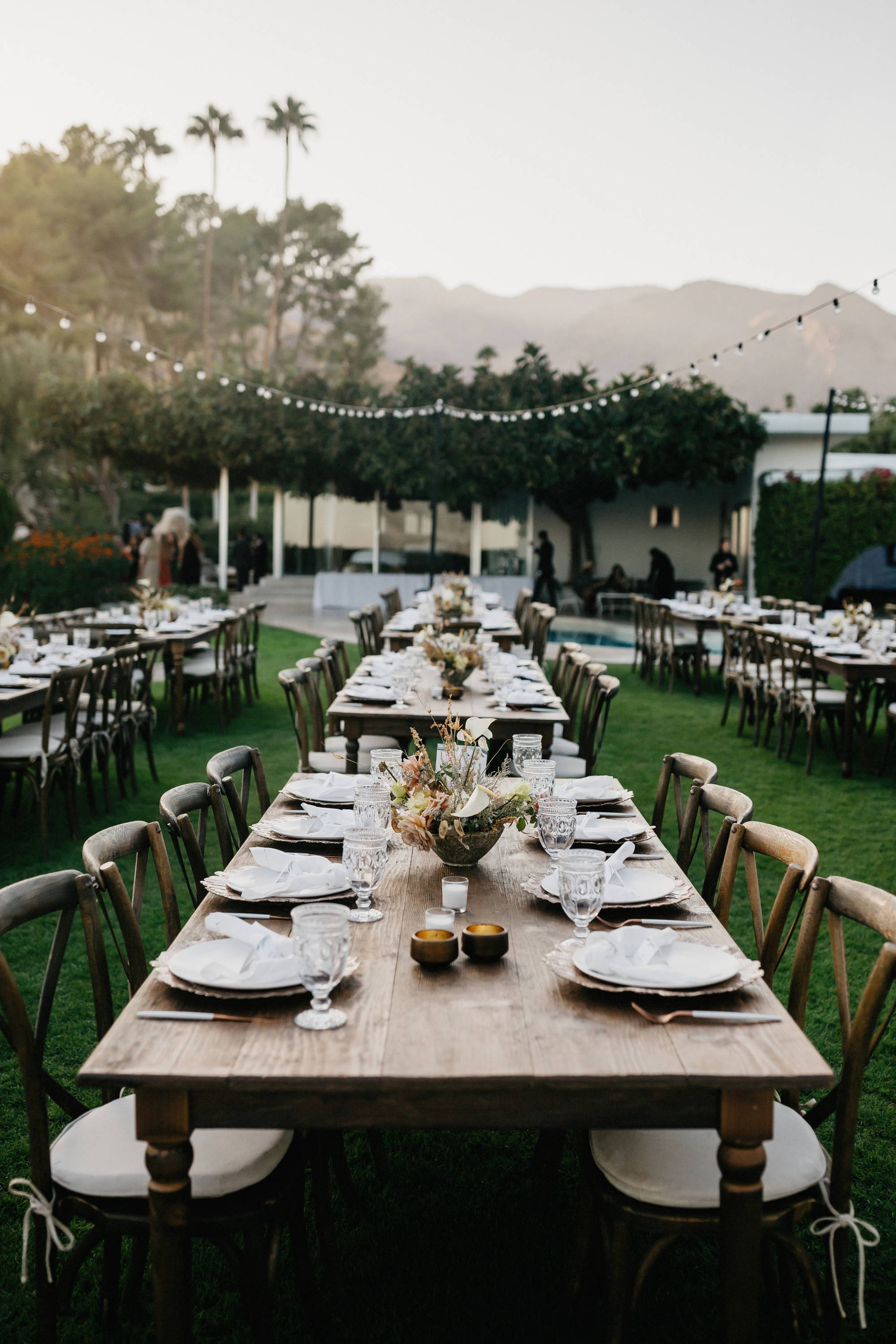 ---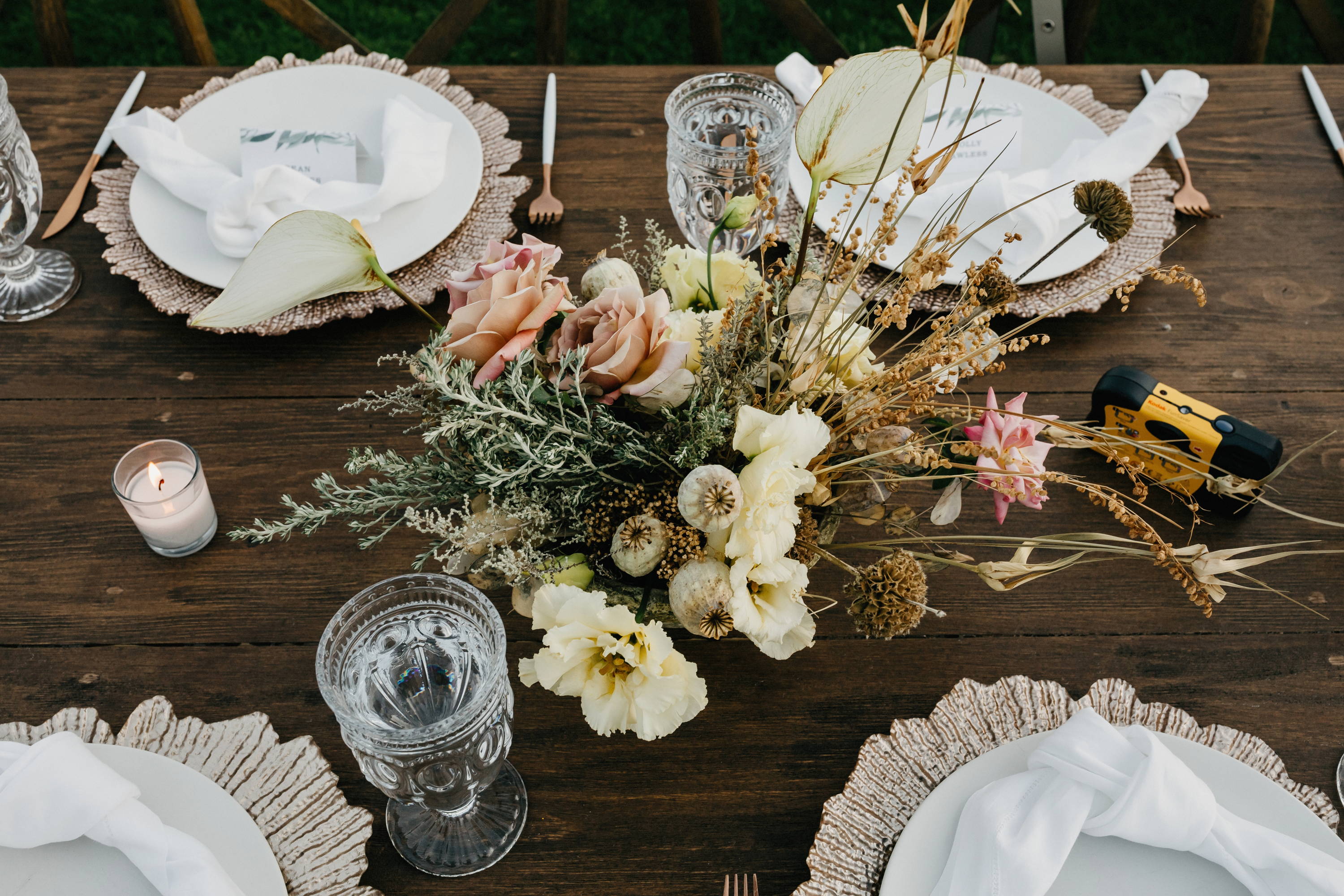 ---
---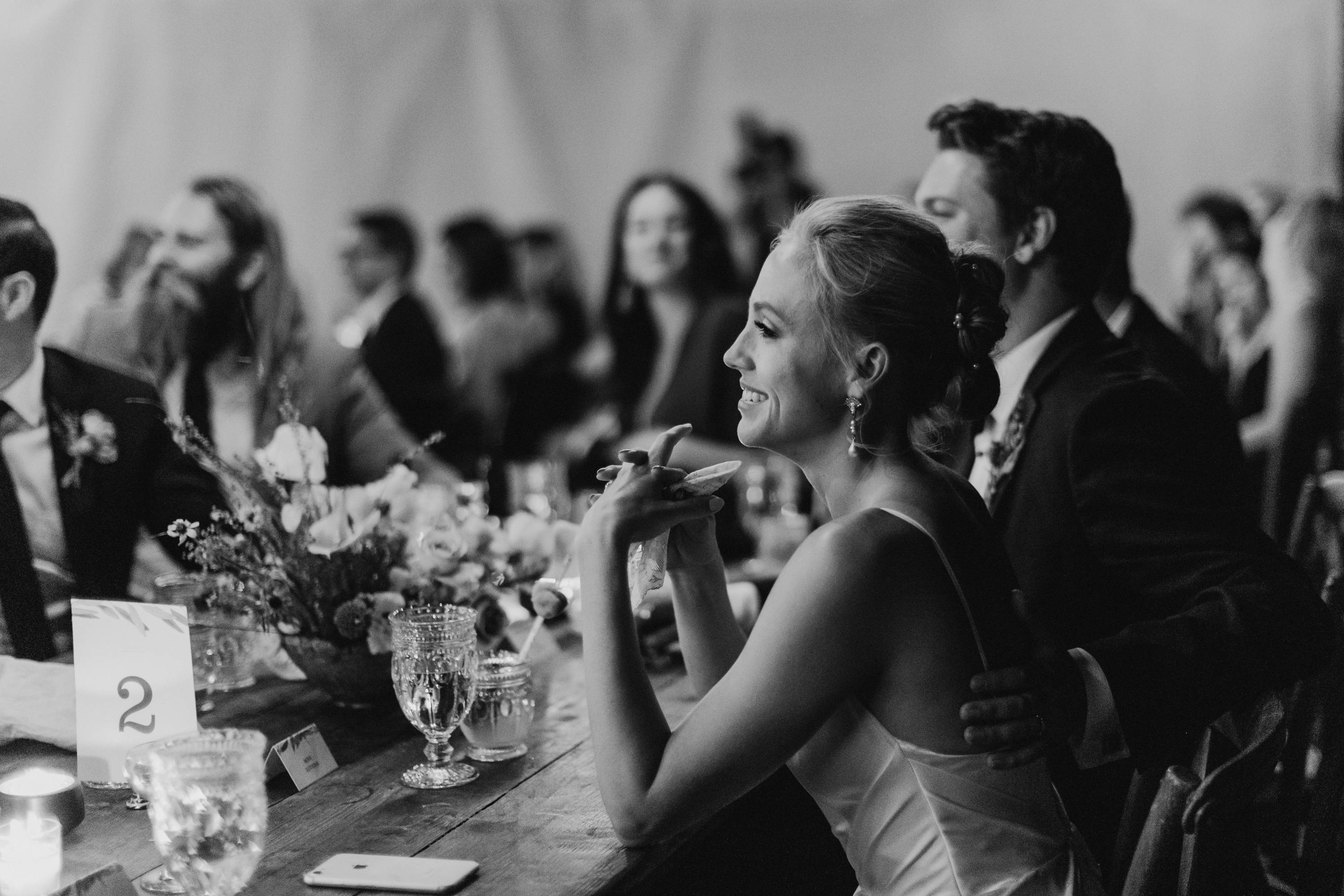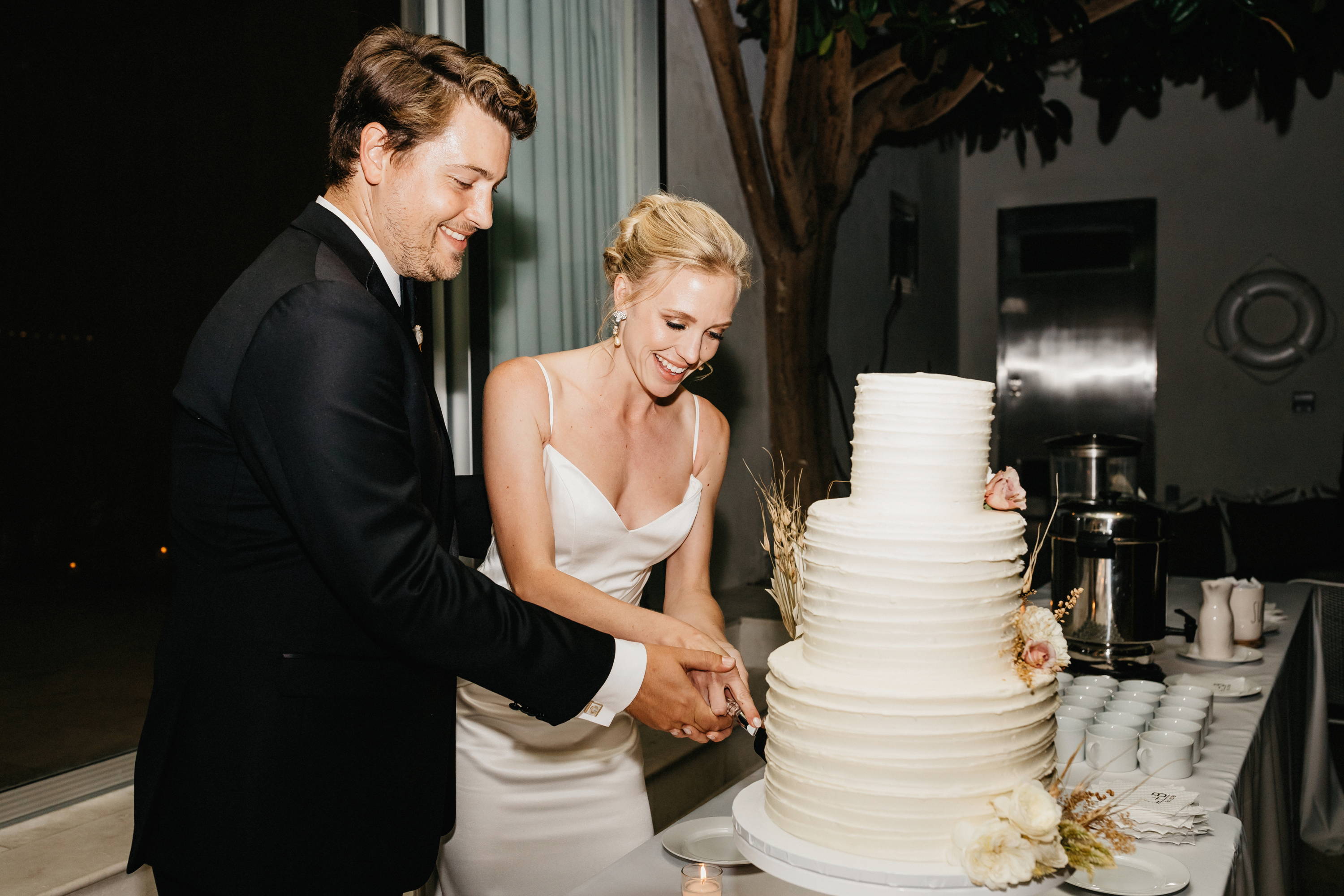 ---
They both LOVE to dance, so having a great DJ was a no brainer. Most important to the couple was that it felt like a big party for their friends and family. "We wanted it to be as much about them as it was us." A late night taco truck and delicious drinks ensured lots of dancing for the late night crowd. After the venue kicked them out, they kept the fun going at a tiki bar in downtown Palm Springs.
"We loved the venue so much that the two of us stayed for a few nights after the wedding for a little mini honeymoon. After seeing all of our friends and family for a few days, it was great to have some time alone together."
---
---
---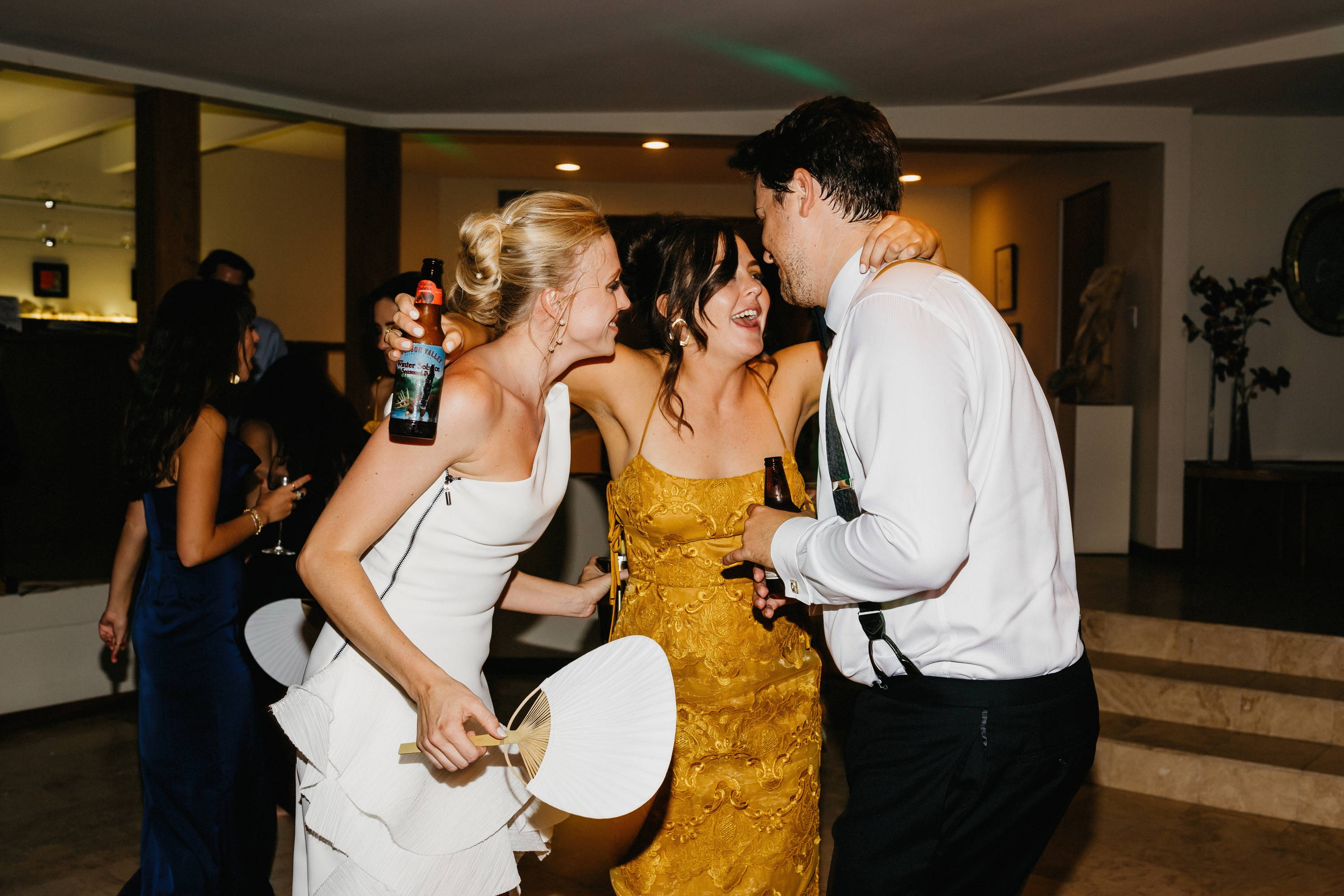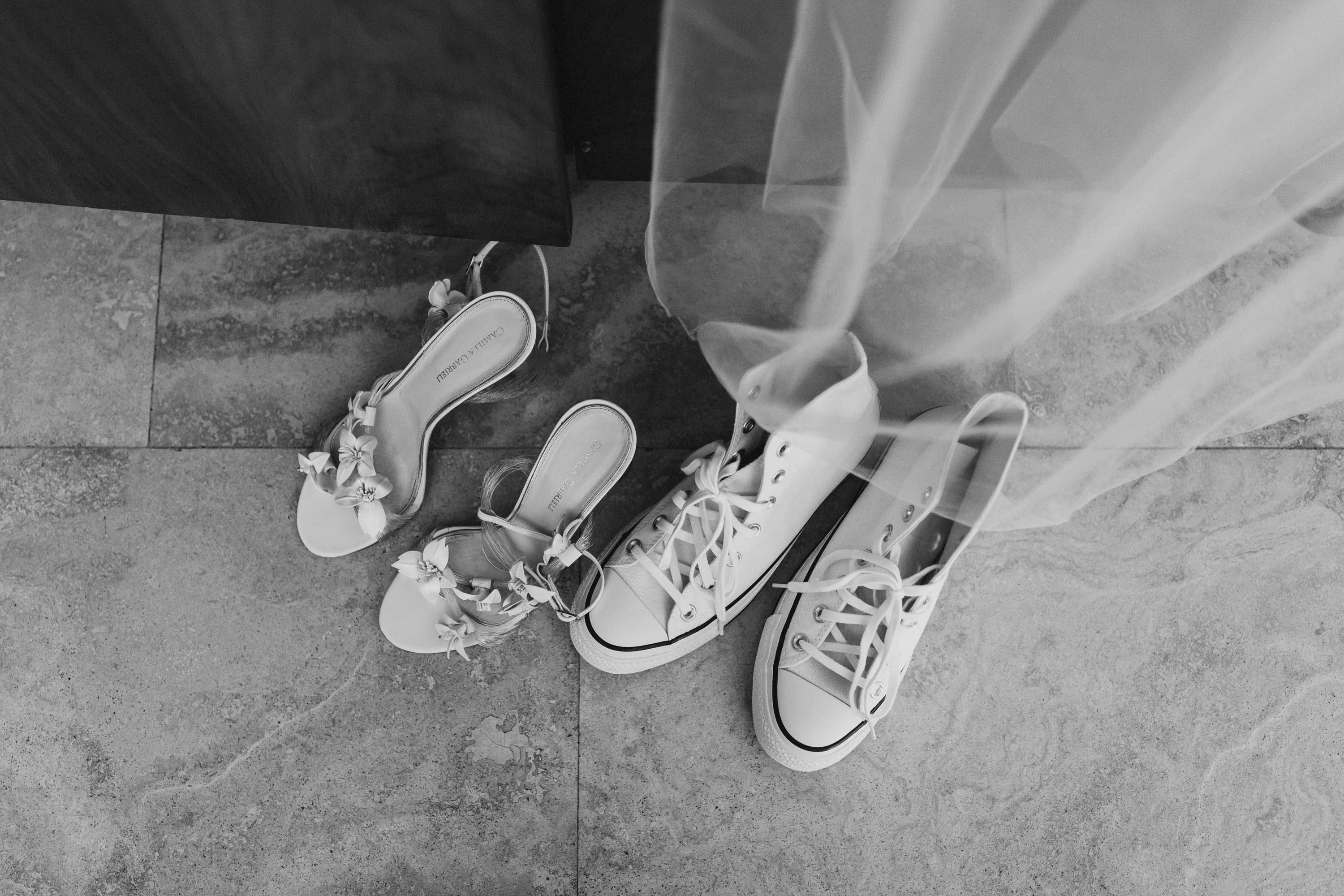 At the end of the day you'll be married - no matter how everything goes or what drama comes up you and your person will be married at the end of it and that's what's most important.  
---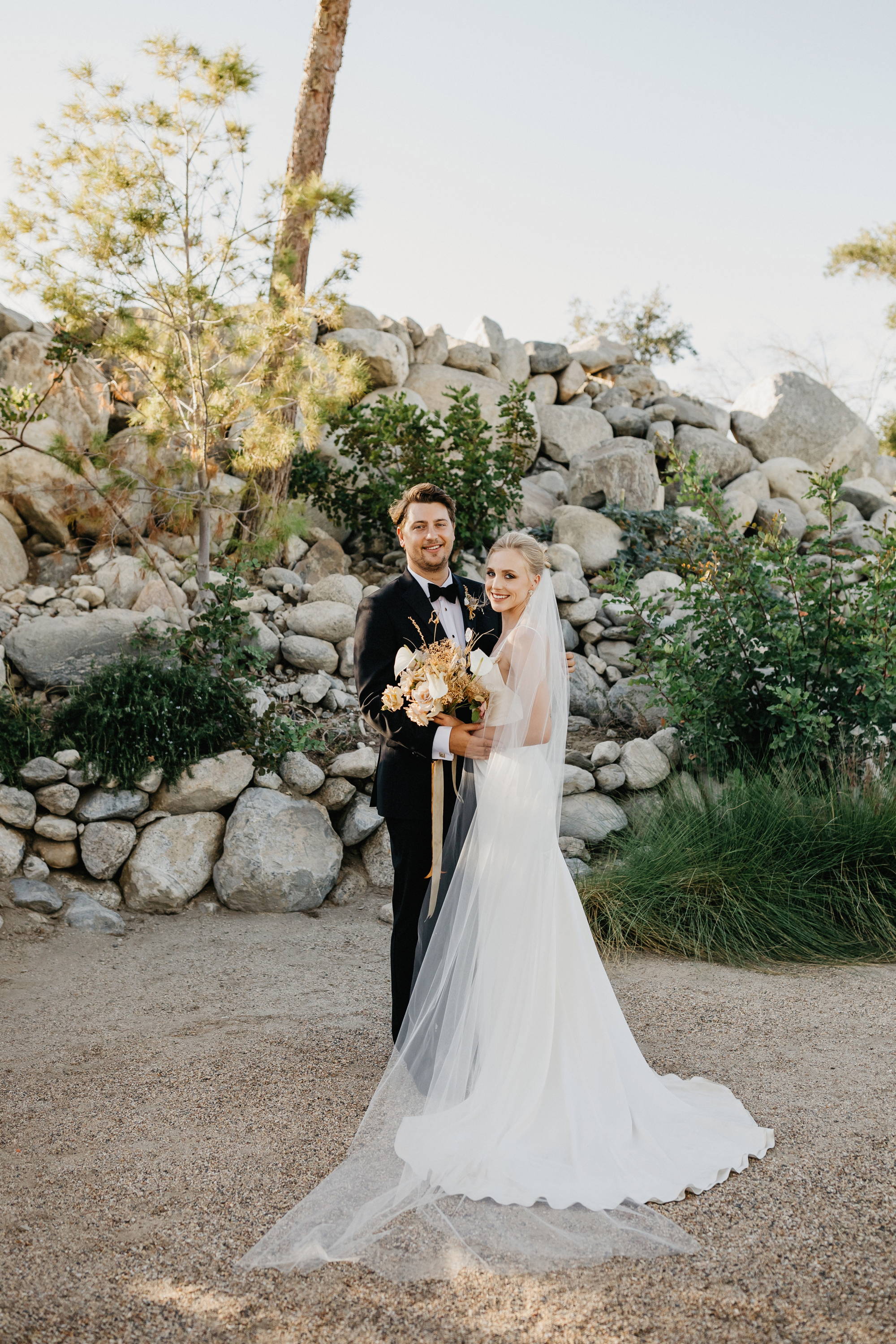 ---
Since they're both busy attorneys, Lily and Bennett waited until Christmas and New Years to go on their two-week honeymoon. After spending four days in Tokyo they traveled to Nozawa near Nagan to stay at a traditional ryokan, the local onsets and went skiing.  From there, the couple traveled to Maui to stay in Hana at the Travaasa Hana hotel which was a dream. Hiking, snorkeling and just relaxing hit the spot after a busy week in Japan. It was a perfect two weeks!
---
---