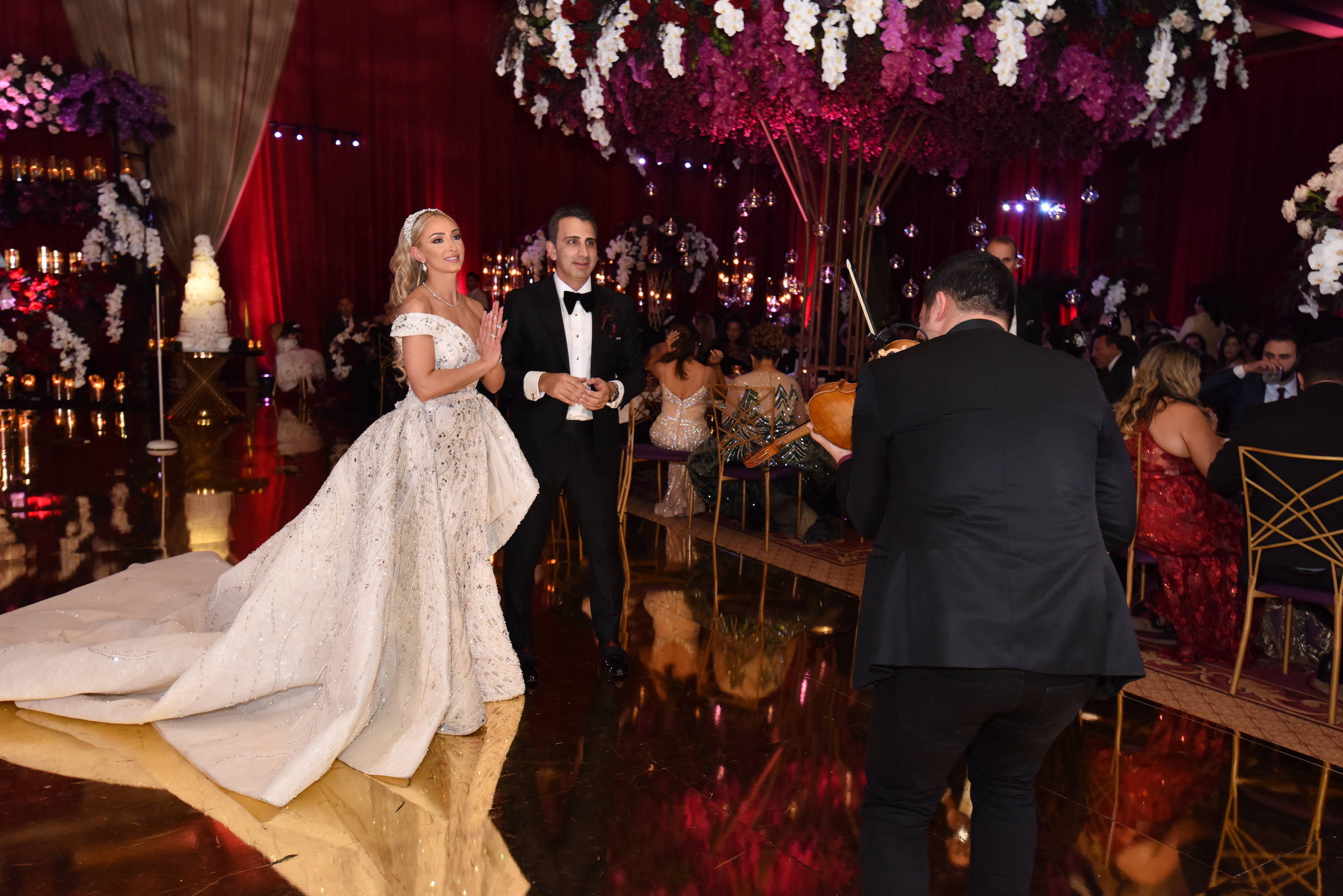 ---
Rhonda and Chris played up a "once upon a time" theme, and gave it a true winter fairytale feel in San Diego.

---
Two family focused doctors who embraced each other and their careers.
Two family focused doctors who embraced each other and their careers.
---
Rhonda found her calling early in life. A Christmas gift of a Barbie Career Doll, Dentist edition, was a welcome distraction from the dangers of growing up in war torn Iraq. A compassionate childhood dentist influenced her decision to pursue helping others and suggested a career in dentistry at UCLA. It was through an online site for Assyrian doctors that she met Chris, a highly acclaimed occuloplastic plastic surgeon in residency. 
---
While they dated non-exclusively for several years, for both of them, the feeling that they had found their soulmates was unshakeable. "It is true, there is a strange unearthly feeling in the pit of your stomach when you are around the one you know you are bound to marry. It always felt like he was a missing piece of me. Every time I was with him I felt my soul calling, as if something inside of me was yearning to hold on to him." They share a sweetness together, a devotion to family and support of each other.
Despite their desire to move things along, Rhonda was determined to have a career of her own. When she relocated to Los Angeles, she started a high end modern dental practice specializing in oral surgery and cosmetic dentistry. The close proximity of Chris's office cemented their relationship and the rest is history. 
---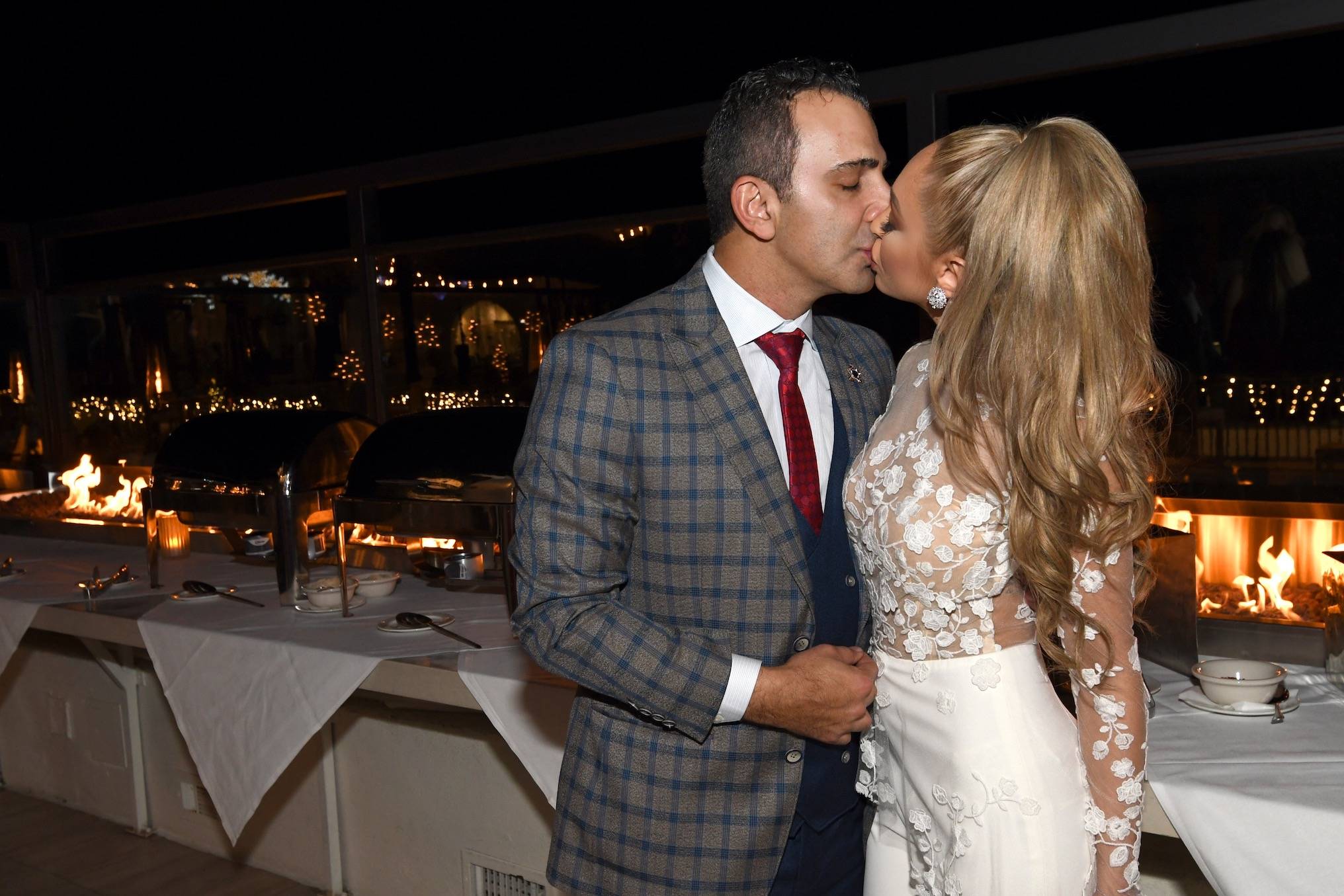 ---
"Those who know us best, say we were meant to be. I pride myself in saying he is the male version of me. We are both incredibly proud of each others achievements and skill set as doctors." In their free time, they love to stay active together. Despite their busy schedules, they make time to go on beautiful hikes, ski, surf, and try new restaurants a few times a month. "LA is such a hotspot of great cuisine." 
Both the bride and groom come from very large families who meshed seamlessly from the start.  "What I love most about him is simply the love he has for his family, and my own." For Rhonda, the way Chris treats them, particularly his mother, was a great reflection of her own values and the man she loved. "What is remarkable, is the day our mothers met, we were all so shocked at how uncanny the resemblance was, from the infliction of their voice, their hair, the way the dressed, to the way they laughed, everything was the same. And our mothers are the best of friends. Truly, our favorite thing to do together, is just relaxing with all our family around us."
On a hot summer day in Rhonda's parents backyard, Chris proposed with their whole families in attendance. "It was all such a surprise. My husband came out and took my hand and walked me through my father's fruit garden, pointing out all the things he loved about me, and all that I meant to him. I thought he was trying to tell me he was dying, but he then told me to look up in the sky, and just over our heads was a plane that said "Rhonda, will you marry me?" 
A beautiful Harry Winston oval cut ring magically appeared which he placed on her finger. "He hit the nail on the head with my ring, and even went so far as to add his own little special touch; a custom placed sapphire diamond hidden below the oval ring symbolizing my birth stone. " As they looked around them, they saw their entire families circling them: parents, brothers and sisters, grandparents, cousins, aunts and uncles. "It was a the one of the most precious days of my life, and one I will never forget."
---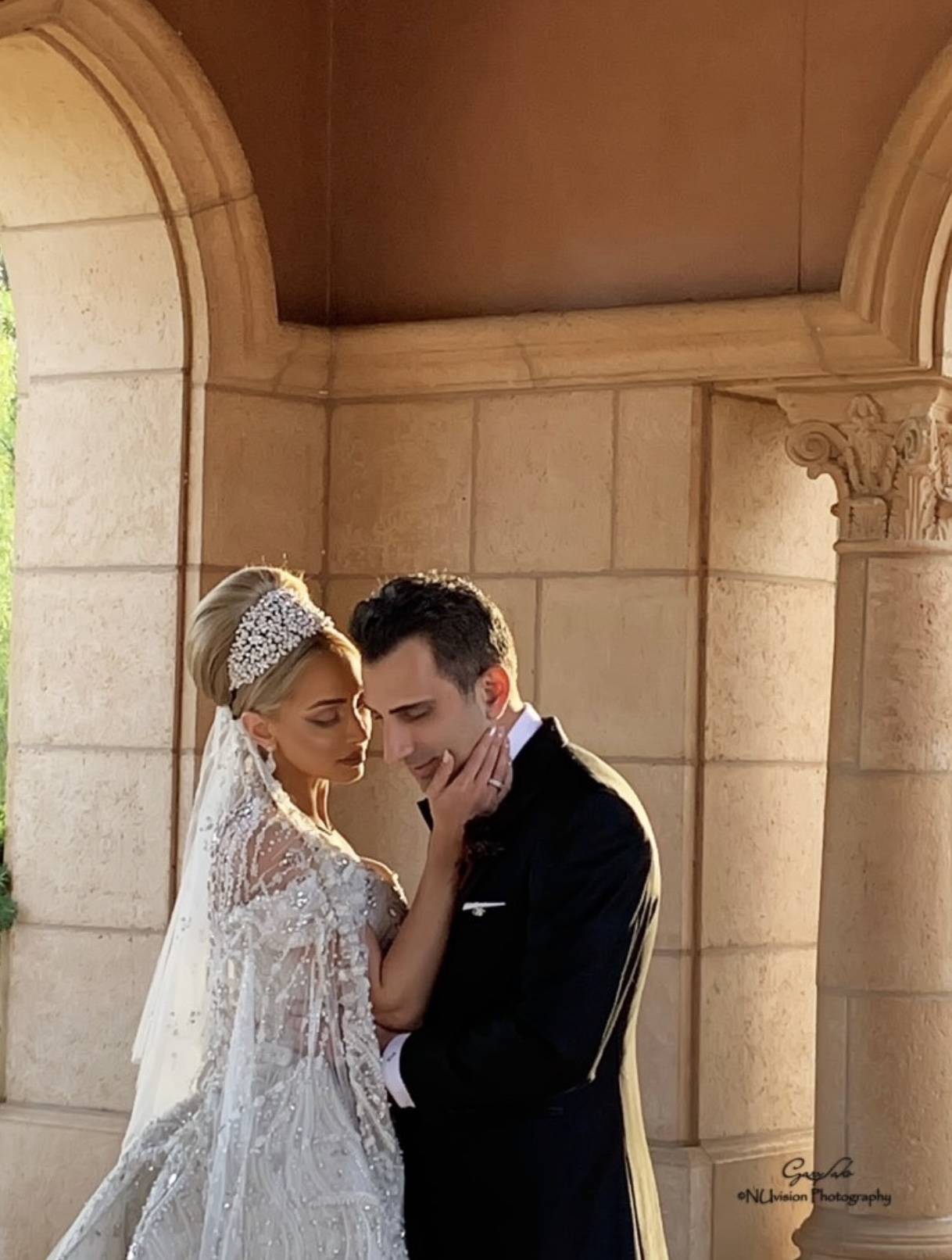 After touring many venues, they settled on the San Diego Fairmont Grand Hotel. The manager of the hotel was incredibly accommodating and they both loved the gorgeous, extravagant design. With an exquisite chapel on location, they couldn't have imagined getting married anywhere else.
They married in December, so the color scheme skewed to more winter colors. The bride and groom played on a "once upon a time" theme, and gave it that winter fairytale feel. Dark reds, deep purples, and royal greens brought a winter romance to the atmosphere.
"My mouth dropped when I walked into the reception and ceremony. The florist was incredible, I could not believe how he designed a makeshift tree at the family tables that was 12 feet tall and 10 feet wide." Their florist, PetalsLA, did such an incredible job that his work landed the couple in several magazines, including Haute Living and California Wedding Day Magazine.
---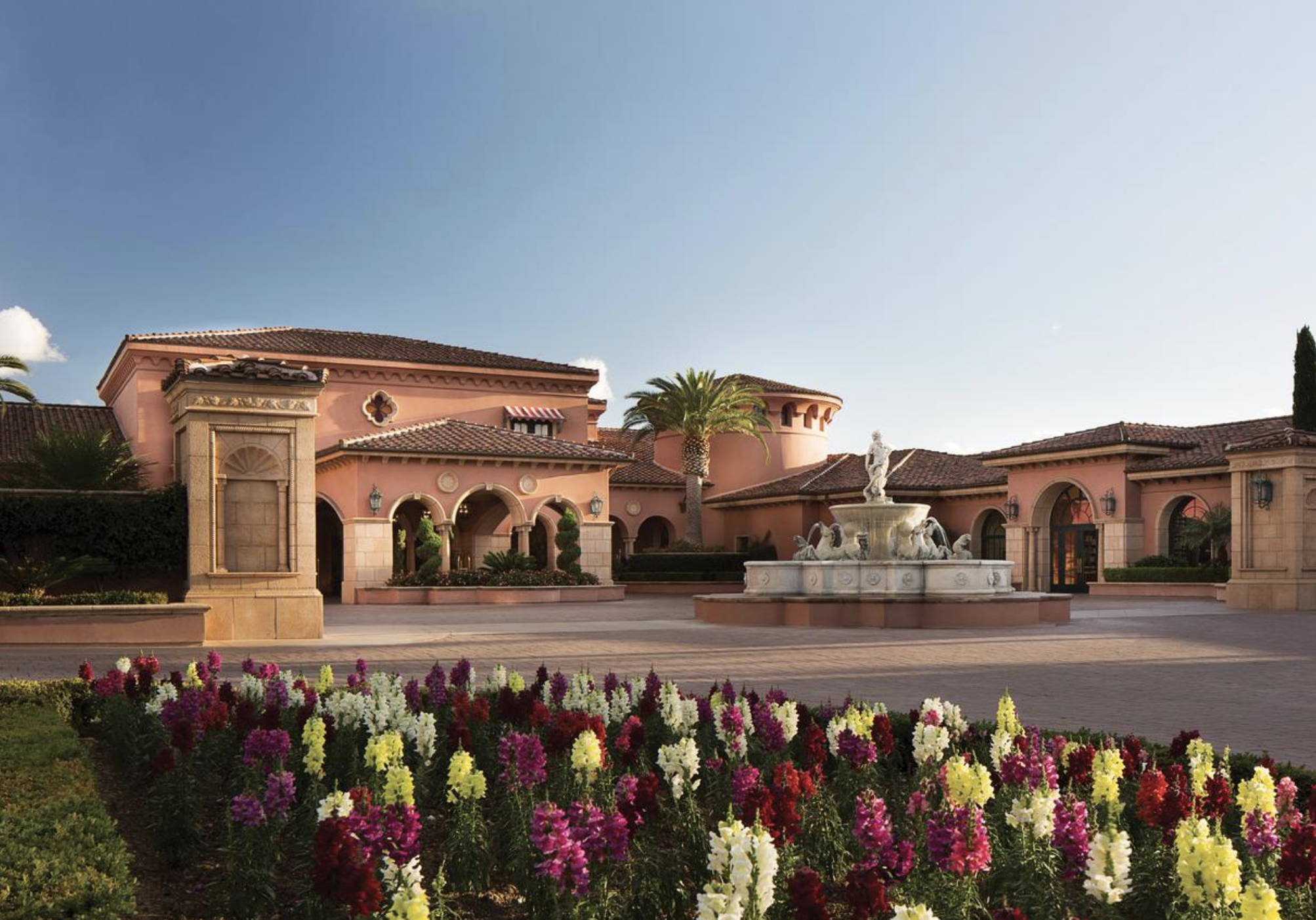 ---
Rhonda had her dress custom drawn and designed by Saaid Kobeisy, a Lebanese designer who she loves. They did incredible work and guests felt it was the most beautiful dress they had ever seen. Intricate and detailed, it had an enormous amount of crystals, weighed fifty five pounds and had a nineteen foot veil. Having the dress made in Lebanon didn't allow time for a proper fitting. Rhonda's advice, "Do not get a dress made out of the country, find something local, otherwise you spend way too much on shipping, the fit is all wrong, and the stress is not worth it at all.
---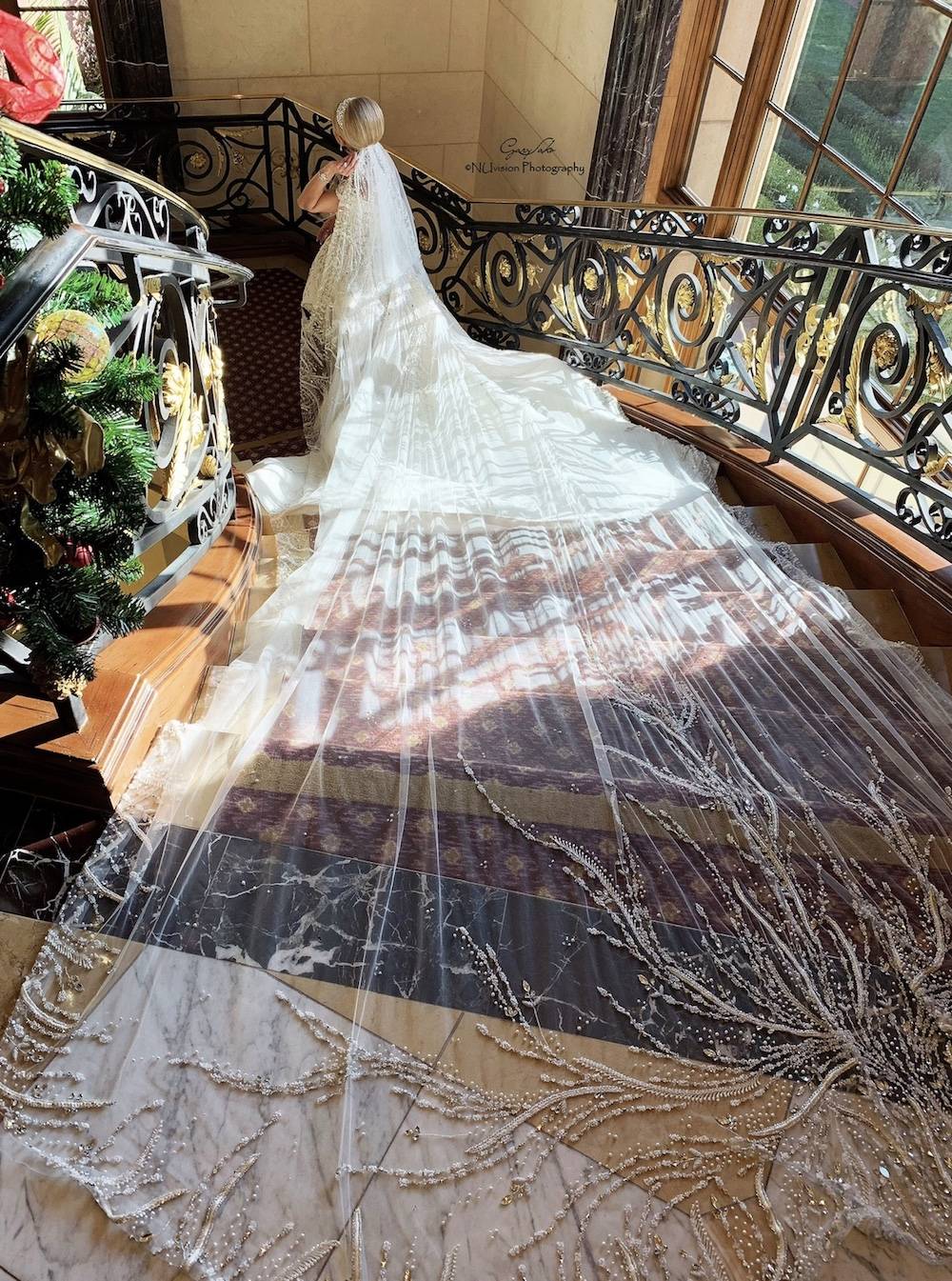 ---
For their rehearsal dinner, Rhonda wore the Camilla Gabrieli Olivia shoe with a Rime Arodaky beautiful open back lace pant suit with train. "The shoes were incredibly comfortable and felt like butter on my feet." Rhonda also loved the white glove ordering process of the site which was fast, easy, and incredibly in-tune with her needs.
---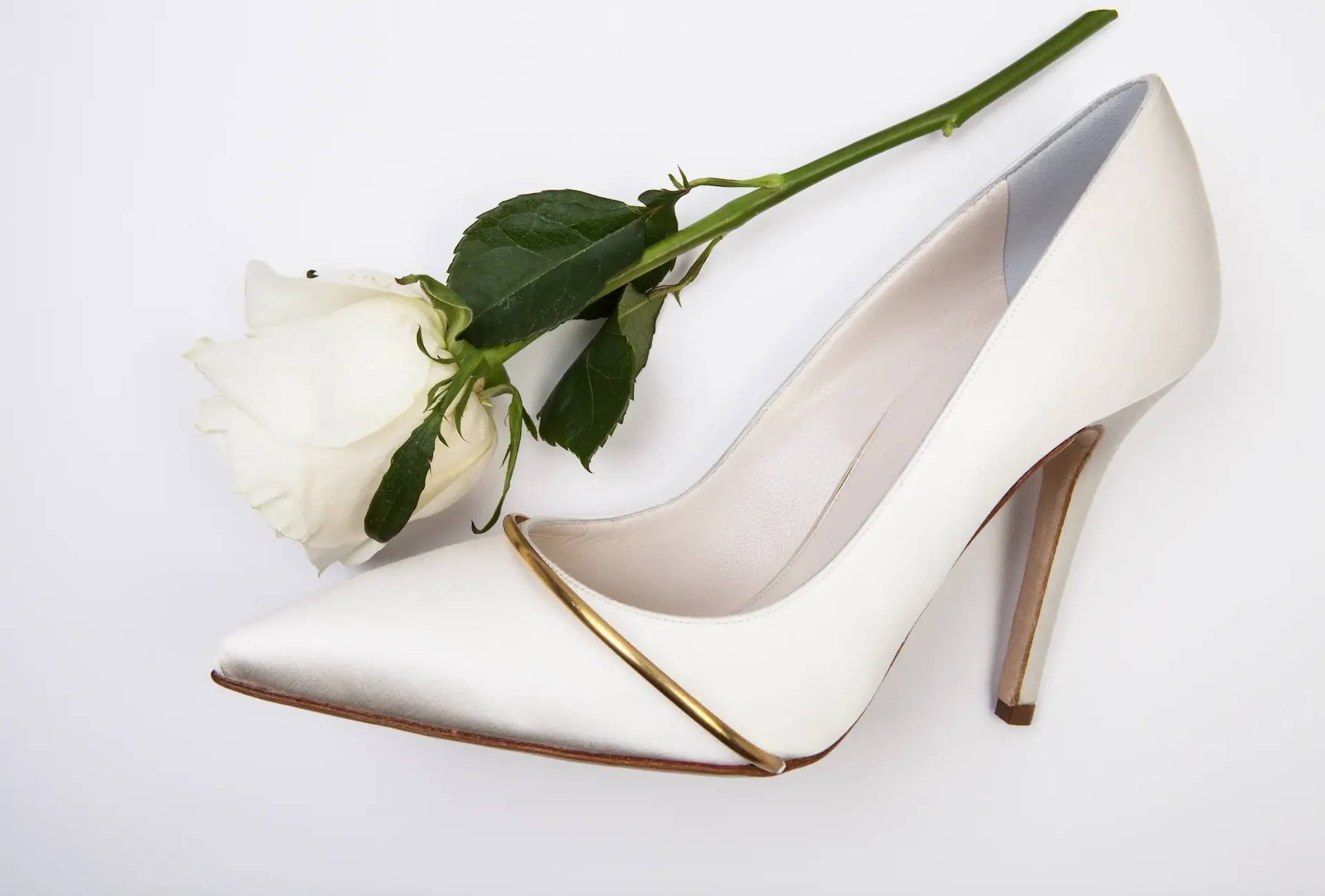 "I was so happy in my satin pumps, they were incredibly comfortable and felt like butter on my feet. The elegant design and handcrafted details matched shoes I've paid three times as much for. "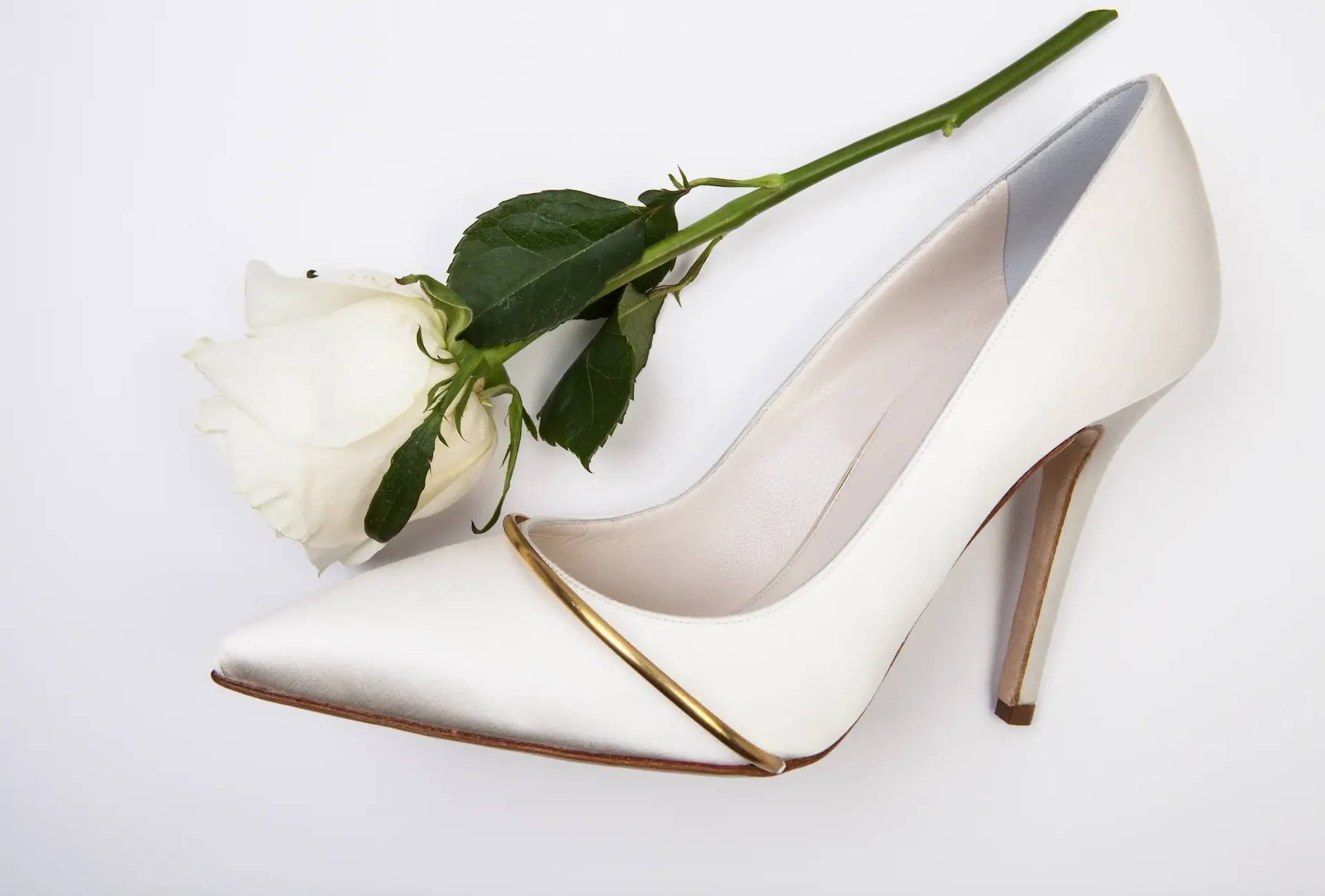 "The shoes were incredibly comfortable and felt like butter on my feet"
---
"It was almost like you stepped into a royal extravaganza with a golden dance floor, real candles, velvet drapery, custom tables, and chairs, and incredible upbeat live music." They planned a mix of culturally traditional music as well as a DJ, a guitarist, a saxophonist, a drummer, and live singer in both English and Arabic.
---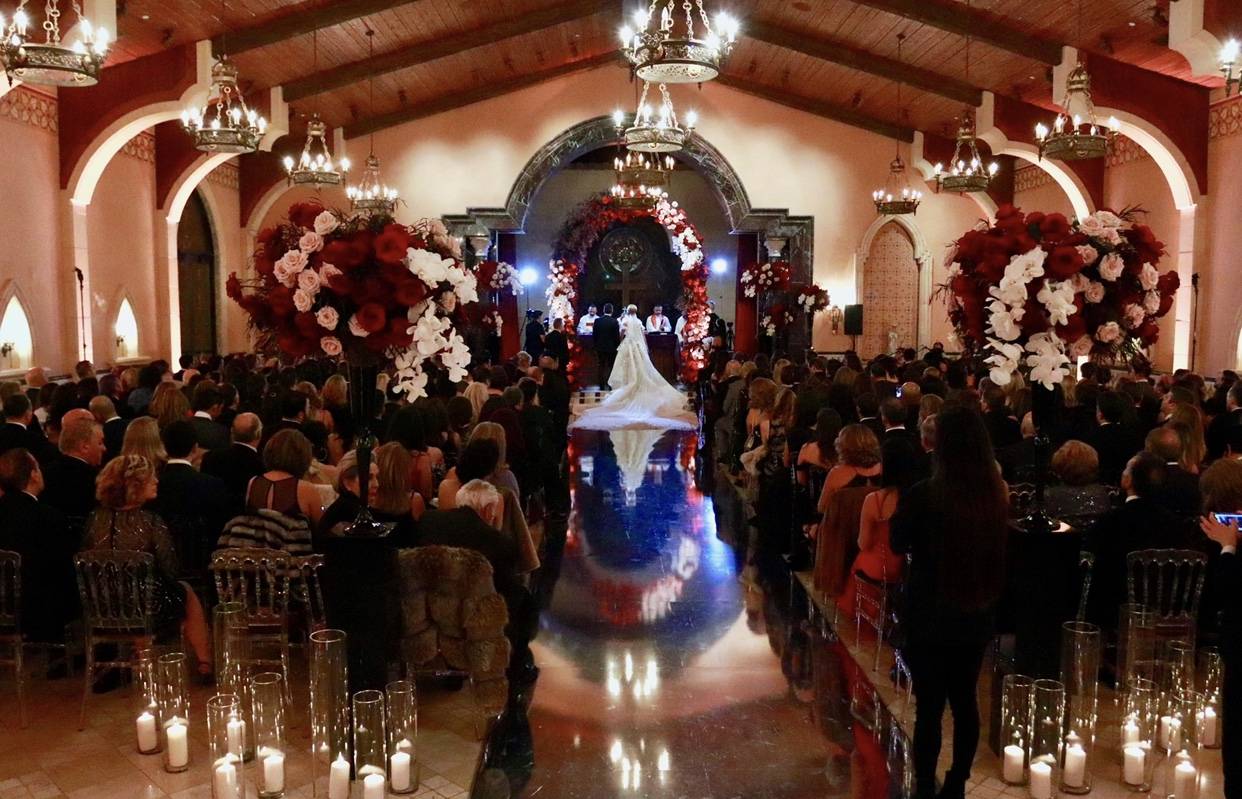 ---
Their main focus was ensuring it would be a fun wedding for all their guests. With both coming from very big families, their wedding was insanely large with over 610 guests with a primal party of 40! For Rhonda, the most beautiful part about the wedding was that it captured her lifelong dream of what her wedding would be: the dress, the table decor, and stunning flower arrangements, the music, all surrounded by those closest to them. "It was more than I could have ever dreamed or wished, it was truly the most happiest day of my life."
They were fortunate to be surrounded by an incredible team that pulled all the wedding details together in perfect form.  Wedding planner Love it Events, photographer Michael Anthony and videographer Gary Sako at Nuvision. "The photos and footage from our wedding perfectly captured the celebration."
---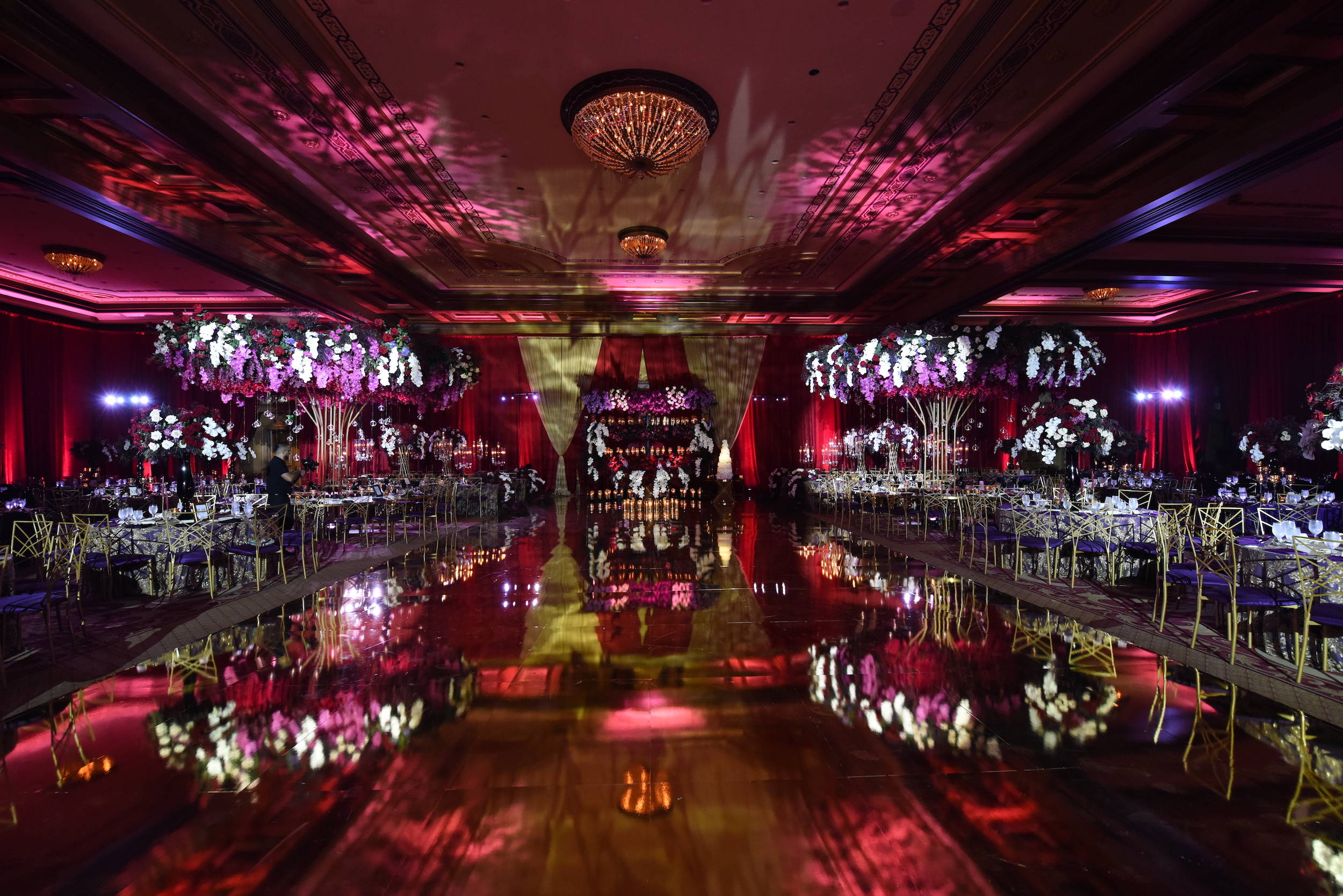 ---
The bride and groom went to Bora Bora for a week long honeymoon and loved every minute of the enchanting island. After such a concentrated time with family and friends, it was an amazing moment to step back and enjoy each other's company.
---
---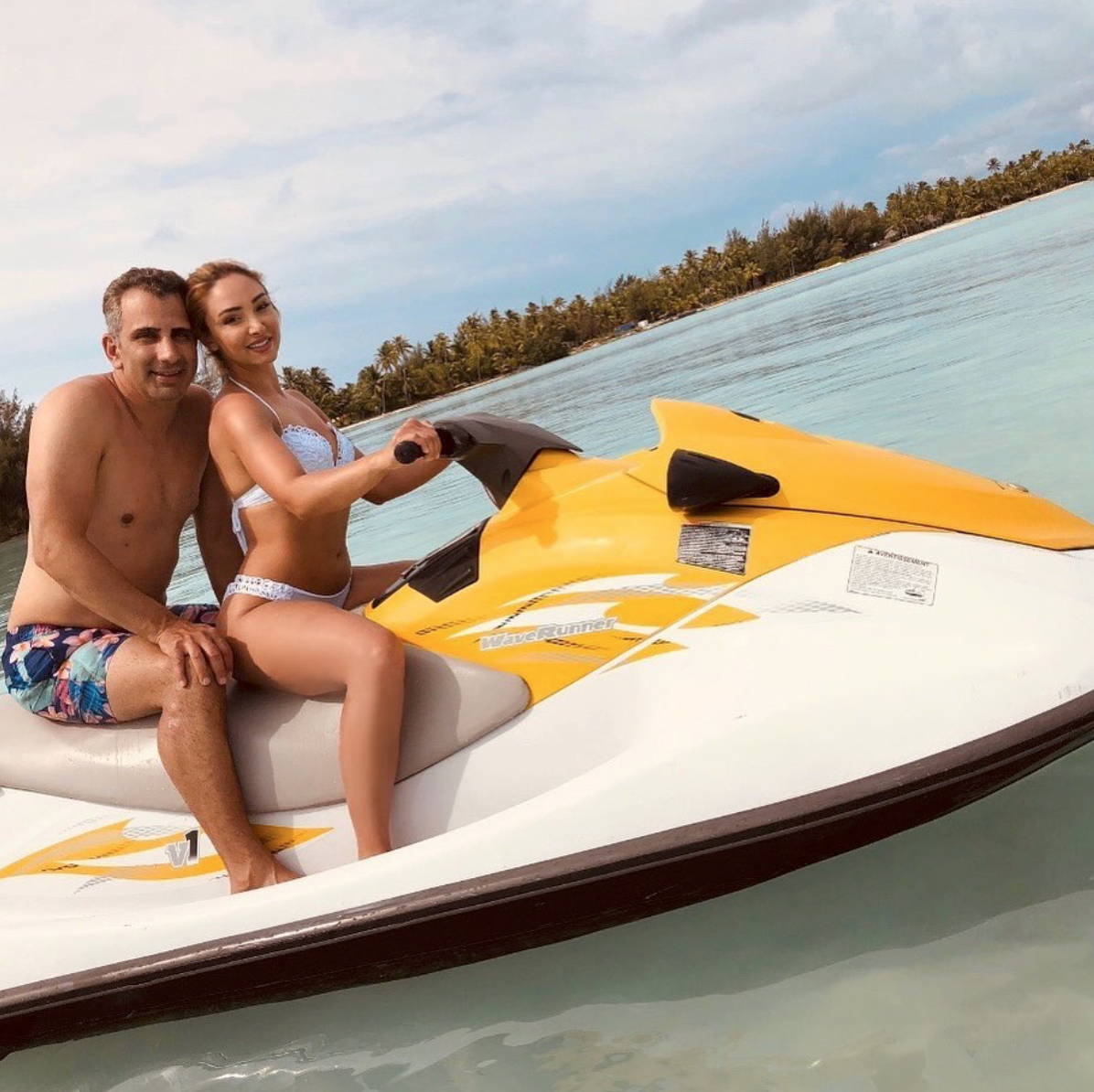 ---
"Enjoy every moment, take a second and take it all in. Walk through your own wedding like a guest, and see the magic." 
---
---
---