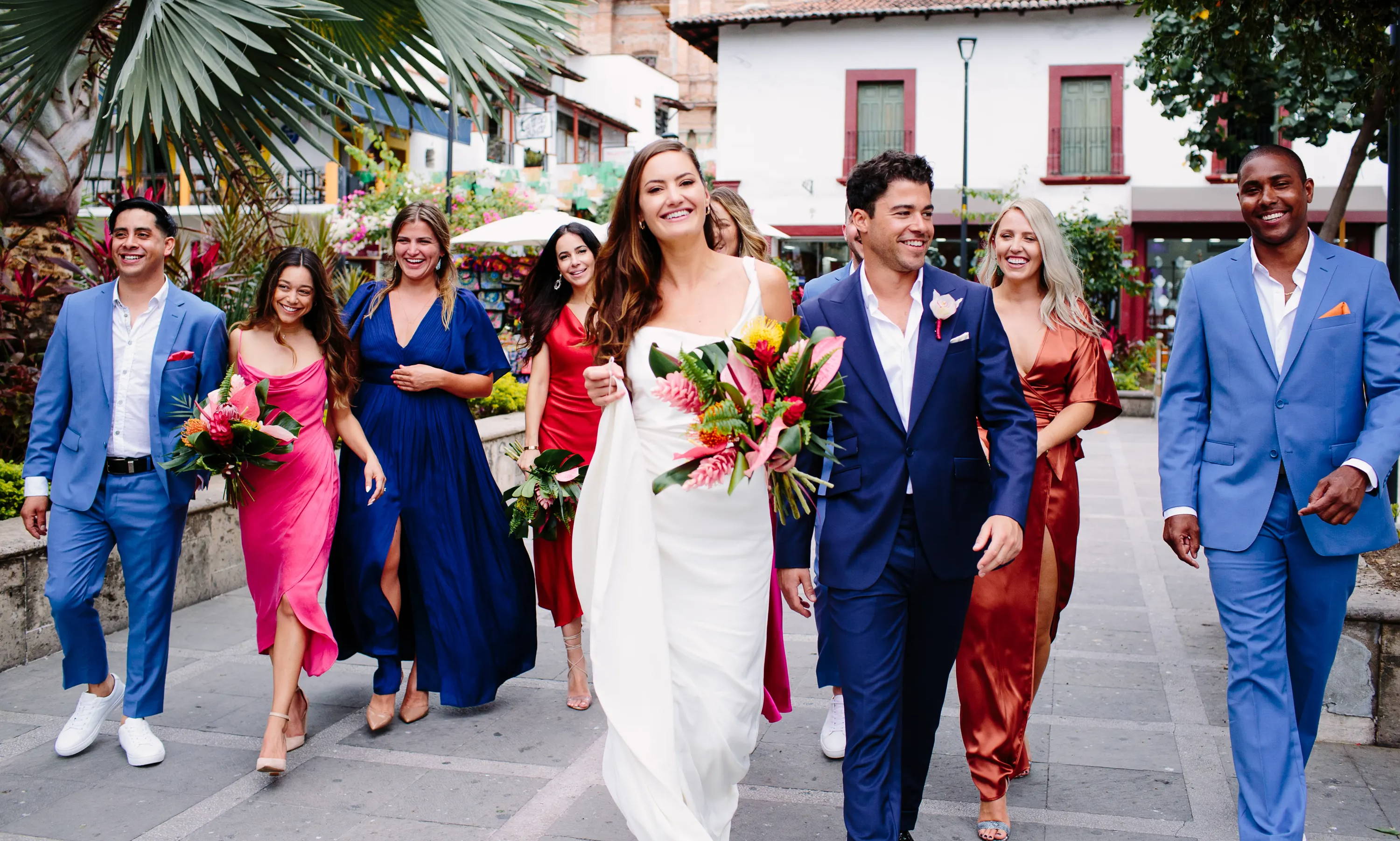 ---
The glitz of Las Vegas to the tropical glamour of Mexico.
---
The dress code? Bright and Fun Prints
---
The Dress Code? Bright Satin and Fun Prints.
---
For Tara and Franck, it was a fateful meeting at a mutual friend's Halloween party that brought them together. "Being in the fashion industry, I've always loved dressing up and Halloween has always been my favorite. Meeting Franck when he was dressed as a Frozen Mountain Climber certainly left a strong impression."
Things escalated quickly and in the four years they lived together before they were married, they shared a love of all things quirky and fun. It was a huge factor in their decision to get legally married in Las Vegas. Celebrating in the neon city lights with a small group of friends was unforgettable. While they'll always consider their formal wedding in Puerto Vallarta, Mexico to be the "real" one, Las Vegas allowed them to show their spirited side.
---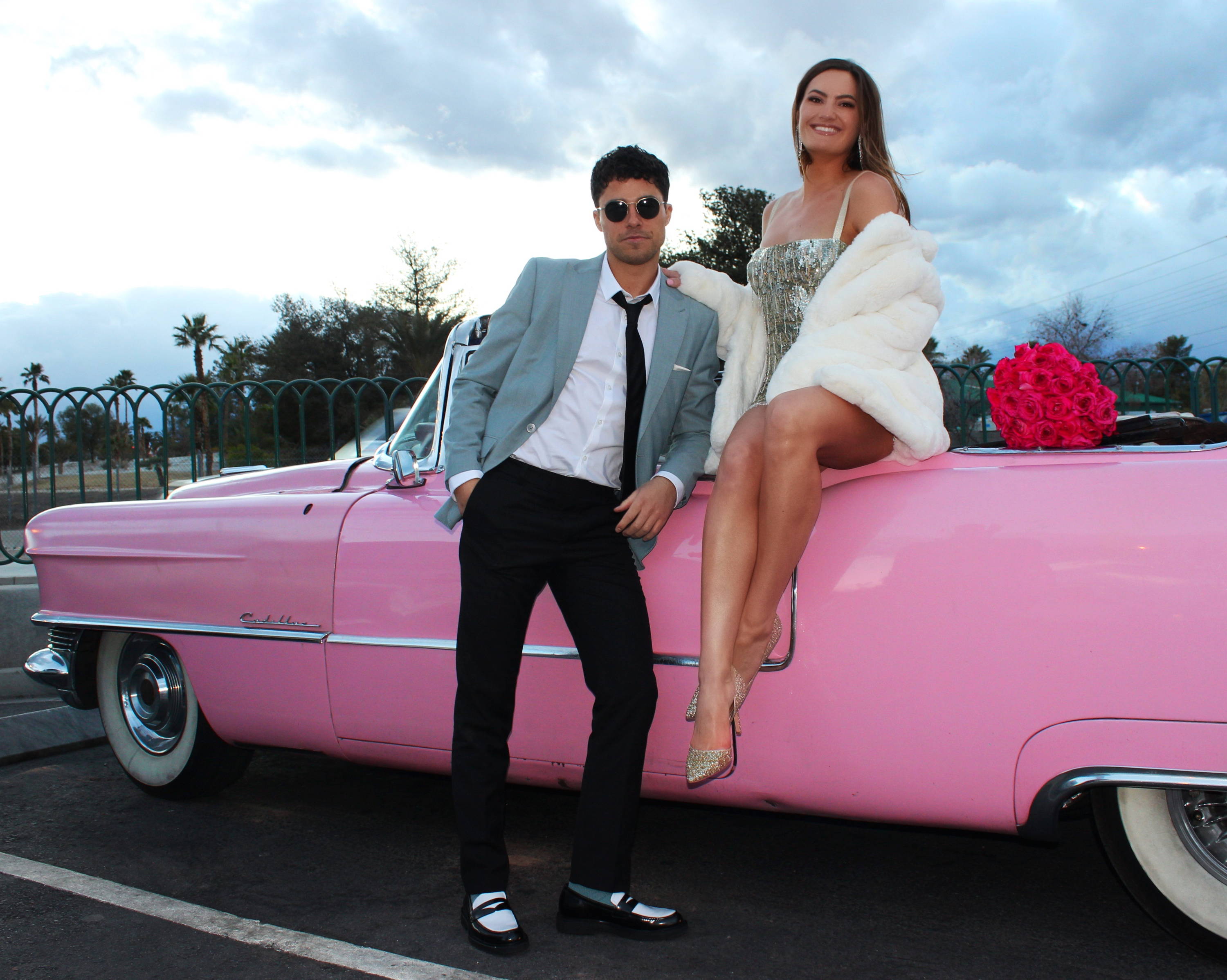 ---
---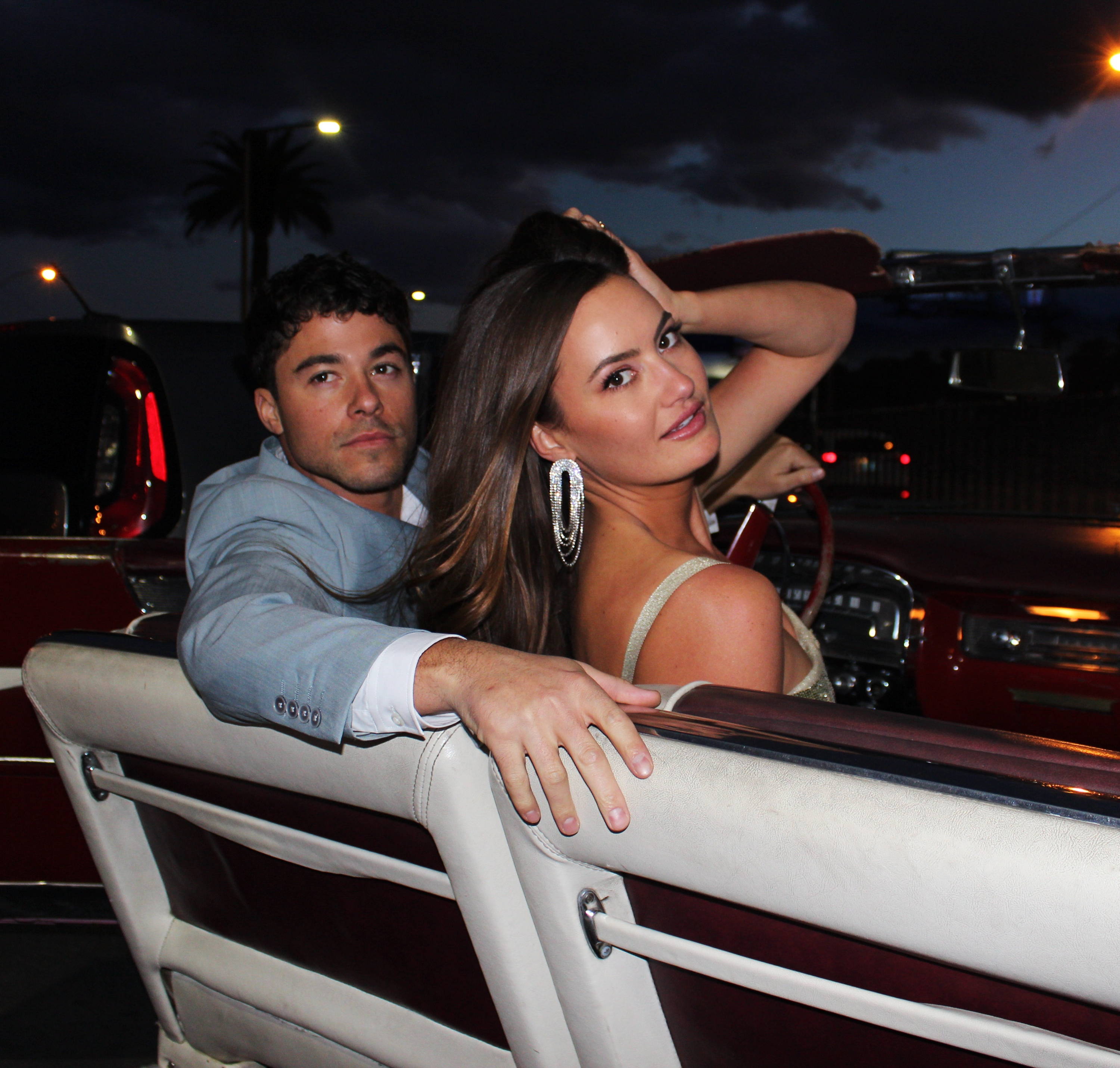 ---
"The night we first met, Franck said he wanted to take me on a date to the LA Zoo because of his deep love of animals." Five years later, he planned a group outing to the festive Christmas Light Show there. Surrounded by their closest friends and with his usual flair, Franck proposed while they were spinning around on the Carousel. "I said YES! Christmas dancers were waiting with champagne to help us celebrate."
---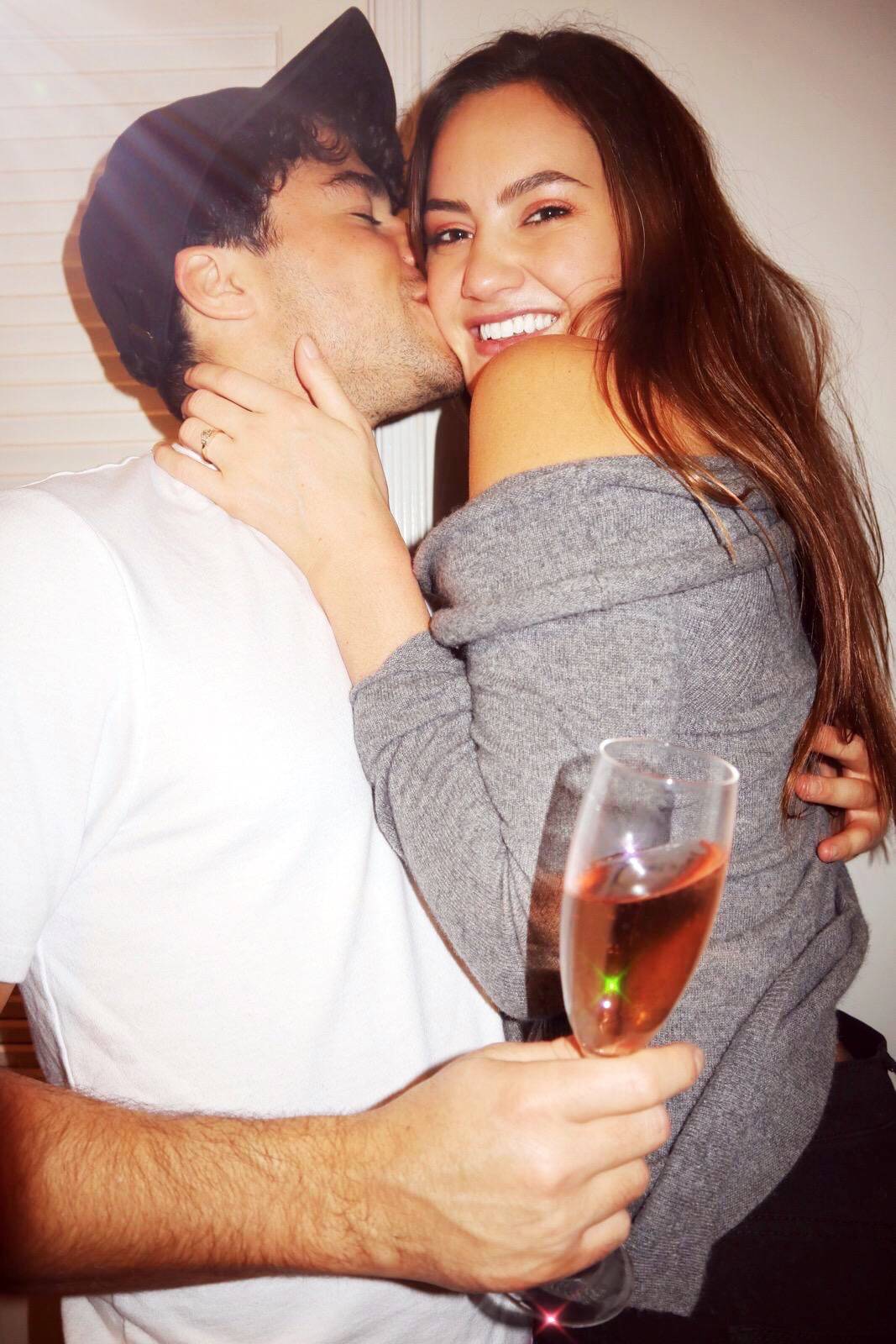 ---
Tara and Franck often vacation at her parent's house in Puerto Vallarta, Mexico. Known for its tranquil old streets and stunning coastline, they wanted to introduce their friends and family to this beautiful town. After a quick search, they secured a to-die-for villa overlooking the Pacific ocean, perfect for a sunset ceremony. Both had always wanted a beach destination wedding, and Talbot Ross, their wedding planner, advised to go for "Tropical Fabulous". Selecting lively colors for the decor, cocktails and flower arrangements matched the venue perfectly.
---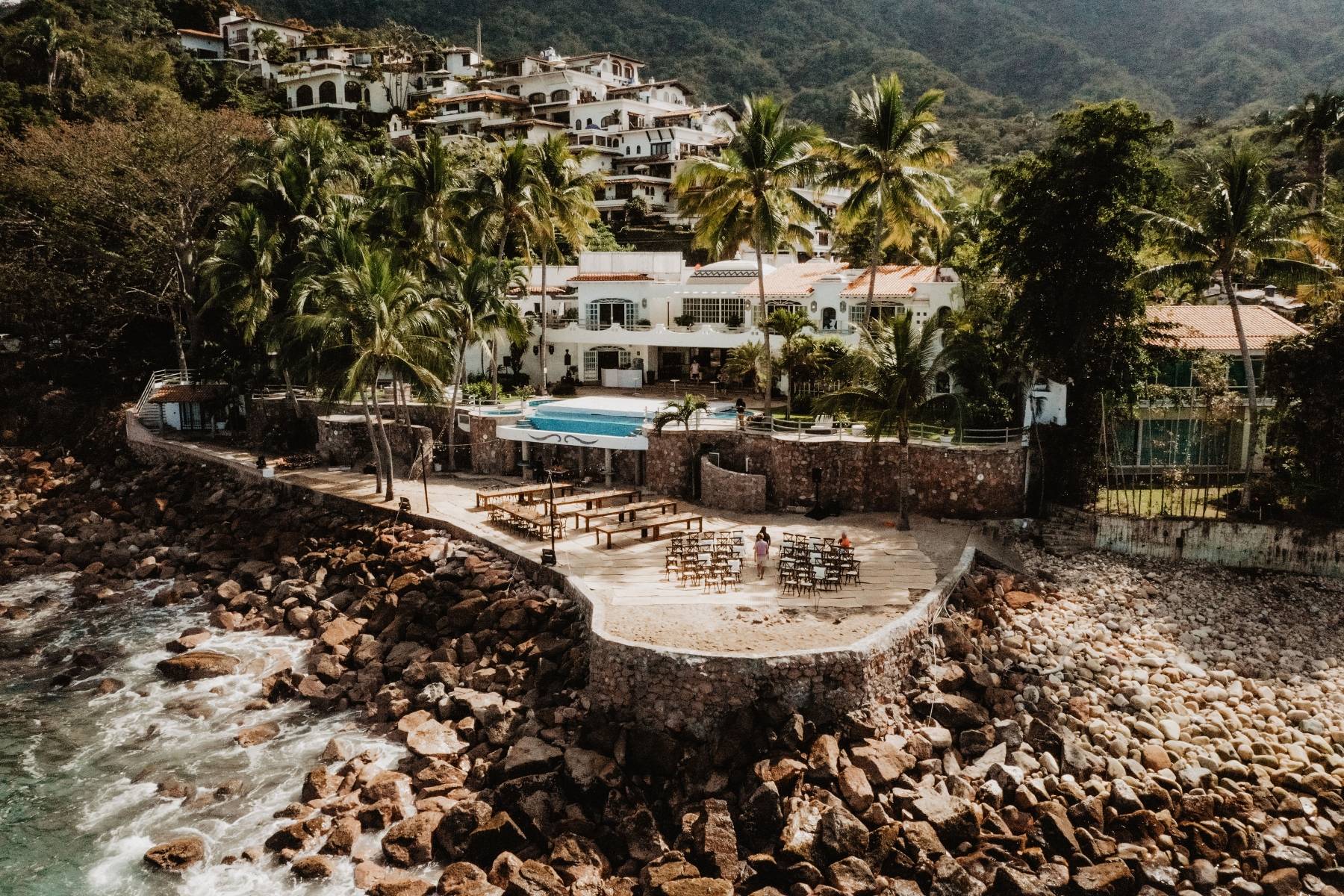 ---
Tara visited several bridal stores in Los Angeles and couldn't find anything she loved. She wanted something slinky and simple to go with the destination and weather. A friend who works at Vivienne Westwood, the iconic British designer, invited her to try on some Red Carpet gowns they had in the showroom.
"I used to work at Vivienne Westwood for years and of course knew her style well. Most of her Bridal is very avant-garde and I wasn't sure it would work with the venue. I tried on a beautiful couture gown that was being optioned for a Celebrity Oscar dress and as soon as I put it on I knew it was the one!" The Vivienne Westwood couture team in London gave her the opportunity to have this same gown made in a custom off-white silk fabric and created a one-of-a-kind wedding dress just for her.
---
---
Before she got engaged, Tara never imagined it would have been so difficult to find the right shoes. "Most styles out there are either crazy expensive or look outdated and cheap. A friend directed me to a new brand her sister wore at her recent wedding in the south of France and that's how I found out about Camilla Gabrieli."
For makeup and hair, Tara went very natural. For jewelry, she borrowed her Mom's gold and diamond drop earrings, and that was all she needed. "It was all about the draping of the dress and the pearl heel on the shoes!"
---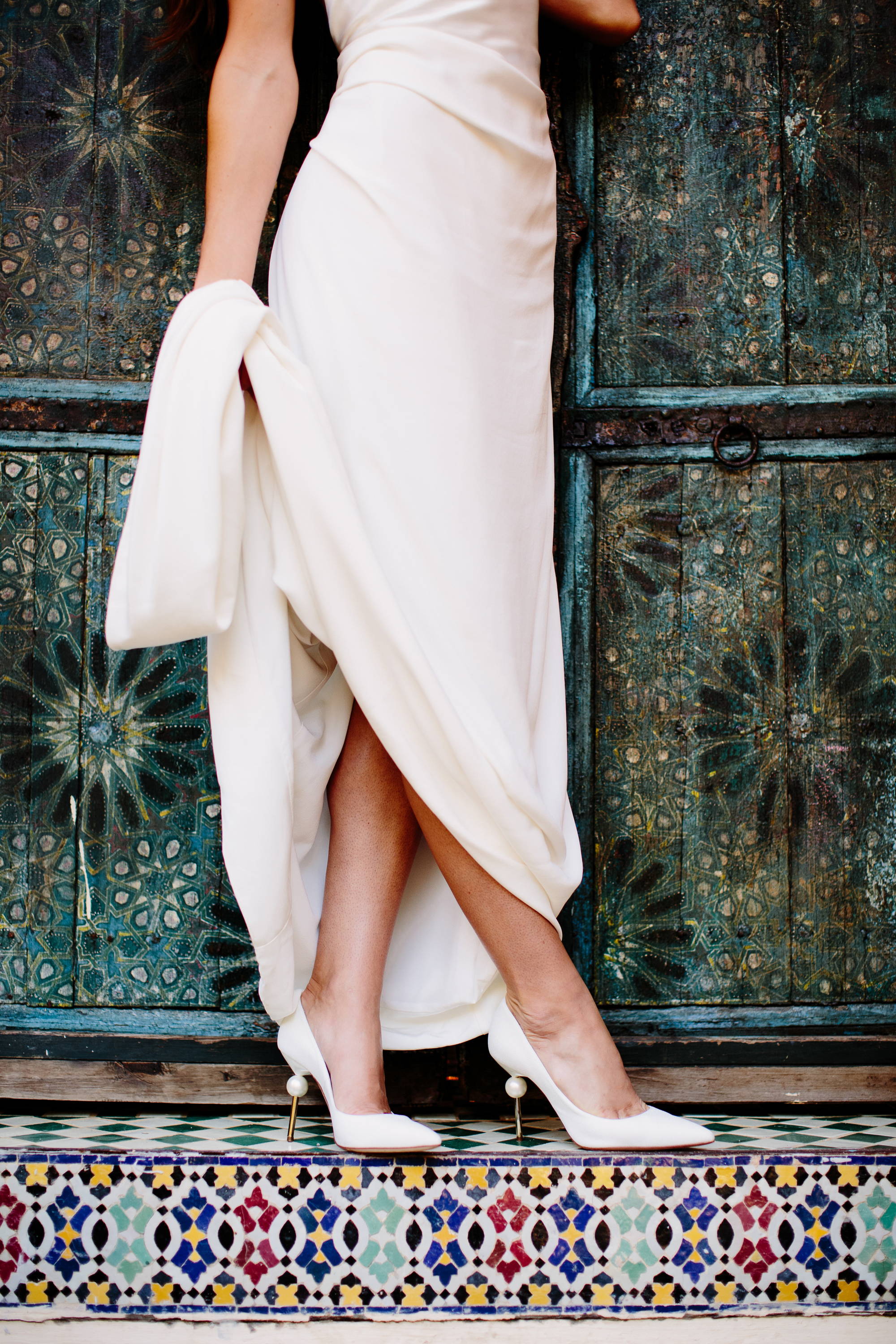 ---
"The elegant simplicity of Camilla Gabrieli's bridal collection impressed me. When I tried on the pumps with my dress it was instant perfection."
---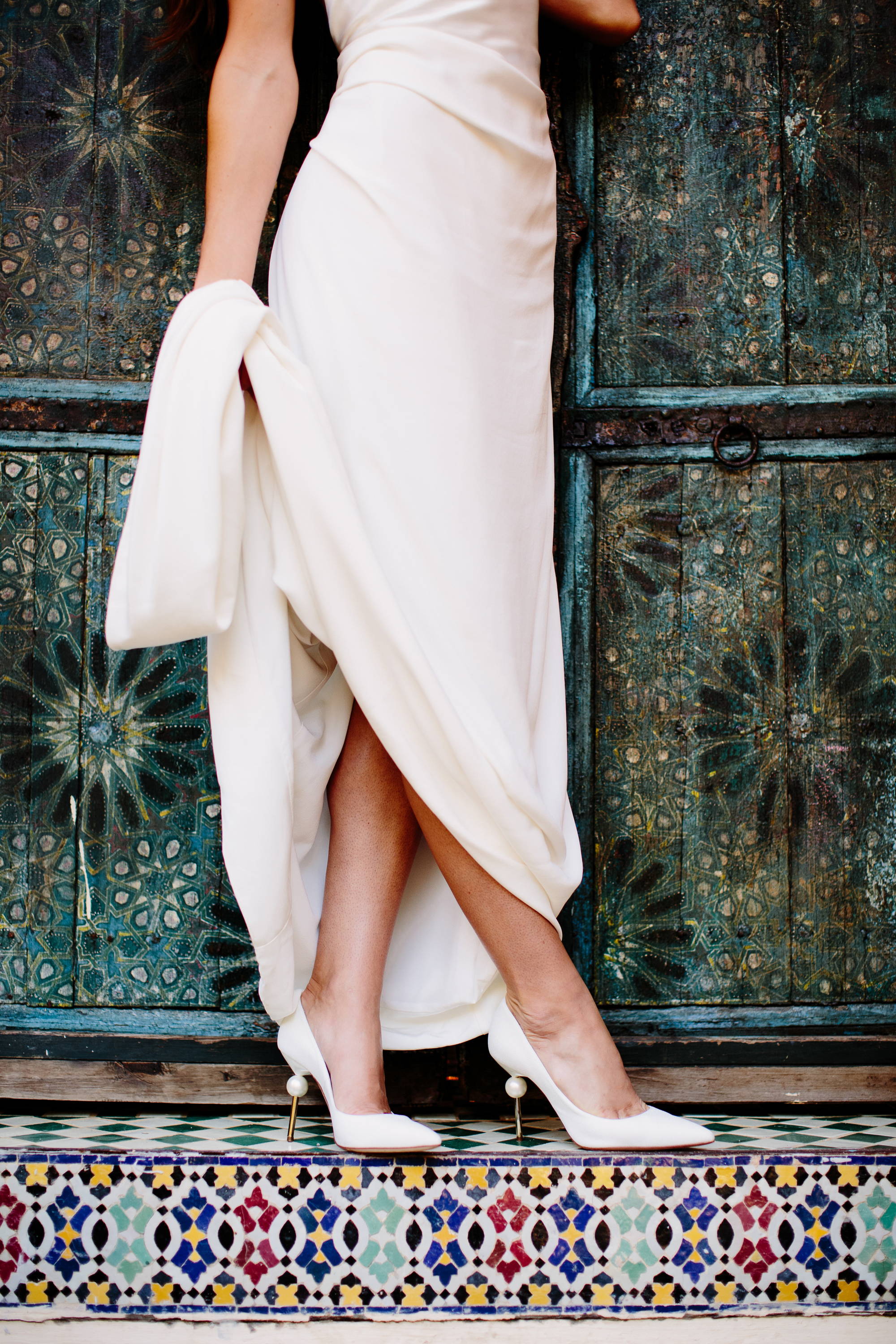 "The elegant simplicity of Camilla Gabrieli's bridal collection impressed me. When I tried on the pumps with my dress it was instant perfection."
Tara and Franck had many great memories from their visits to Puerto Vallarta and love its breathtaking sunsets. It was an easy win for them to have the ceremony on a landing overlooking the ocean. Steps away from the surf, their guests took their seats to a string quartet playing Tara and Franck's favorites.
---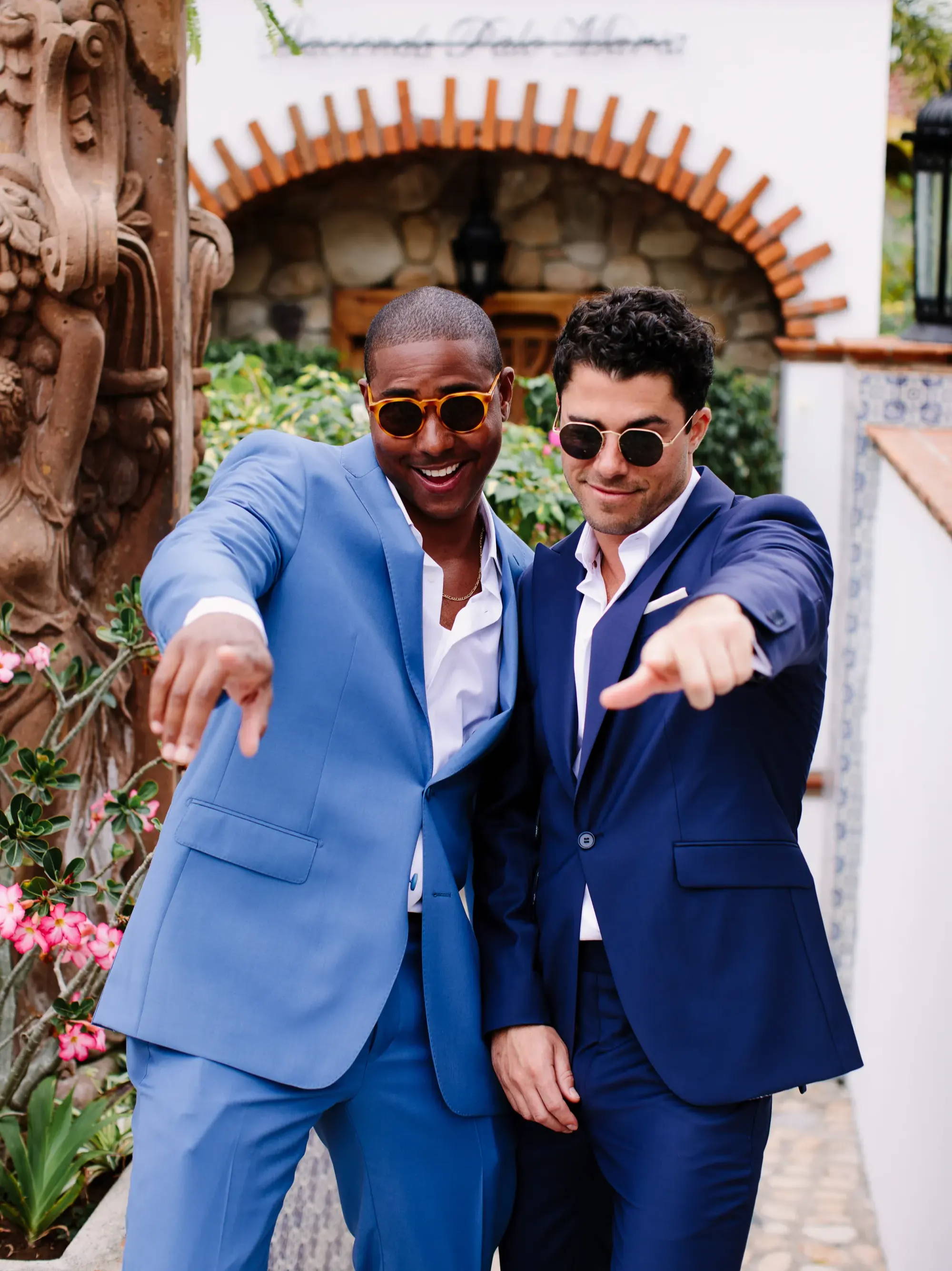 ---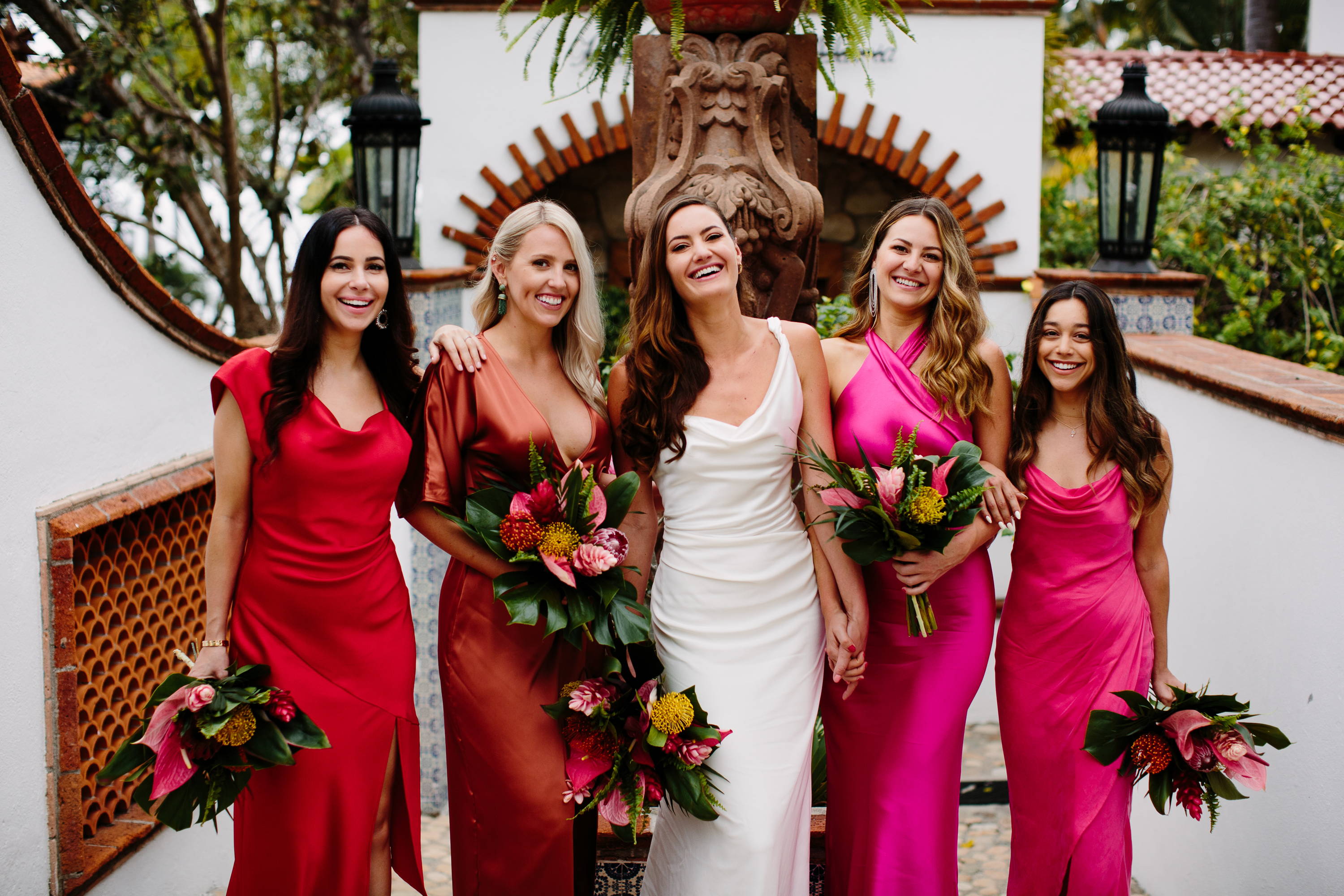 ---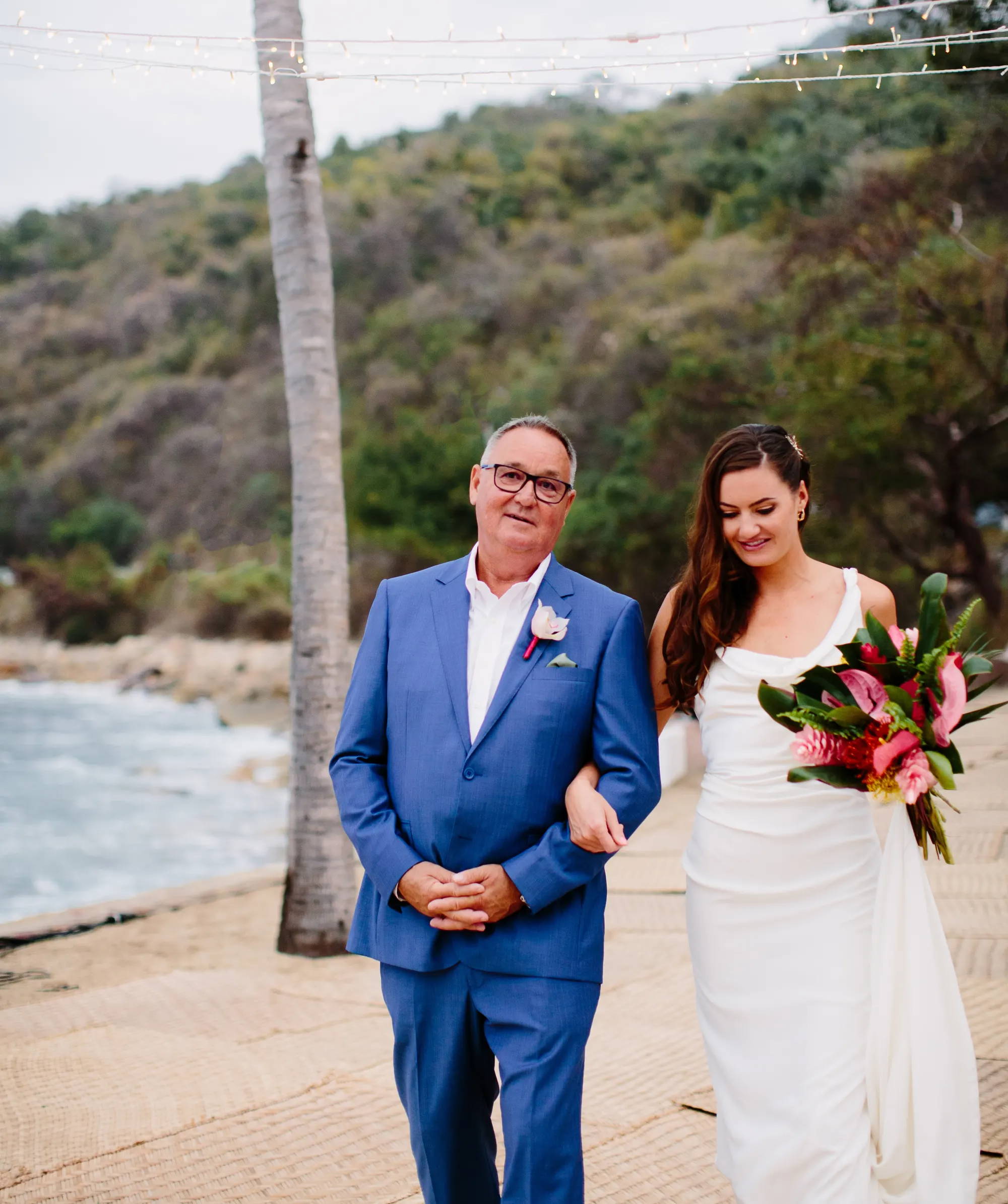 ---
"We encouraged guests to wear bright colors and fun prints. It was a semi-formal event, so guests could have fun with their looks and be comfortable in the heat." Underneath a beautiful arbor of palm fronds and pink tropical flowers, they kept the ceremony short and sweet. "We included our families and asked them to show their support for our union and declare "We do!" along with us!"
---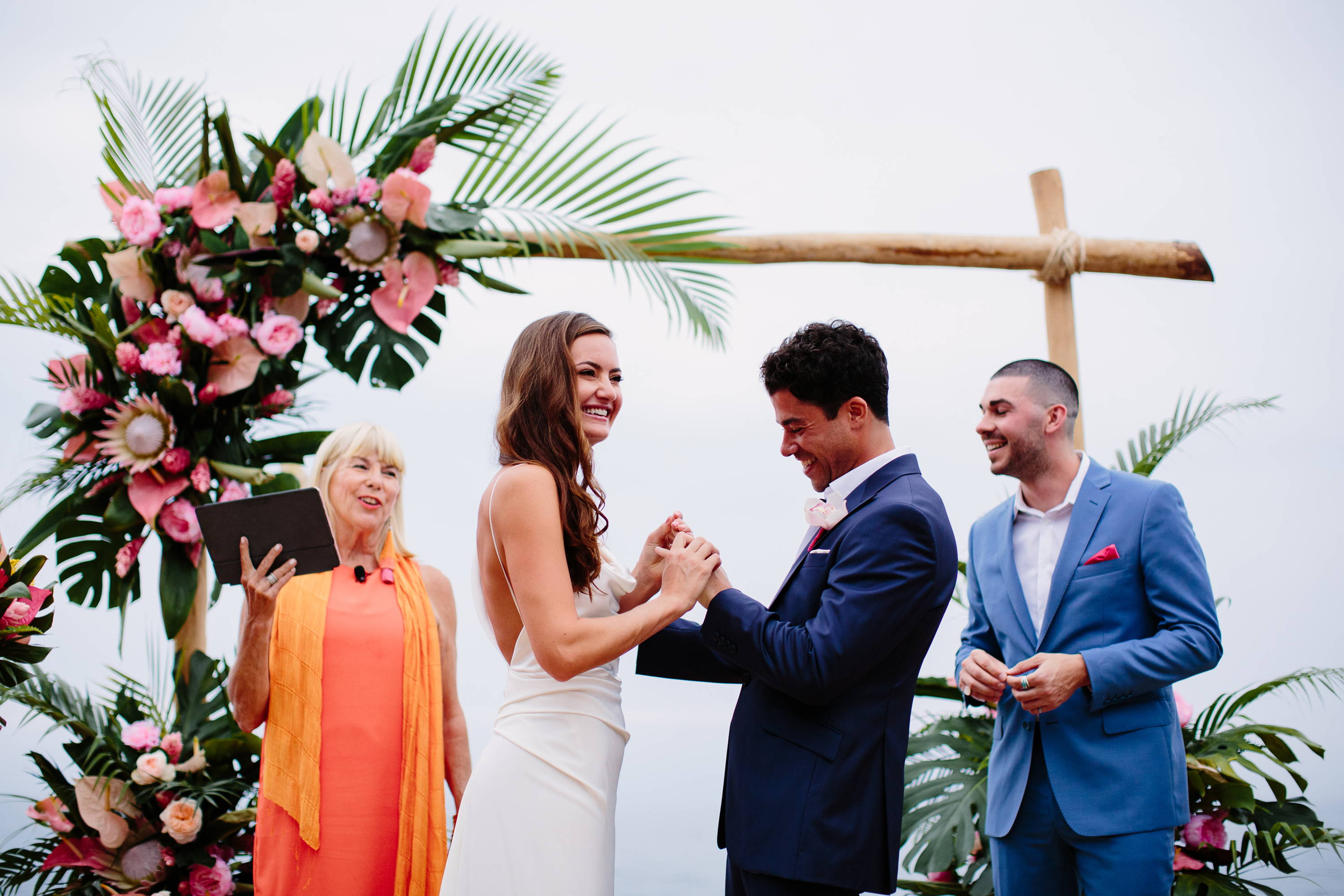 ---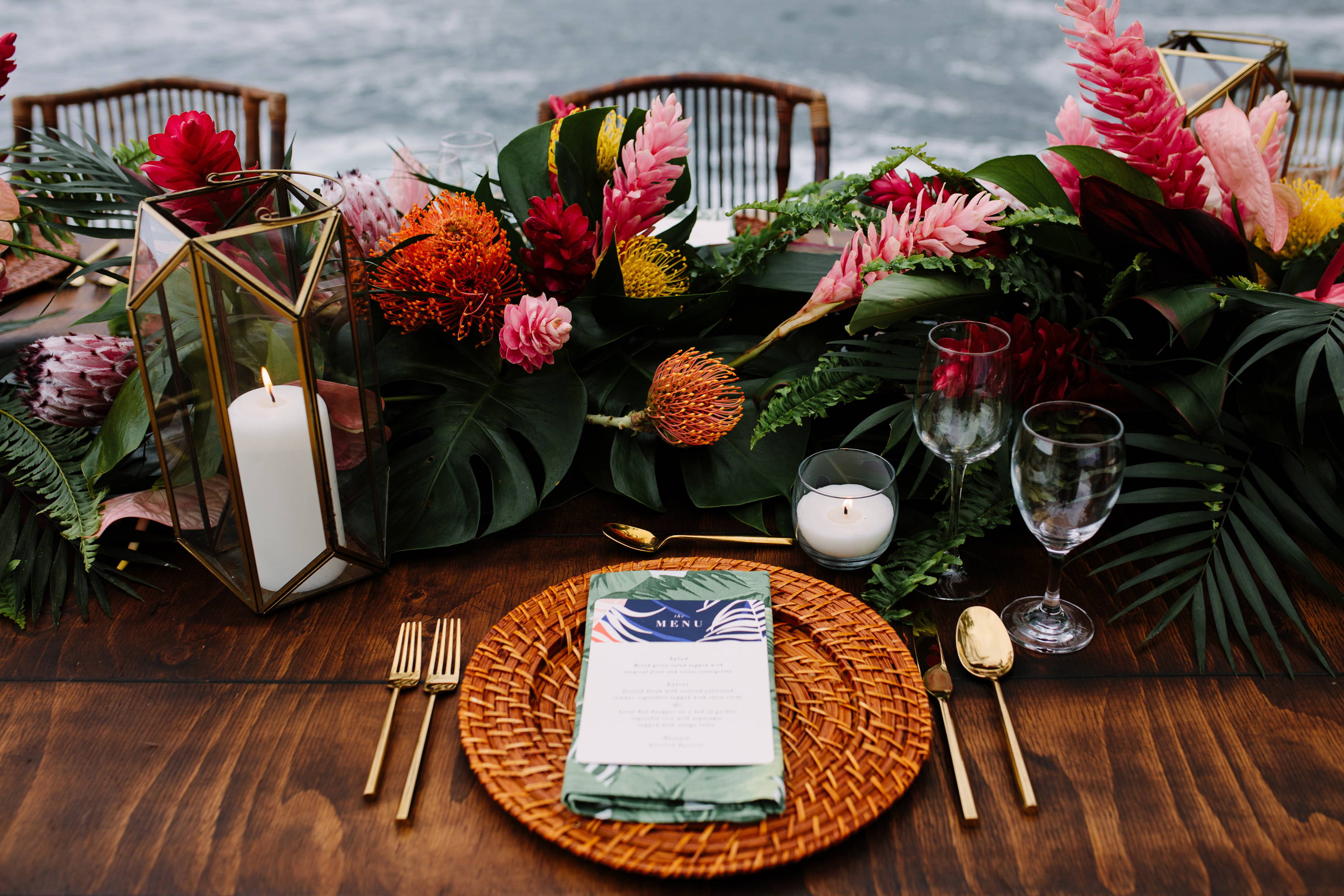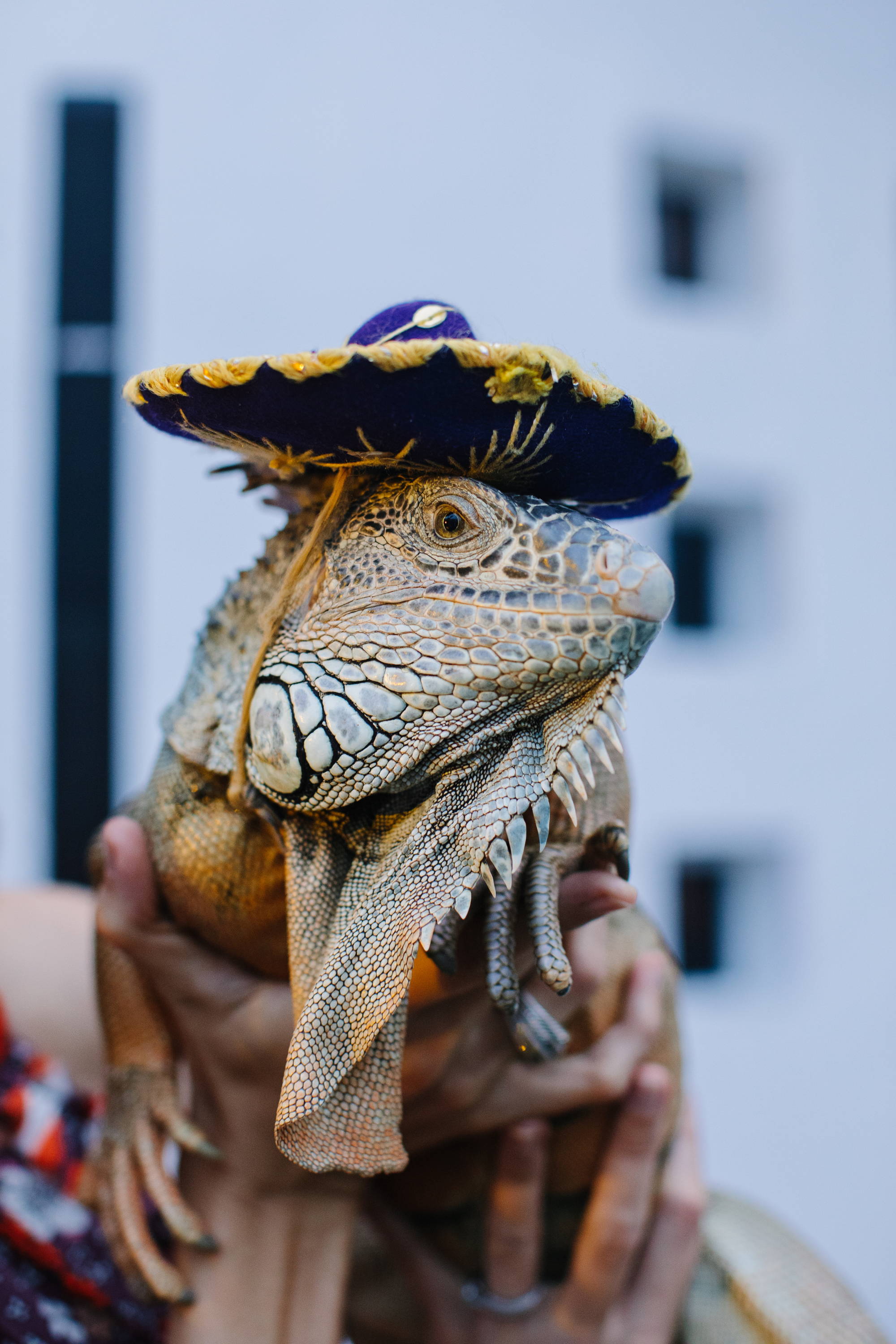 ---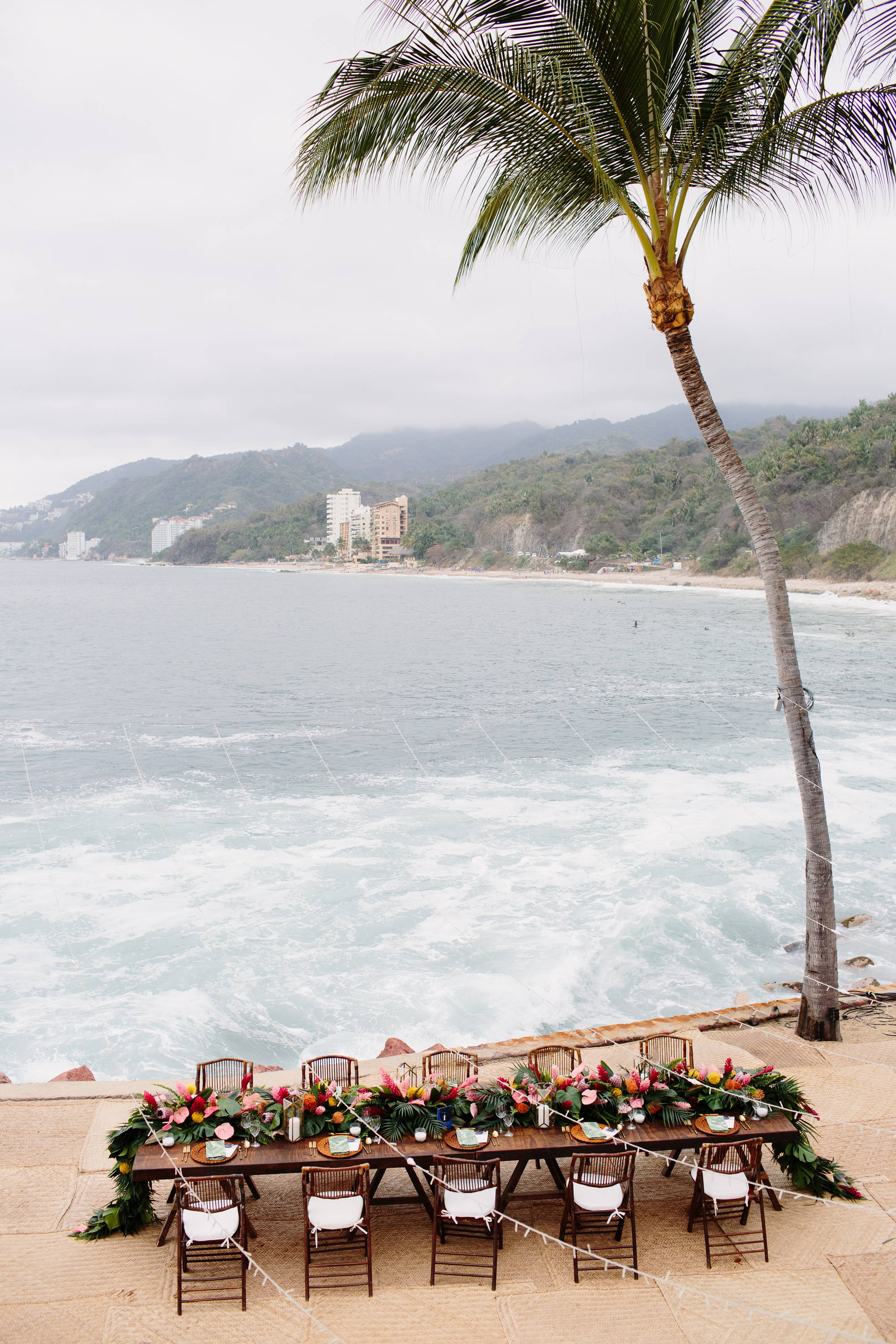 ---
The tropical theme of their wedding extended into the dinner and drinks. Colorful cocktails, local fish and fruits were served while a Flamenco guitarist played in the background. The sound of waves crashing on rocks near the formal dining area provided a magical backdrop during speeches from Tara's Dad, their Best Man and Maid of Honor.
---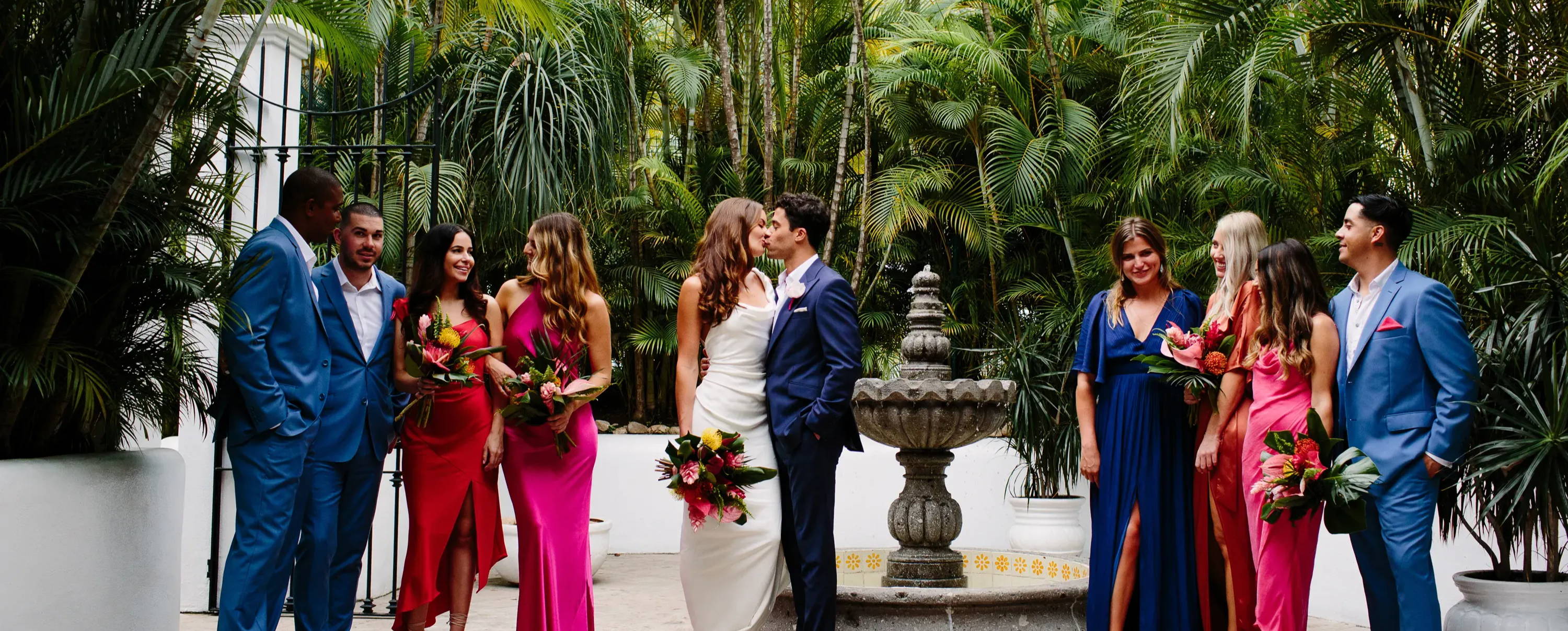 ---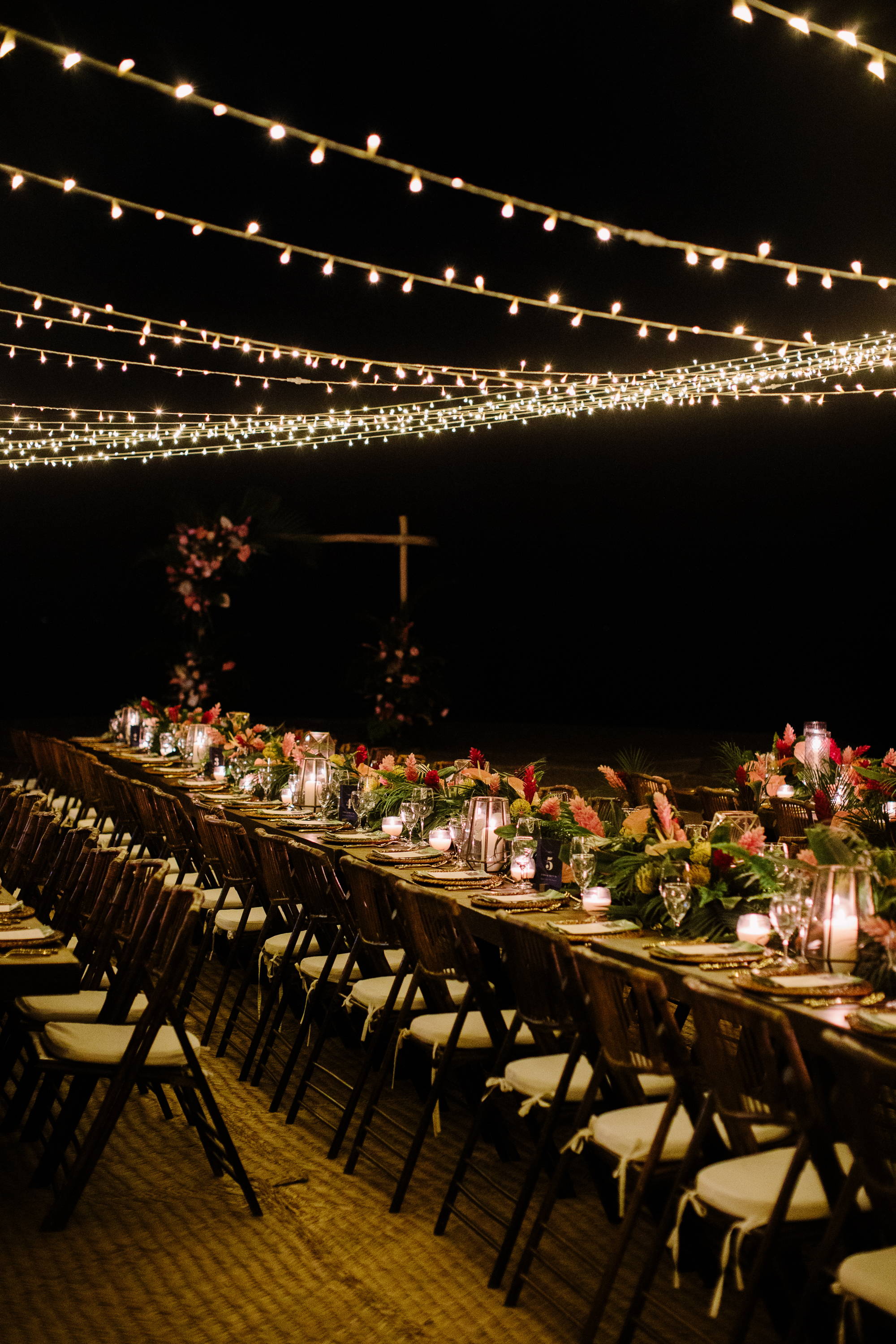 ---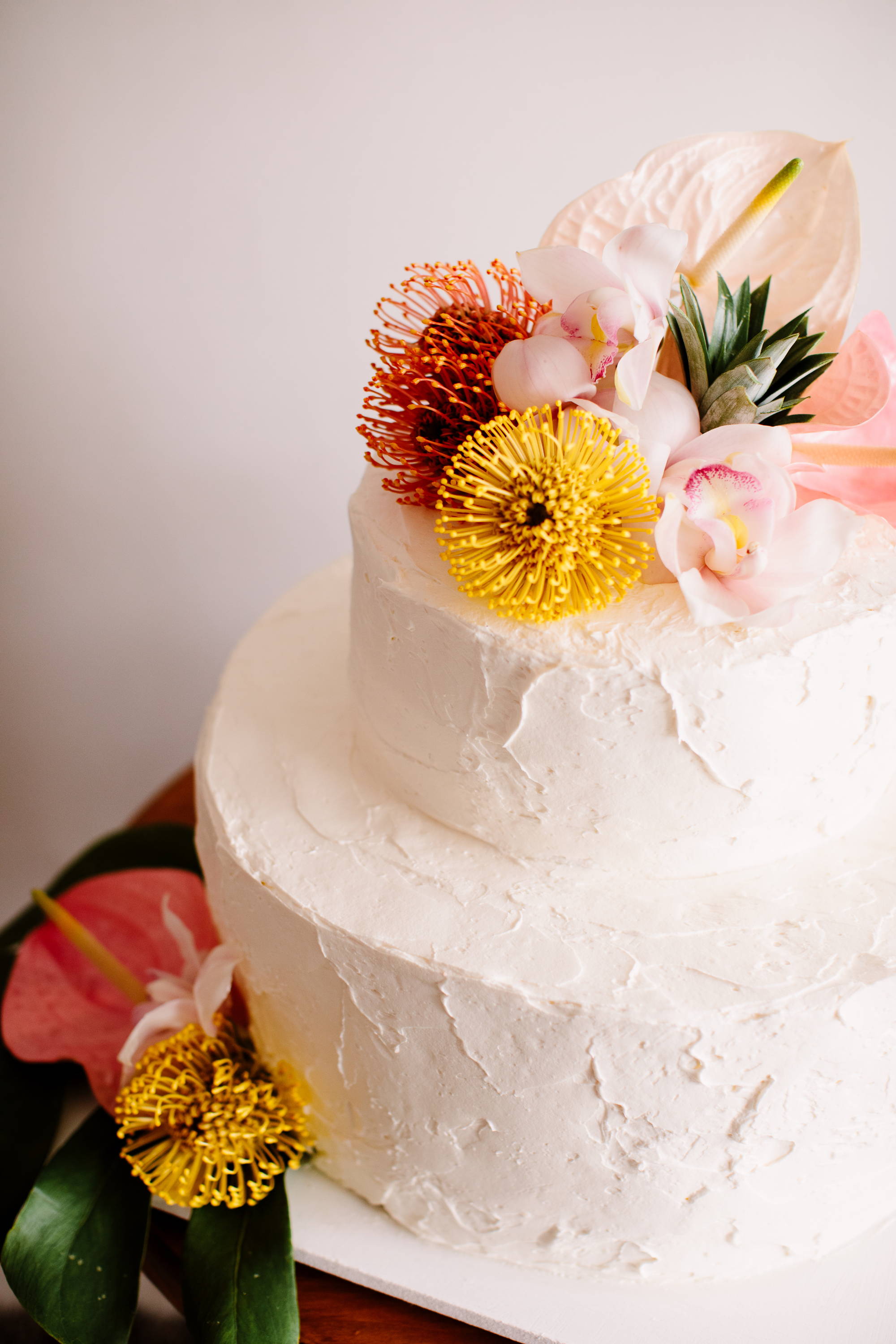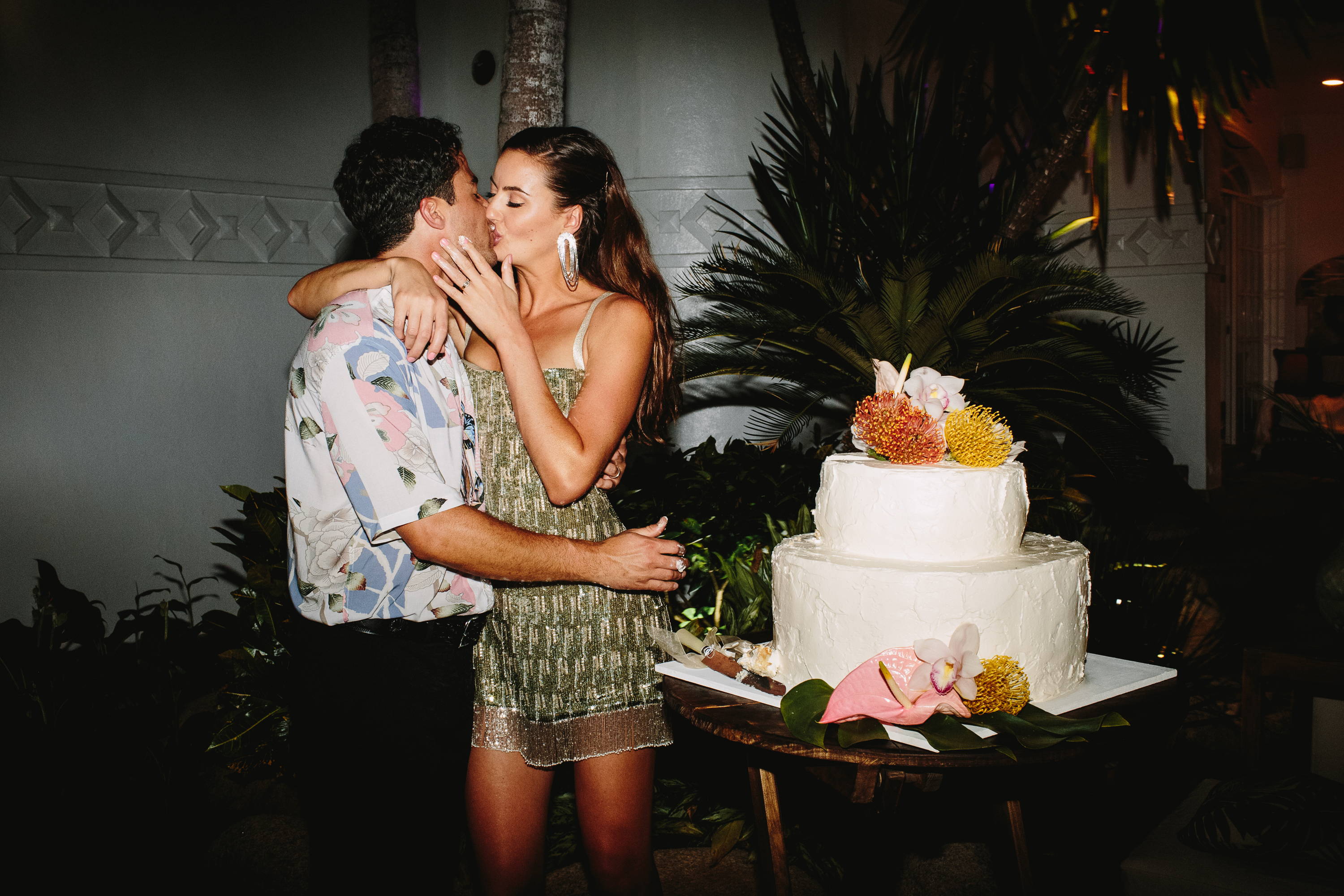 ---
"We both had been to too many weddings where the dancing never really started. For our first dance, we showed off some effortless moves and a dramatic dip that we had learned in some secret dance lessons we took before the big event."
To light up the dance floor, Tara changed into a bejeweled gold mini dress with a beaded fringe and custom Camilla Gabrieli gold glitter pumps. "I felt so sexy in my sparkly heels and danced all night!"
Tara's parents surprised the couple and wedding guests with a stunning fireworks show by the harbor. During the night celebrations, their DJ played funk, soul and classics all night long. At midnight, an authentic taco bar and churro stand were there for guests to indulge. "We had fun following the wedding traditions: garter toss, bouquet toss and cake cutting. We wanted our wedding to be unforgettable. And it was!"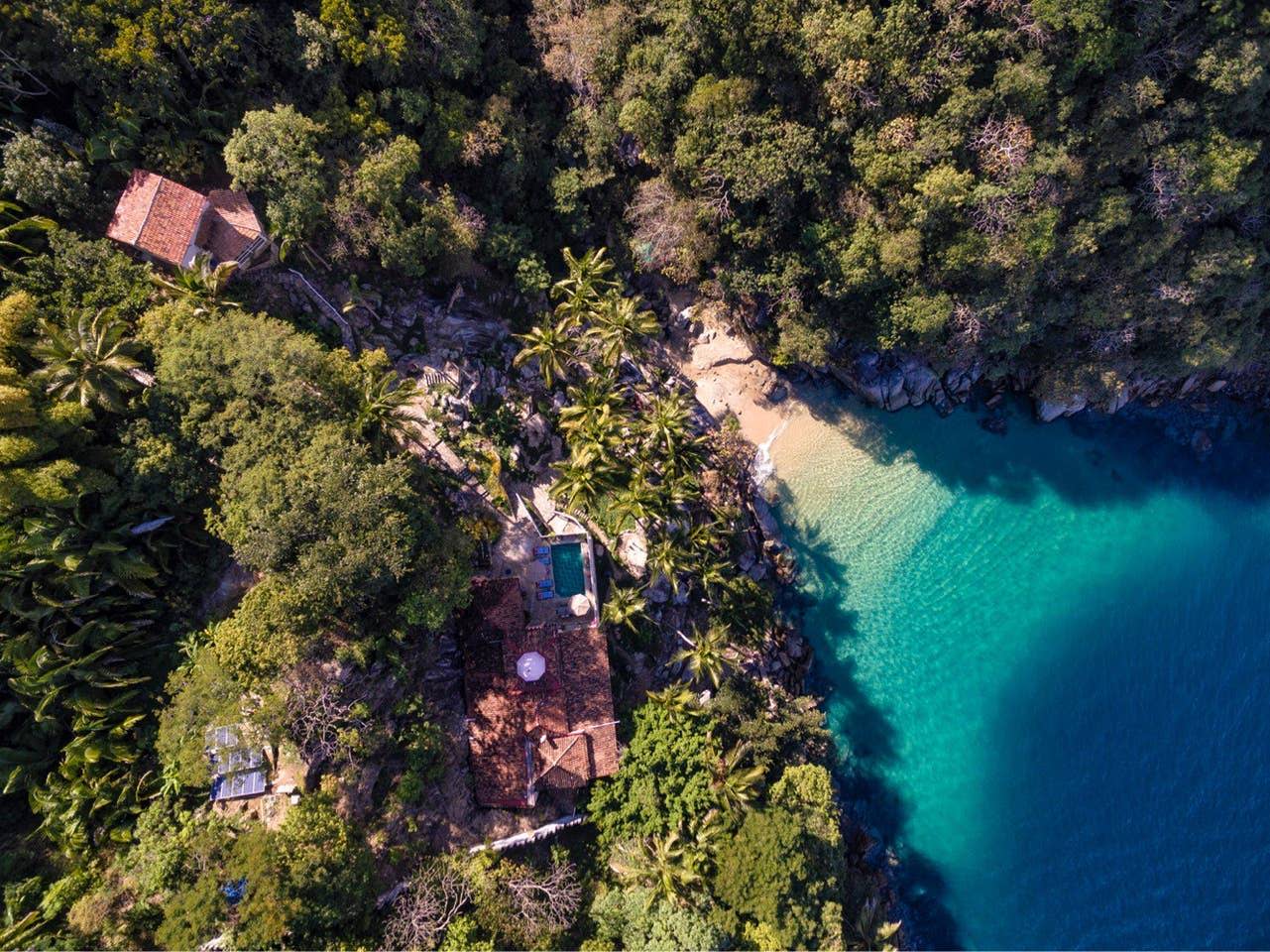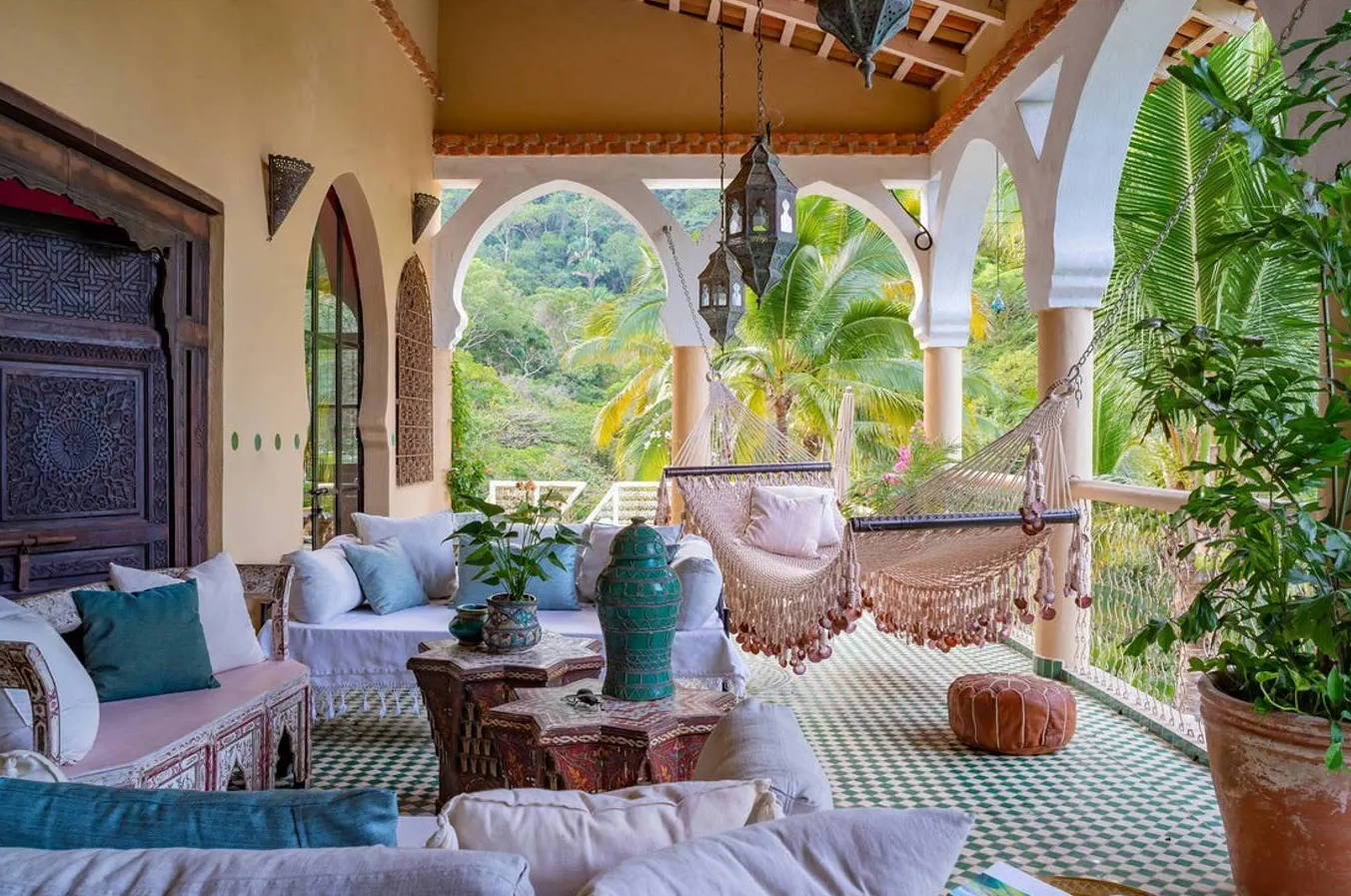 ---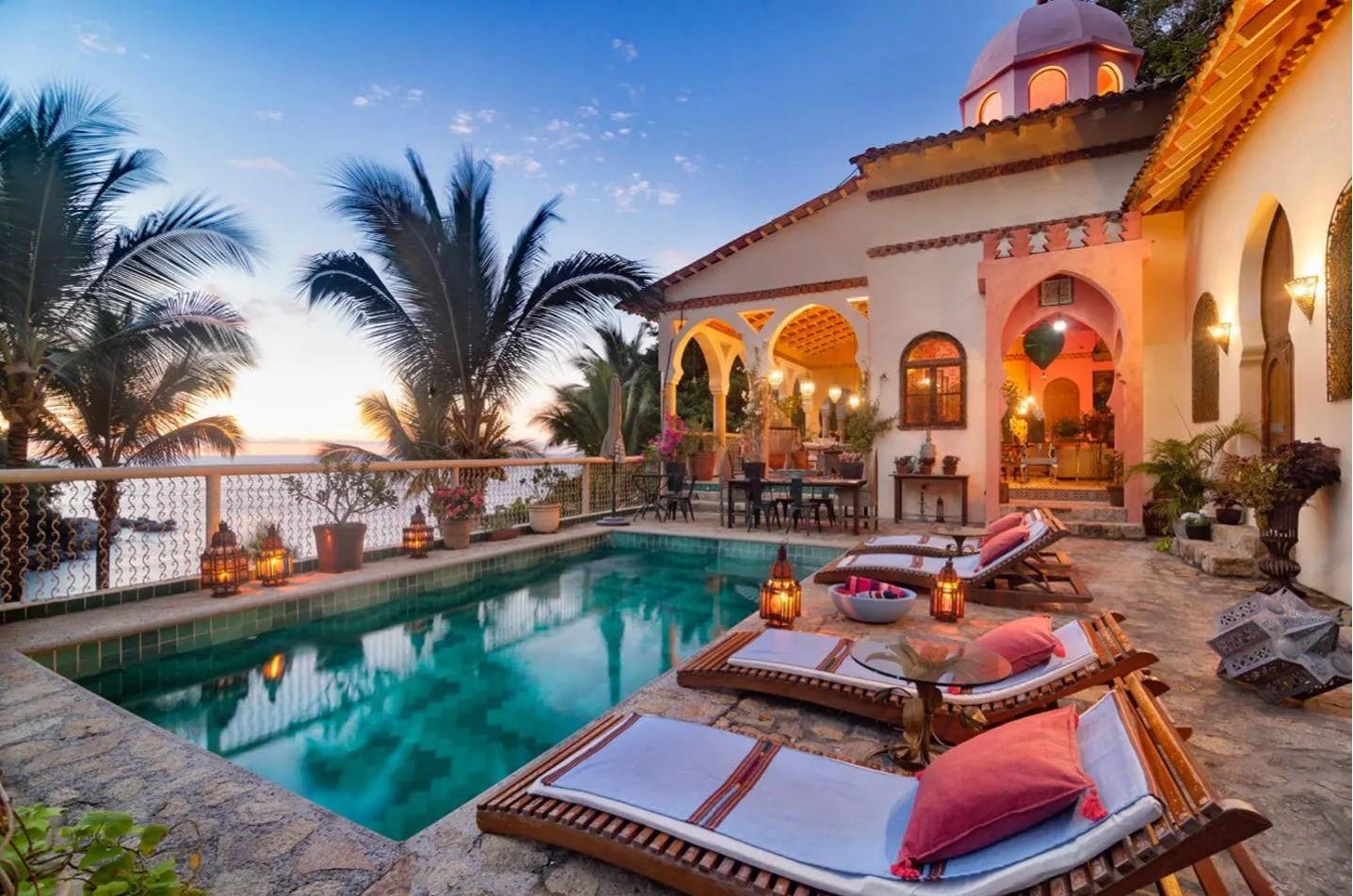 ---
"Since we spent three total weeks in Puerto Vallarta for the wedding, we decided to push our Caribbean honeymoon until the summer after. While it's always exciting to be surrounded by family and friends, it was great to relax and unwind for a week after the wedding.
A couple days after the wedding, we did a photoshoot at our dear family friend's house called Villa Maroc in the jungle. Accessible only by boat or hiking trail, her fabulous house feels like you stepped into a Moroccan Oasis. "We loved shooting our wedding looks in front of the bright colored tiles and jungle palms. It was a great final chapter before we said goodbye to Mexico."
---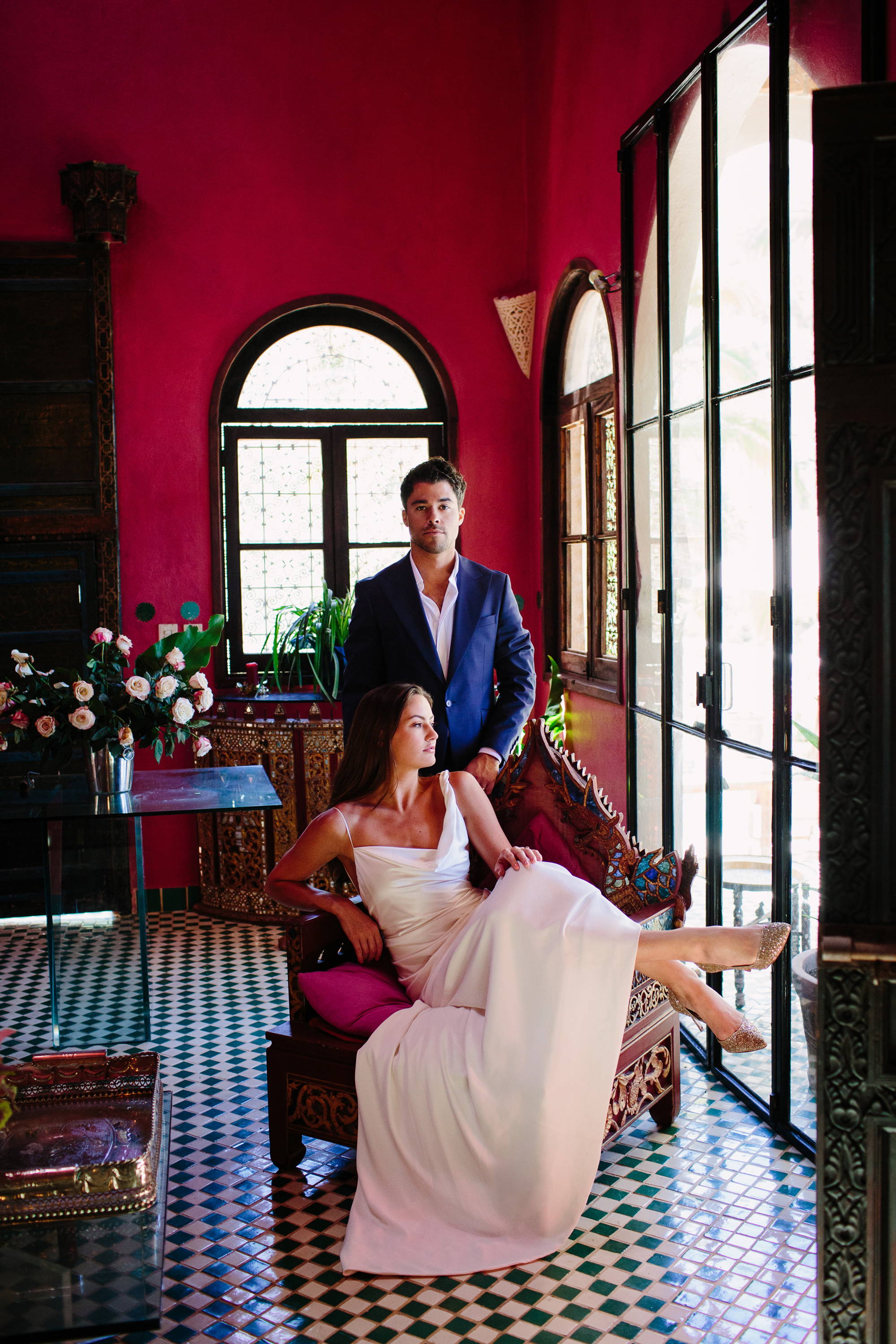 ---
Make sure you review your wedding ceremony closely with you officiant to make sure they understand what's really important to you. And… if you get married in Vegas, always get the younger Elvis!
---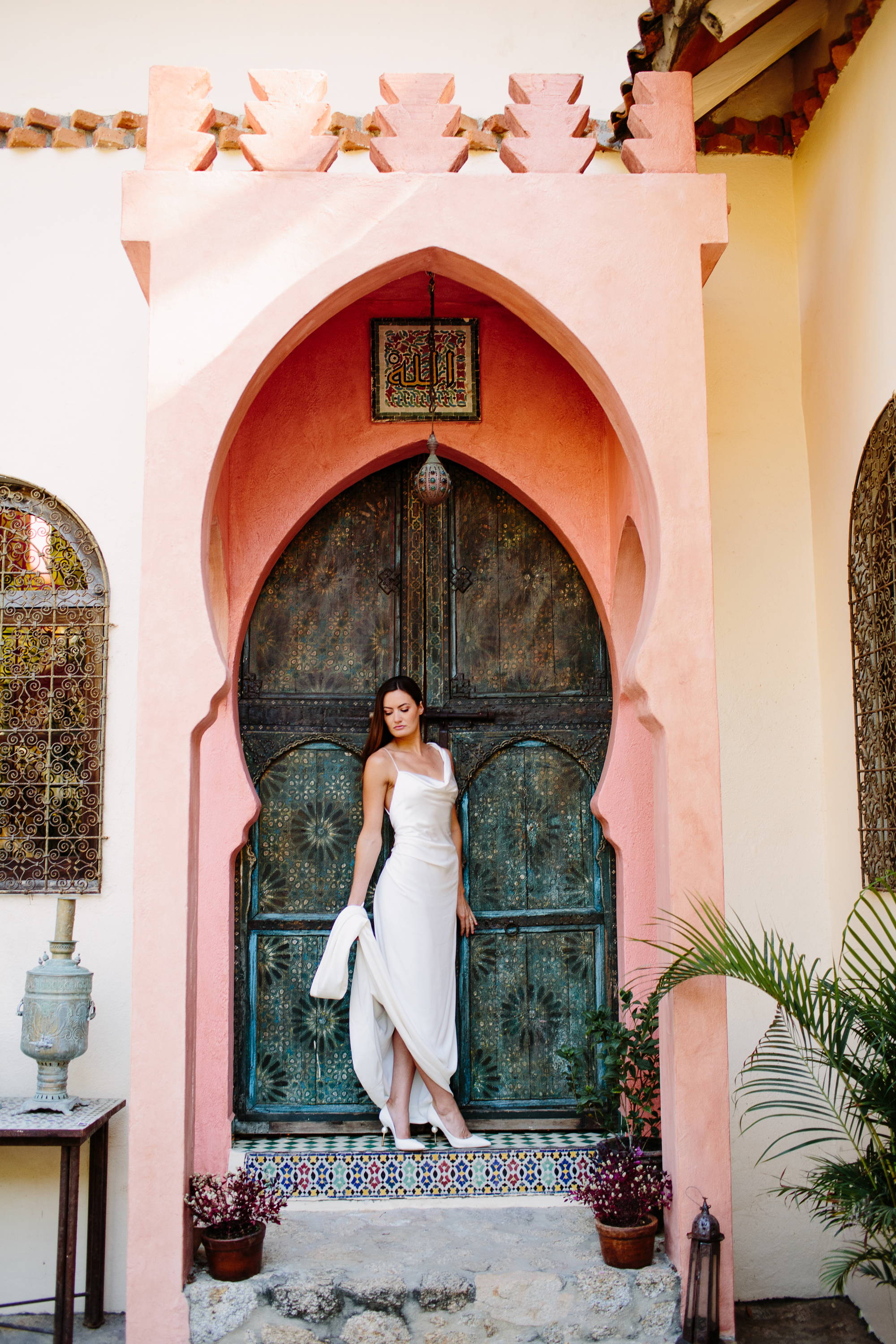 ---
---